Undertoad Friday May 25 08:05 AM

May 25, 2007: Growing panda cub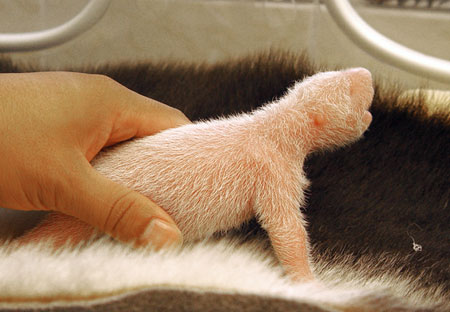 Skysidhe sends along this page from the WWF of a panda cub evolution. It's irresistible! I've chosen 5 out of their 18 shots that go from newborn to three months.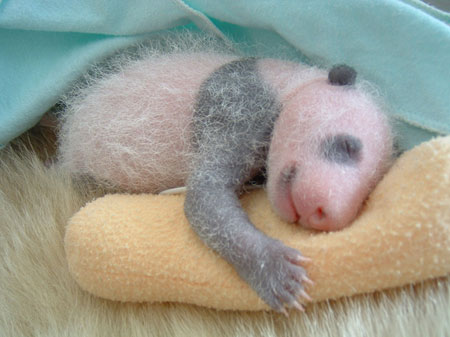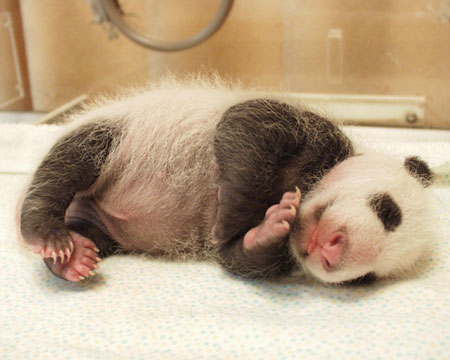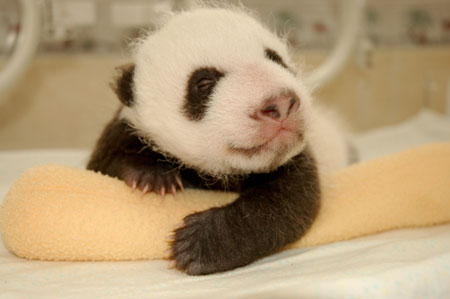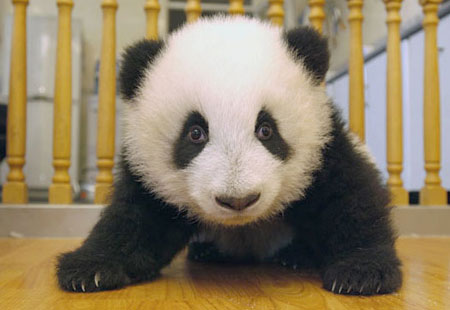 ---

LabRat Friday May 25 08:56 AM

Yeeesssssss.

THIS is what Fridays are all about, baby. That last one broke my cuteometer.

---

manu Friday May 25 09:07 AM

cute indeed, but it seems that it also has nasty claws

---

Kitsune Friday May 25 09:51 AM

Cute. ...until it scares the hell out of mom.



---

monster Friday May 25 10:26 AM



I don't do cute, but aaaaaaw.



First one to post a recipe is in trouble. Unless it's for bamboo shoot puree for the ickle panda.

---

Spexxvet Friday May 25 10:38 AM

So cute! What's the age of consent for pandas?

---

Shawnee123 Friday May 25 10:42 AM

18, of course. In Panda years. You do the math.

Cutest. thing. ever.

---

LabRat Friday May 25 10:50 AM

OMG Kitsune, I watched that 3 times in a row, and laughed harder each time!! Thanks!

---

lizzymahoney Friday May 25 12:14 PM

What a lovely baby! Good thing she only has one baby at a time. Else how would she tell them apart. (yeah, smell, I know...)

I imagine the claws come in handy for eating all that bamboo.

---

Trilby Friday May 25 12:27 PM

Colbert says they're Godless Killing Machines. In this case, a Cute Godless Killing Machine.

---

HungLikeJesus Friday May 25 01:11 PM

I liked this comment on the WWF site:





---

Shawnee123 Friday May 25 01:22 PM

I don't know, it's like god said to himself (on whatever day he was making critters) "self, what can I do to make the most cute animal ever. What characteristics should it have? Cute face? Check. Plump, fuzzy body? Check. Eyeliner? Check. I think I will call it "panda."

---

Trilby Friday May 25 02:10 PM



---

Sundae Friday May 25 06:13 PM

HLJ that really made me laugh. Even better, one of the posters referred to pandas not being imbread [sic]. Now that really made me laugh

---

xoxoxoBruce Friday May 25 06:16 PM

I'll bet you taste as good, too.

---

Sundae Friday May 25 06:17 PM

I'm loving the timing of that reply

---

HungLikeJesus Friday May 25 06:27 PMBetter Off Dead.

---

Yznhymr Saturday May 26 01:45 AM

The Memphis Zoo has two adult Pandas, Ya Ya (girl) and Le Le (boy). Three days ago it was announced Ya Ya will give birth in about two weeks. How exciting! The website here has a web cam and other info.

---

Aliantha Saturday May 26 03:58 AM

That video just about makes me pee my pants.

---

Scriveyn Saturday May 26 04:07 AM

---
Your reply here?

The Cellar Image of the Day is just a section of a larger web community: a bunch of interesting folks talking about everything. Add your two cents to IotD by joining the Cellar.