Undertoad Monday May 7 06:26 AM

May 7, 2007: Identical twins not identical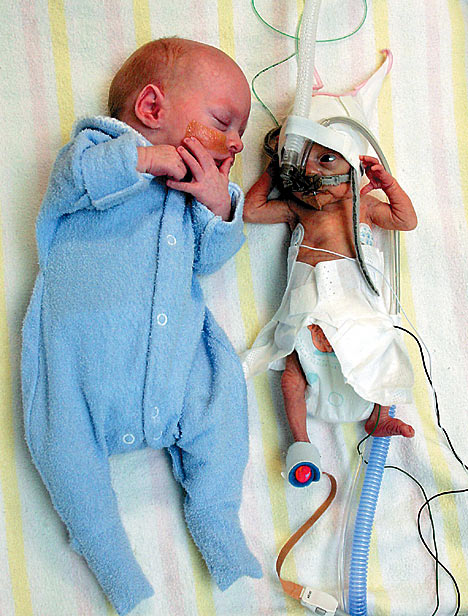 the Daily Mail has the full story of these guys, identical twins born at the same time. It turns out to be a case of twin to twin transfusion, where one twin sends blood to the other through a common placenta.

In this case the problem was detected at 15 weeks, so early that the second very-medical link doesn't even put it in the category of 'severe'. It's a complication that endangers both twins; the donor twin is usually anemic, and the recipient has excess red blood cells and jaundice. But the story says both have shown a will to live, even at their tiny age and size.

---

Ibby Monday May 7 09:17 AM

The smaller one looks totally conscious and downright smart.

He's looking at the big guy and thinking...


...greedy bastard.

---

Sheldonrs Monday May 7 10:05 AM

Guess which one is gonna grab the bigger tit.

---

A Blind Man Monday May 7 11:57 AM

Kool

My First Post!!!!!!!!!!!!!!!! AHAHAHHAAHHAAHHHHHHHHHHHHHHH!!!!

---

gtown Monday May 7 01:58 PM

I can only hope the parents name them Julius & Vincent or (Arnold & Danny).

---

gtown Monday May 7 02:00 PM

Ok, ok, I read the article, the parents blew it. Shame!

---

Pie Monday May 7 03:02 PM

I read the first article -- did I miss something? What did they screw up?

---

gtown Monday May 7 03:07 PM

They named the kids Byron and Lincoln...they screwed up, IMHO

---

xoxoxoBruce Monday May 7 03:54 PM

Welcome to the Cellar, A Blind Man.


It won't seem so perverted next time. It will be, it just won't seem so.

---

Pie Monday May 7 03:58 PM

---

Trilby Monday May 7 04:49 PM

This is a toughie. Very few of the "donor twin" make it. They can diagnose this problem in utero and then the parents have the agonizing decision of which twin should be saved--many times if they try to save one, they both die. Is very sad. I hope that little guy makes it.


as an aside--i cannot imagine having to decide between two offspring OR endure that both may die. This is human sadness at it's apex.

---

milkfish Monday May 7 11:22 PMthis movie, then.

---

piercehawkeye45 Tuesday May 8 04:19 AM

Am I the only one that was saddened by this?

---

SPUCK Tuesday May 8 06:17 AM







Somebody slap my hand.

---

Sundae Thursday May 10 12:55 PM

---

HungLikeJesus Thursday May 10 01:32 PM

---

Cloud Thursday May 10 01:38 PM

I was hoping to find an update story to see how they were doing, but can't.

---
Your reply here?

The Cellar Image of the Day is just a section of a larger web community: a bunch of interesting folks talking about everything. Add your two cents to IotD by joining the Cellar.