Undertoad Saturday May 5 09:12 AM

May 5, 2007: Big breast art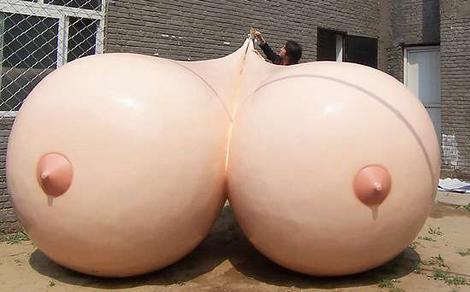 Continuing the IotD theme started with the babies, continued with the breastfeeding. Chinese artist Shu Yong works on his sculpture for an exhibition called "How Big Do We Want Our Breasts To Be?" in Beijing.

Not that big. And we don't want the cleavage to end in a point.

---

Spexxvet Saturday May 5 10:05 AM

I think there's silicone in them thar tits!

---

bobman Saturday May 5 10:18 AM

Quote:

Originally Posted by

Undertoad

Not that big. And we don't want the cleavage to end in a point.

Might not mind them ending with Hershey's Kisses(TM), however!

---

Hime Saturday May 5 10:28 AM

Oh man, that's priceless. I have to show those to the man of the house -- he'll probably say "eh, could be bigger."

---

xoxoxoBruce Saturday May 5 11:26 AM


I really prefer the cleavage to end at some point. Otherwise I'd never get to the naughty bits.

---

bobman Saturday May 5 12:40 PM

I've been L&L (lurking and laughing) since the good old days of:
(speaking of strange art and artists)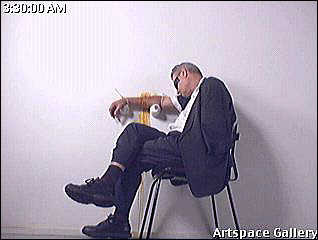 "Performance artist nails own arm to wall"

---

Sheldonrs Saturday May 5 01:07 PM

Like the mountain climber said, "Do they Everest?".

---

Bitman Saturday May 5 02:54 PM

These funbags belong to a very tiny woman.

---

richlevy Saturday May 5 04:49 PM

You know, if you inflated (or water-filled) those things on the side of the Turnpike, you could tie up traffic for days! I can imagine the traffic report.

---

Gravdigr Saturday May 5 04:51 PM

Looks like a giant shaved scrotum with nipples. (Or zits.) (Or warts?)

---

richlevy Saturday May 5 04:57 PM

I don't know if anyone remembers Everything You Always Wanted to Know About Sex But Were Afraid to Ask, a 1972 Woody Allen movie. In one scene, a mad scientist creates a single giant 16-plus-foot breast that goes on a rampage.



There's also a great line when they capture it where the sheriff wonders if there is only one since they usually travel in pairs.

---

milkfish Saturday May 5 06:43 PM

Most illogical.

---

Kumbulu Sunday May 6 12:06 PM

"A few months later, right after the biggest breasts in the world were exhibited again, the biggest bra was made to preserve its modesty."

I'd rather have the world's largest bra.

---

xoxoxoBruce Sunday May 6 03:17 PM

Quote:

Originally Posted by Kumbulu's link

This bra is over 3 feet wide, and is made with the same components of a traditional bra, two loops, hooks in the back, padded cups for support.

Padded? Three feet wide and it's padded?

---

tw Sunday May 6 05:12 PM

So what would have Dr Patch Adams thought of it?

---

BigV Monday May 7 10:27 AM

Sound better?

---

xoxoxoBruce Monday May 7 03:49 PM

Not much, fish net would reinforce.

---
Your reply here?

The Cellar Image of the Day is just a section of a larger web community: a bunch of interesting folks talking about everything. Add your two cents to IotD by joining the Cellar.