Undertoad Thursday May 3 07:56 AM

May 3, 2007: Phillipines sets breast feeding record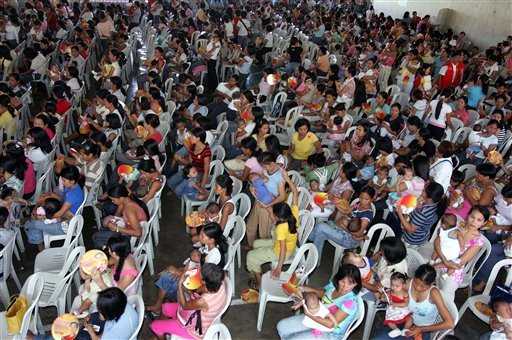 Sycamore suggests this item: good for them - and good for their babies, these Filipinos are setting the world record for most number of simultaneously breast-feeding moms. They already had the record for a single location, this time they were going for the most in multiple locations, and managed about 4,000 moms in the effort.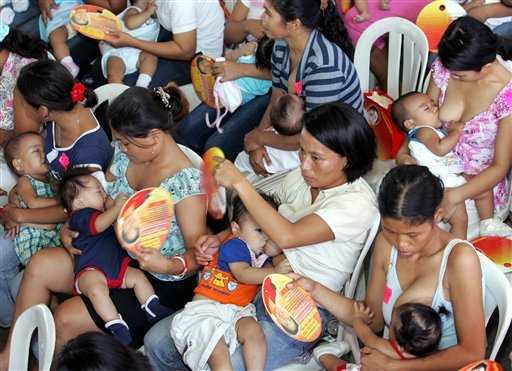 Not many large-size images of this event, but I managed to find this pair. The purpose of the event was to promote the practice; apparently the culture prefers formula, and they want moms to go natural.

Don't know if this is a theme now, with the crying babies going up yesterday, but in any case the theme continues on Saturday (or Friday if no good animal pics show up).

full story

---

glatt Thursday May 3 09:06 AM

It looks very warm in that room. Notice they all have free fans with advertising on them? Looks like a political ad.

---

Spexxvet Thursday May 3 09:06 AM

Mmmmmm...got milk?

Somehow, this reminds me of Iggy.

---

Sheldonrs Thursday May 3 10:15 AM

udderly ridiculous.

---

elSicomoro Thursday May 3 10:39 AM

If this doesn't prove that I'm a breast man, nothing will.

---

HungLikeJesus Thursday May 3 10:53 AM

Mostly I just see one here and one there.


Some of those kids seem awfully big. I bet they have teeth.

---

jinx Thursday May 3 11:14 AM

Way to go Filipino moms!

---

monster Thursday May 3 10:02 PM

Ever tried to feed a baby that isn't hungry? They must have starved them beforehand

---

monster Thursday May 3 10:03 PM

(and not one of them hidden under a blanket or in a toilet cubicle :p)

---

Elspode Thursday May 3 10:12 PM

Shameful. Disgusting. If God had wanted us to breast feed babies, he would have provided mammals with brea...oh.

---

bluecuracao Thursday May 3 10:45 PM

I wonder what it sounds like in that room?

---

freshnesschronic Friday May 4 12:03 AM

My people, feeding babies. Eh.

---

monster Friday May 4 12:15 AM

---

freshnesschronic Friday May 4 12:18 AM

Yeah, eh. Weird.

---

HungLikeJesus Friday May 4 10:22 AM

---

LabRat Friday May 4 10:32 AM

Why, do you think it would it smell bad?

I would kill for a whiff of babyhead right now...*sigh*

---

Sheldonrs Friday May 4 10:47 AM

Oh wait! You meant... never mind.

---

HungLikeJesus Friday May 4 11:00 AM

Plus, I'm allergic to babies.

---

Gravdigr Friday May 4 05:20 PM

Wow, you guys are really milking this thing aren't you?

---

OB Wednesday May 16 01:36 PM

Someone must've set the AC too high...it looks a tit bit nipply in that room.

But the women do seem to be making the breast of it.

---
Your reply here?

The Cellar Image of the Day is just a section of a larger web community: a bunch of interesting folks talking about everything. Add your two cents to IotD by joining the Cellar.