Undertoad Sunday Apr 29 11:15 AM

April 29, 2007: Performance artist cages himself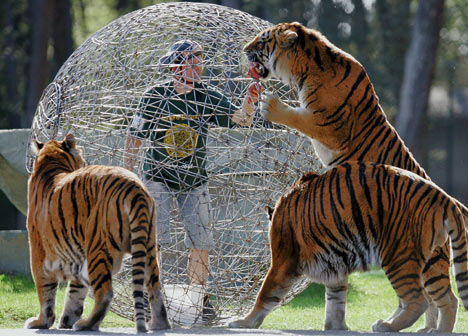 via thisislondon.co.uk, who boldly titles this "another fine mesh you've gotten me into".

It's a bit of a role-reversal here, with the man caged so the tigers can enjoy seeing him. Actually the tiger visit is only one part of a larger exhibition for German performance artist Arnd Drossel:

Quote:
His stunt was one stop on a 220-mile roll through the German state of North-Rhine Westphalia to raise money for, and awareness about, psychiatric patients.

He accepts that some observers will judge him 'a stripe short of a tiger' for including this particular area of the Stukenbrock Safari Park on his route.

But he insists his protective capsule - 250 high-grade steel strands welded into something resembling a massive ball of wool - is strong enough to keep him safe. Drossel, 38, who designs furniture for a living when not suffering for his art, will eat, sleep and move in the ball.

He propels it by simply shifting his weight in a walking motion, and aims to cover 13 miles a day.

'I got the idea for this because, about a year ago, I hit a low and
realised how little help there was out there,' he said.

'I set about thinking of a way to publicise those who need psychiatric help and came up with this.

'Basically, the whole concept is about finding the courage to do something and inspire courage in those who have lost their confidence along with much else.'
---

Cloud Sunday Apr 29 11:19 AM

publicizing the need for psychiatric help.

Yep.

---

Clodfobble Sunday Apr 29 11:25 AM

I like the helmet. I wonder how often the slope of the ground causes him to lose control of the ball?

---

TorasMommy Sunday Apr 29 11:31 AM

When I first saw this, my initial reaction was that someone came up with a weird way to "experiance" tigers or other wild animals. Something similar to a Shark cage in the water to check out sharks..

After reading the caption, he did it for different reasons..

Also it looks like someone caught him tinkling in the bucket inside the cage. Or he has a string attached to his pants and the bucket..

Weird either way..

---

zippyt Sunday Apr 29 12:33 PM

Oh those tigers are just planning how they are going to crack that egg open , he is makeing it worse because I think that he is feeding them from the bucket , one good swap and he will be a rolling feast for them

---

Cloud Sunday Apr 29 12:39 PM

Quote:

Originally Posted by

TorasMommy

Also it looks like someone caught him tinkling in the bucket inside the cage. Or he has a string attached to his pants and the bucket..

Weird either way..

I think that's just one of the wires

---

Sheldonrs Sunday Apr 29 01:12 PM

The tigers are thinking "I HATE these child-proof containers!".

---

Cloud Sunday Apr 29 01:17 PM

LOL!

---

freshnesschronic Sunday Apr 29 02:48 PM

If those tigers were determined enough they could definitely maul that dude.
Some people are asking for it.

---

xoxoxoBruce Sunday Apr 29 04:08 PM

They can't get at him but a game of tiger football would sure ruin his day.

---

LabRat Monday Apr 30 04:35 PM

I had exercise balls for my gerbils that were made out of plastic. They would roll them all over the house. I would laugh then feel bad when they would be going all out and all of a sudden *WHACK* the ball into a chair rung or some other obstacle. . . Eventually they got to know where they fit and where they didn't.

At least this guy is doing it to raise awareness of something worthwhile.

---

glatt Monday Apr 30 04:41 PM

This reminds me of a similar IotD from back when I was a newbie.

I think today's is cooler.

---
Your reply here?

The Cellar Image of the Day is just a section of a larger web community: a bunch of interesting folks talking about everything. Add your two cents to IotD by joining the Cellar.