Undertoad Wednesday Apr 25 12:48 PM

April 25, 2007: Peruvian scissors dance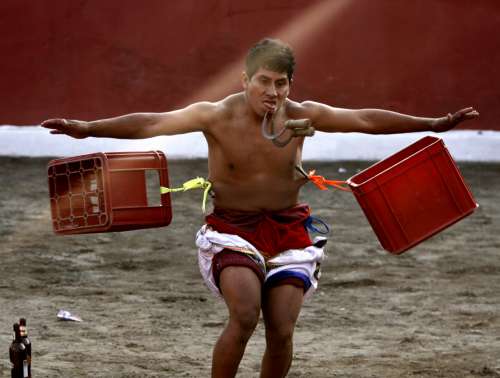 So many bizarre rituals in this world, cataloging them all is a full-time job.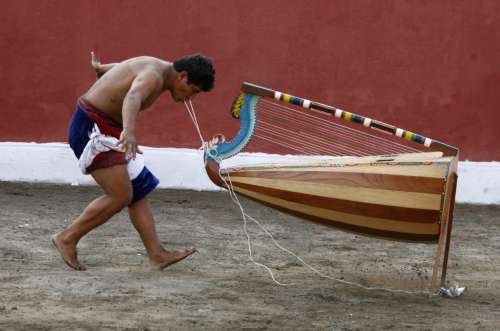 You need a tetanus shot just to look at the gallery of shots from the Mainichi Daily News. According to the official cap, this is...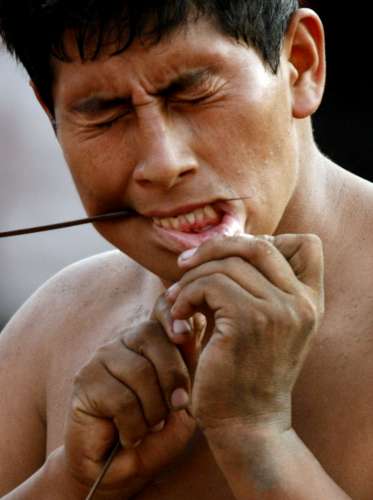 So this guy thinks he's better than you, and he's willing to prove it by sticking rusty metal through his cheek and tongue. Once again the piercing people who get 3 holes in an ear, or one in the nose, are shown to be mere pikers. You can't compete so don't even try. As Zaphod Beeblebrox once said, "I get weirder things than you in my breakfast cereal."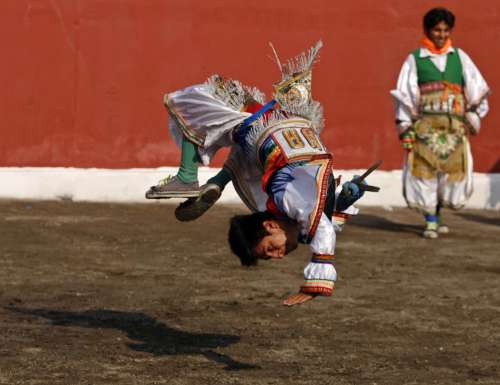 But here's the really weird part. The second half of this display is acrobatic dancing in colorful costumes. How manly and spiritual?

---

piercehawkeye45 Wednesday Apr 25 12:55 PM

I'll pass.

---

Cloud Wednesday Apr 25 12:56 PM

"piercing people"? is that to my address?

Trials of pain. Dances of joy. Pretty much what it means to be human.

---

Shawnee123 Wednesday Apr 25 01:00 PM

That first dude stole those milk crates from my dorm room circa 1986.

---

Cloud Wednesday Apr 25 01:24 PM

I don't see any scissors. ?

---

milkfish Wednesday Apr 25 01:55 PM

---

freshnesschronic Wednesday Apr 25 07:04 PM

I wonder if it has more roots in Native American ritual or Spanish.

---

Gravdigr Wednesday Apr 25 08:16 PM

I will never understand this notion of becoming closer to God through pain. If the pain KILLS YOU, then, yes, you will become closer to God. Just close enough to hear Him tell you "You're stupid, go to hell."

---

Sheldonrs Wednesday Apr 25 08:45 PM

I can hear my Mom now..."Don't dance with scissors!"

Do they rhumba with razors?

---

xoxoxoBruce Wednesday Apr 25 09:14 PM

---

SPUCK Thursday Apr 26 06:24 AM

Have you failed to notice the giver-of-power in the scissor dance?

Note the first picture bottom left corner..

---

predatormc Thursday Apr 26 06:55 AM

Meh. You can see the strings.

---

Tomtheman5 Thursday Apr 26 09:18 AMmy drunken endeavors end up anyway...

(PS - Good catch, Spuck!)

---

chrisinhouston Thursday Apr 26 12:12 PM

What kind of dance is the second one doing? Looks like he's dancing with a harp.

---

SPUCK Friday Apr 27 06:47 AM

You've heard of Harper's Bazaar? This is the bazaar part.

Actually.. he was just minding his own business, suckin down a few bruskies, when the harp attacked!


It was a bad harpenstance.

---

chrisinhouston Friday Apr 27 07:49 AM

This image reminds me of that song, "That's What Friends Are For."

I mean that's really friendship when you lend a hand in nailing your friend's face to a harp! Oh and note the guy's grip on that edge of the harp, he's probably leaving impressions in the wood!

---

milkfish Friday Apr 27 09:18 PM

Some searching on Youtube turns up some videos of the Scissors Dance (where they do in fact dance holding scissors, surprise), but none of the self- and assisted mutilation stuff.

---
Your reply here?

The Cellar Image of the Day is just a section of a larger web community: a bunch of interesting folks talking about everything. Add your two cents to IotD by joining the Cellar.