Undertoad Tuesday Apr 10 11:15 AM

April 10, 2007: Hooked elk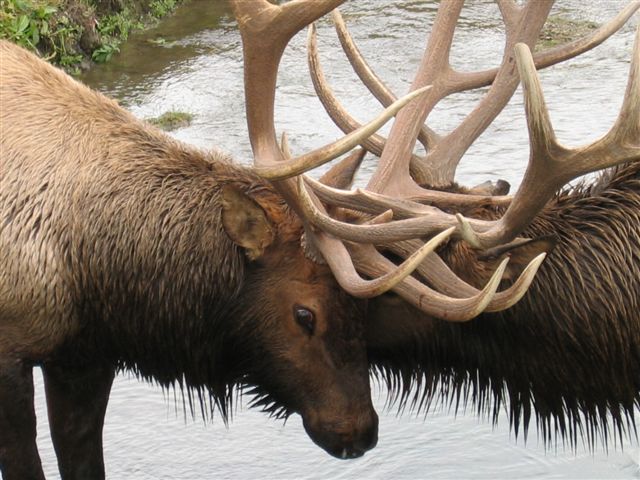 xoB sends this set along, including a story that he notes doesn't jibe with what the pictures show -- and so I'll only put up the images, no use passing along misinformation.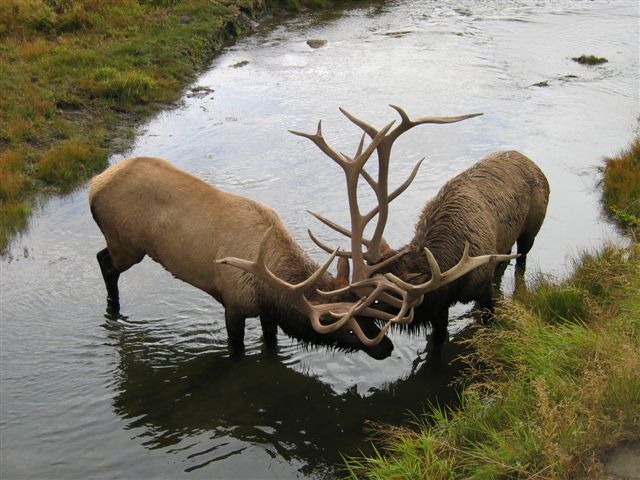 Obviously, though, these two are lucky; they've been found by humans. If they weren't found, they'd just waste away and die.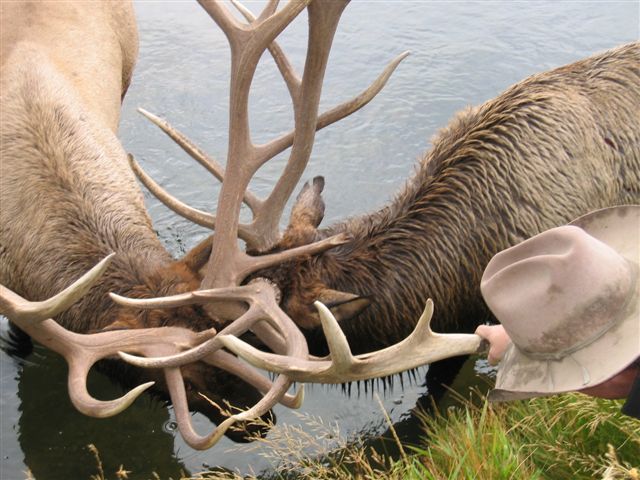 So it's a good animal pic not on a Friday, but what the hey; enjoy.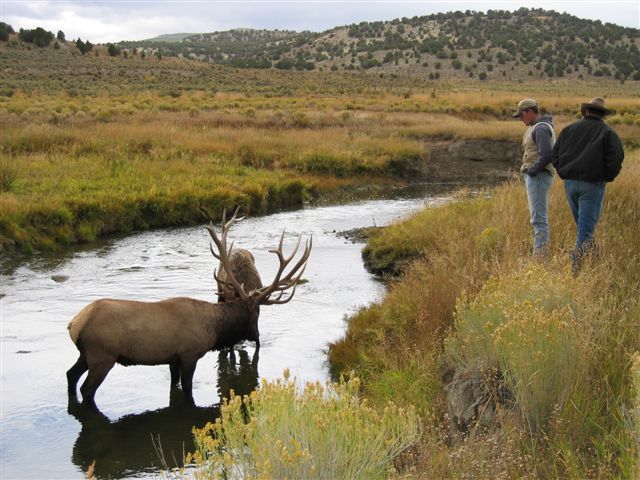 ---

Sheldonrs Tuesday Apr 10 11:17 AM

The humans that found them are probably planning on how to make a coat rack and a chandelier out of them.

---

Spexxvet Tuesday Apr 10 11:23 AM

Sitting ducks? How about standing deer.

---

footfootfoot Tuesday Apr 10 11:30 AM

---

piercehawkeye45 Tuesday Apr 10 11:40 AM

I want elk, had Pheasant yesterday.

Good thing with living with conservatives....you get fed well.

---

lumberjim Tuesday Apr 10 12:44 PM

so....they just stood around and looked at the pretty elk? where are the heroic actions? the sawing and mauling? the elk must have been that way for some time....they seem down right calm about it. i want to see the pics of them after they disentangled them. or did they just kill them and eat them?

---

barefoot serpent Tuesday Apr 10 12:50 PM

Time to get out that Swiss Army knife with the saw blade on it.

---

milkfish Tuesday Apr 10 02:29 PM

Let alone two of them.

---

freshnesschronic Tuesday Apr 10 03:31 PM

Too true. Those antlers are valuable and could be very useful.

---

gmr2048 Tuesday Apr 10 04:01 PM

could have ended worse

Boingboing recently had a post about a pair of elk horns in the Smithsonian's collection. The original owners got locked together and died.

http://www.boingboing.net/2007/04/09...k_lock_ho.html

---

duck_duck Tuesday Apr 10 04:02 PM

How would they unhook them without getting stabbed by or trampled by the elk?

---

cashc Tuesday Apr 10 04:55 PM

The only safe time to nuzzle an elk.

---

rkzenrage Tuesday Apr 10 08:01 PM

I have done it with white-tail, far easier, which is NOT saying much... still VERY dangerous.
Actually, they are not stupid, and elk (we had some on the ranch as "pets") are very smart, once they figure out that you are helping they just go limp.
There is a moment, at the end, where they get-up and go, well you just gotta' hope you are out of the way or lucky.
You religious types should pray first, there is no time during.
Finding one trapped in a fence or hooked in a tree is far worse, they do not settle nearly as quickly or easily. Don't know why.
It is a misconception that hunters have no compassion for the animals they hunt.

---

piercehawkeye45 Wednesday Apr 11 01:25 AM

---

ajaccio Wednesday Apr 11 08:59 AM

---

rkzenrage Wednesday Apr 11 08:13 PM

Sometimes, they break their neck also.
They don't cooperate, they just keep struggling until they pass-out or die.

---

HungLikeJesus Wednesday Apr 11 08:48 PM

I guess whoever designed those elk was not too intelligent.

---

chrisinhouston Thursday Apr 12 08:34 AM

The elk's expression in the first image makes me think it's thinking "Ah shit, now what do I do!"

And I bet that water is damn cold!

---
Your reply here?

The Cellar Image of the Day is just a section of a larger web community: a bunch of interesting folks talking about everything. Add your two cents to IotD by joining the Cellar.