Undertoad Wednesday Apr 4 01:52 PM

April 4, 2007: Woodpecker nuts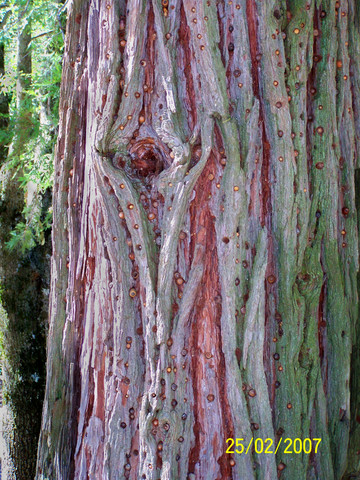 xoxoxoBruce sends this along via Weather Underground. He says, "Photographer claims the Woodpeckers drill the holes and the Squirrels fill them with nuts and seeds." Sounds quite plausible.

---

Cloud Wednesday Apr 4 02:04 PM

this just begs the question: Do Birds Have Balls?

---

freshnesschronic Wednesday Apr 4 02:17 PM

It must suck to be a tree, sometimes.

---

Shawnee123 Wednesday Apr 4 02:19 PM

Oh, man...remember I was talking about my 'fear' of holey textures? That image almost makes me ill. I'm weird!

---

TheMercenary Wednesday Apr 4 02:37 PM

Holy textured balls.


---

Emrikol Wednesday Apr 4 03:19 PM

cellar.org/b/ ?



NEADS MOAR RULE 34!

---

jwalther420 Wednesday Apr 4 03:30 PM

This is the acorn woodpecker. I saw a nature special on it a few years ago and that picture reminded me of it. Here is another image:



The woodpecked DOES indeed drill the hole but they are also the ones who fill the holes. Not sure what this photographer saw but squirrels are known to raid these caches, not supply them.

Of course, wikipedia has the goods:
http://en.wikipedia.org/wiki/Acorn_woodpecker

--Justin

---

Sundae Wednesday Apr 4 03:34 PM
Translate please.

---

Emrikol Wednesday Apr 4 03:46 PM

/b/ refers to (mainly) http://www.4chan.org/b/ which is the soulless pit of the internet.
(from http://wikichan.org/index.php?title=/b/)


Code:
/b/ is the guy who tells the cripple ahead of him in line to hurry up.
/b/ is first to get to the window to see the car accident outside.
/b/ is the one who wrote your number on the mall's bathroom wall.
/b/ is a failing student who makes passes at his young, attractive English teacher.
/b/ is the guy loitering on Park Ave. that is always trying to sell you something.
/b/ is the one who handed his jizz-drenched clothes to Good Will.
/b/ is one who introduced you first to Goatse.
/b/ is a hot incest dream that you'll try to forget for days.
/b/ is the only one of your group of friends to be secure in his sexuality and say anything.
/b/ is the guy without ED who still likes trying Viagra.
/b/ is the best friend that tags along for your first date and cock-blocks throughout night. The decent girl you're trying to bag walks out on the date, /b/ laughs and takes you home when you're drunk, and you wake up to several hookers in your house who /b/ called for you.
/b/ is a friend that constantly asks you to try mutual masturbation with him.
/b/ is the guy who calls a suicide hotline to hit on the advisor
/b/ is nuking the hard-drive next time someone knocks on his door.
/b/ is the one who left a used condom outside the schoolyard.
/b/ is the voice in your head that tells you that it doesn't matter if she's drunk.
/b/ is the friend who constantly talks about your mom's rack.
/b/ is the only one who understands what the hell you saying.
/b/ is someone who would pay a hooker to eat his ass, and only that.
/b/ is the uncle who has touched you several times.
/b/ is still recovering in the hospital, after trying something he saw in a hentai.
/b/ is the pleasure you feel guilty of when you tried playing with your anus during masturbation.
/b/ is wonderful.
Rule 34 - If it is, then there is porn for it. (http://wikichan.org/index.php/Rule_34)

---

Sundae Wednesday Apr 4 03:48 PM

Thank you.
You mostly lost me after Oh My, so that helped.

Kinda.

Will just take a while for my old brain to work through it.

---
Your reply here?

The Cellar Image of the Day is just a section of a larger web community: a bunch of interesting folks talking about everything. Add your two cents to IotD by joining the Cellar.