Undertoad Friday Mar 30 02:38 PM

March 30, 2007: Dog-sized cane toad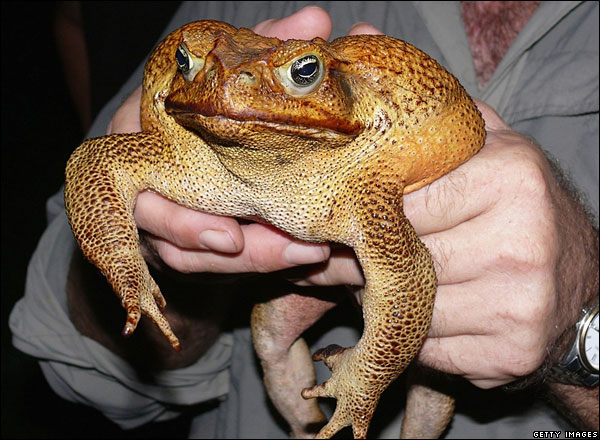 Laides and gentlemen, the cane toad. Not just any cane toad, but a really big-ass one! According to this BBC story,


---

Sundae Friday Mar 30 02:39 PM

That'll take a lot of licking

---

glatt Friday Mar 30 02:40 PM

As big as a very very small dog.

---

Sheldonrs Friday Mar 30 02:43 PM

If you want this one to turn into a Prince, you're gonna need some tongue action in that kiss.

---

barefoot serpent Friday Mar 30 02:53 PM

Paris Hilton will have it made into a purse to carry her dog.

---

HungLikeJesus Friday Mar 30 04:04 PM

This is all I have to say about that:

---

glatt Friday Mar 30 05:23 PM

I've been saving this one for a while. Doesn't really stand on it's own, but it fits right in on this thread.

---

Kagen4o4 Friday Mar 30 05:26 PM

thats a funny name for them, i'd a called em jazwazza's

us here in victoria dont see them at all

---

Trilby Friday Mar 30 06:19 PM

/homer/ "I'm not NOT licking toads," /homer/

---

Slothboy Friday Mar 30 07:06 PM

Why is "dog" the universal measurment for the size of other animals? It seems like it would be more accurate to say that toad (undertoad?) is the size of a cat, or maybe a bunny.

I think the average dog is much bigger than that.

---

bluesdave Friday Mar 30 08:28 PM



Brianna, it is just as well that you have no desire to lick a Cane Toad - they are extremely poisonous. They have two poison glands on their back, just behind their head, and eject this poison when threatened. They have killed millions of our native animals, though surprisingly some have adapted, and learned to eat the toads and avoid the poison glands.

---

xoxoxoBruce Saturday Mar 31 01:41 AM

---

Gawa Saturday Mar 31 04:45 AM

ewww....the guy holding him will need a large tube of Wart-B-Gone

---

Karenv Saturday Mar 31 01:05 PM

---

Karenv Saturday Mar 31 01:09 PM

I have Chinese sore throat medicine made from toad venom along with other delightful ingredients. The pills are smaller than the head of a pin because it is so toxic. But they will vanquish strep like nothing else.

---

bluesdave Saturday Mar 31 09:27 PM

---

TheMercenary Saturday Mar 31 10:16 PM

---

xoxoxoBruce Sunday Apr 1 01:25 PM

I read an article where the author theorized Mary gave datura to Jesus on the cross, in order to fool the Romans.

---

DucksNuts Sunday Apr 1 10:05 PM

Hey!! None of you wanna eat the cute little frog??

C'mon, I expected better.

---

Kingswood Monday Apr 2 01:09 AM

I don't think a toad is really worthy of the name Toadzilla until it is the height of a respectable office building, is attracted to pollution, and wreaks havoc wherever it goes. Only one third of the way there so far.

---

Aliantha Monday Apr 2 02:48 AM

The only good toad is a squashed toad. We have a national passtime in Qld. Late on summer evenings when the air cools down but the road retains it's heat, toads like sitting on it. Naturally, they make excellent targets for the wheels of cars. Often times, two cars travelling to the same destination will compete to see who can squash the most toads en route.

We also use cricket bats and wickets. Golf clubs and metal stakes to kill them. They also make good footballs except you need to make sure you have shoes on cause they feel very icky to the touch.

Toads kill animals. That's a fact here in Qld. It's why so many people spend so much time killing the mongrels during summer.

---

xoxoxoBruce Monday Apr 2 03:54 PM

---
Your reply here?

The Cellar Image of the Day is just a section of a larger web community: a bunch of interesting folks talking about everything. Add your two cents to IotD by joining the Cellar.