Undertoad Tuesday Mar 27 11:41 AM

March 27, 2007: Propane train derails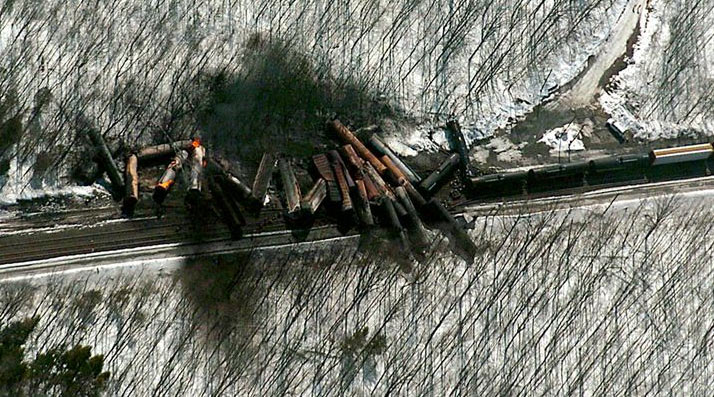 I always like images where, when I see them, I don't exactly know what they are until I read the headline or caption. That's what happened here - unless you look at a lot of derailments from above, you won't immediately realize that this is a train, carrying liquid propane, that derailed near Oneida, NY, causing a big explosion.

Then when you read the caption, you look back at the image and say, wow.

---

Sheldonrs Tuesday Mar 27 11:55 AM

Why do fuels fall in love?

---

Shawnee123 Tuesday Mar 27 12:01 PM

:p
You're such a gas!

---

jinx Tuesday Mar 27 12:05 PM

Drivin' that train
full of propane
Casey Jones you better...

---

Sheldonrs Tuesday Mar 27 12:07 PM

---

glatt Tuesday Mar 27 12:08 PM

It's awfully convenient for the cleanup crews that there was a road right there that stopped at the derailment point. Hmmm.

---

lumberjim Tuesday Mar 27 12:13 PM

i see a black jesus with his crown of thorns.

---

glatt Tuesday Mar 27 12:19 PM

I don't know when this picture was taken, but according to this article, after the initial explosion of a couple cars during impact, all the remaining propane was burned off in a controlled burn done by firefighters. So I'm not sure if this picture is before or after the controlled burn.





---

Shawnee123 Tuesday Mar 27 12:36 PM

"I'm goin' off the rails on a propane train..."

---

piercehawkeye45 Tuesday Mar 27 12:40 PM

At least it was on land or we would have a mess in our hands.

---

Beestie Tuesday Mar 27 12:58 PM

CNN: Authorities are said to be on the lookout for the elusive international propane thief Wo Chin Li allegedly seen blanketing the tracks with Chuck-E-Cheese tokens shortly before the derailment ocurred.

---

Spexxvet Tuesday Mar 27 01:01 PM

Who wants to play pick up sticks?

---

Shawnee123 Tuesday Mar 27 01:02 PM
True, luckily ocean trains aren't apt to derail.

---

Sheldonrs Tuesday Mar 27 01:21 PM

---

Shawnee123 Tuesday Mar 27 01:39 PM

Yes.

---

milkfish Tuesday Mar 27 02:59 PM

"She don't lie, she don't lie, she don't lie....propane."

They look like a bunch of Estes rocket motors that went off by accident (except that they aren't scattered over a huge area).

---

BigV Tuesday Mar 27 03:24 PM

---

elSicomoro Tuesday Mar 27 03:27 PM

---

elSicomoro Tuesday Mar 27 03:28 PM

Fuck...am I gonna have to say it? Jesus fucking Christ...okay...

Wow...look at all those cocks!

---

Sheldonrs Tuesday Mar 27 03:35 PM

Whoa nelly! Look at the uncut cum shooter one on the left!




---

elSicomoro Tuesday Mar 27 03:40 PM

Sheldon, I come here expecting you to turn the most inane of subjects into something involving gay men. You greatly disappointed me in this thread, and I hope this is not going to become a trend.



---

Sheldonrs Tuesday Mar 27 03:52 PM

---

BigV Tuesday Mar 27 04:10 PM

**I** don't think you're gay! How could I think such a thing?

---

Shawnee123 Tuesday Mar 27 05:00 PM
If by gay you mean "funny, friendly, and just plain huggable" then yes, mister, you are gay. :p

Seriously, though, I think you should be less afraid to just be yourself.

---

Sheldonrs Tuesday Mar 27 05:16 PM

---

BigV Tuesday Mar 27 05:22 PM

*I* got it the first time.




But not from Sheldonrs.

---

Flint Tuesday Mar 27 05:25 PM

---

Kagen4o4 Tuesday Mar 27 05:44 PM
huh, funny, when i looked at the train image i imagined seeing it happen from very high up and what it would have looked like...

a big poof

---

Sheldonrs Tuesday Mar 27 05:48 PM

Sometimes a train wreck is just a train wreck.

---

kerosene Tuesday Mar 27 10:51 PM

Looks like a bunch of burnt cigarette butts sitting on the rubber moulding of a car.

---

tw Tuesday Mar 27 11:36 PM

How big would a seagoing propane train be? Well current post Panamax container ships carry enough containers for a train 62 miles long. Propane and natural gas ships are much larger.

---

seakdivers Wednesday Mar 28 01:22 AM

So which end is the front? I would assume that the pileup is the front - but where is the engine car? Is it smooshed under the rest of them?

Weird.

---

BigV Wednesday Mar 28 11:08 AM

---

xoxoxoBruce Thursday Mar 29 03:46 PM

Trains have safety couplings so if a car in the middle of the train jumps the track the engineer can cut it loose and book. If the engine is/was on the right then he must have left some, or all, the cars behind.
I'm not sure, but I doubt the engineer can dump cars selectively from the cab.

If the engine was/is on the left, when the cars started jumping the tracks and piling up, it would stop the cars behind them dead, and the engine with or without some cars would get the hell out of there.

---

glatt Thursday Mar 29 03:52 PM

I was wondering the same thing. I know if I was an engineer and all that mess happened behind me, I'd uncouple the train and get out of there.

---

elSicomoro Thursday Mar 29 07:46 PM

---

footfootfoot Thursday Mar 29 08:01 PM

---

xoxoxoBruce Thursday Mar 29 11:49 PM

And anyone thinks he's the straight man, I want to see(hear) their comic.

---

tw Saturday Mar 31 01:42 AM

Suspicions fall upon a rail that may have shattered. Apparently this line was inspected only last November by that ultrasonic inspection train (I believe operated by Unisys). But that rail section, for reasons not explained, could not be tested by machine; was inspected manually.

This train was shifting from one rail line to another. IOW, if settlement due to spring thaw had undermined one rail bed, then a car may have tilted and derailed during at that transition. However other reports implied this did not happen.

Trains in this region normally operate at 50 MPH. But due to the rail shift, this train was only moving at 30 MPH. Even with brakes fully applied; appreciate how many cars piled into the derailment until remaining cars could stop.

NY State is becoming concerned with CSX since well over 500 problems have occurred over the past seven years. NY's Governor has opened an investigation of CSX.

Essential to CSX is this line; a major connection to New England. Freight trains must go far north, to Albany, to get around or into NYC. A new proposal would build a tunnel from Jersey City, deep under the Hudson River, to surface in Brooklyn so that NYC can become a shipping port again. Instead shipping is from Newark NJ where freight trains can service ships.

---

xoxoxoBruce Saturday Mar 31 12:03 PM

26ish cars at 30mph? And a couple, far off the tracks. That's hard to fathom. I wonder how many cars were pushing into that wreck.
Cut off fuel to the engine? Oil to the diesel generator or electric to the drive motors. Cutting electric would be faster, wouldn't it? Or would that just allow them to freewheel?

Stay the hell off the RR crossings, you wouldn't even slow them down while they squash you.

---

elSicomoro Saturday Mar 31 12:05 PM

I remember at one point a few years ago, several people got hit by trains in the Philadelphia area...some of them SEPTA commuter trains, but a couple of Amtrak ones too, IIRC. What the fuck?! Didn't your parents ever teach you to stay off RR tracks?

---
Your reply here?

The Cellar Image of the Day is just a section of a larger web community: a bunch of interesting folks talking about everything. Add your two cents to IotD by joining the Cellar.