Undertoad Monday Mar 26 08:36 AM

March 26, 2007: Shark sliced on dock



It's Neatorama collaboration Monday!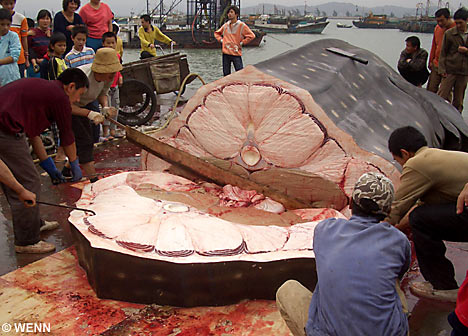 The Daily Mail has the full story of the Chinese fishermen who gamely battled this whale shark.

It looks like once they got it to shore, there wasn't a crane large enough to manage it, so they just found that big ol' knife and cut the sucker up right there. The story says it was later cut up further, and became food. DAMN but that's a lotta meal. If you order shark in the town where this happened, I bet you get a sector of this.

The big knife/saw is a great part of this one. Do they keep such cutlery available for just such occasions?

Be sure to visit Neatorama for more neato items all the time!

---

bluraven Monday Mar 26 08:50 AM

Let me be the first to say...... EEEeeeewwwwwwwwwwww!

---

Sundae Monday Mar 26 09:10 AM

Actually I think it looks very tasty. And not just in a comedy let's-eat-the-IoTD way. Gives me a real yen for seafood, if you can possibly excuse the pun.

---

Spexxvet Monday Mar 26 09:47 AM

Anybody in the market for a shark skin suit?

---

glatt Monday Mar 26 09:52 AM

---

Snapple Monday Mar 26 10:05 AM

I wonder how long it was alive for before we dragged it from its' home and chopped it to bits?

---

lumberjim Monday Mar 26 10:28 AM

that's not filleted. That's sliced.

---

Happy Monkey Monday Mar 26 10:40 AM

I didn't know shark was citrus.

---

Shawnee123 Monday Mar 26 11:12 AM

land shark

Candygram

---

Undertoad Monday Mar 26 11:13 AM

---

lumberjim Monday Mar 26 11:20 AM

i feel better now, thanks

---

freshnesschronic Monday Mar 26 11:34 AM

Shark doesn't taste very good to me. They shoulda tossed him back for something tastier.

---

seakdivers Monday Mar 26 11:50 AM

Well those knives & hooks are normal whale fletching tools, so I imagine they normally process whales and not whale sharks. I wonder if they taste similar since they eat basically the same thing.

gag

no thanks!

---

milkfish Monday Mar 26 12:36 PM

---

piercehawkeye45 Monday Mar 26 12:56 PM

What does shark taste like anyways?

---

Shawnee123 Monday Mar 26 01:12 PM

---

Hoof Hearted Monday Mar 26 01:27 PM
hh

---

lumberjim Monday Mar 26 01:50 PM

it looks like most of it is blubber. the red swirls toward the top of the 'citrus segments' look like meat (a bit like salmon) .....but mostly, i think it's bubble gum flavored.

---

Gawa Monday Mar 26 02:03 PM

I agree...it looks like pink grapefruit.

---

busterb Monday Mar 26 02:43 PM

What??? No one watched Planet Earth on DSC last night?? WTF.

---

Sundae Monday Mar 26 03:21 PM

It doesn't have a strong fishy flavour (although this may depend on how it's cooked) and it has the same chewy consistency as meat.

In short - yummy.

---

BigV Monday Mar 26 05:44 PM

Carry on.

---

WabUfvot5 Monday Mar 26 06:05 PM

... . ... ...

---

seakdivers Monday Mar 26 06:15 PM

oh whatever. I knew it was something like that..... don't I at least get a C- for effort?

---

BigV Monday Mar 26 06:21 PM

The king crab and the orca and the beef all look purty darn good too, but the salmon was... heaven.

---

freshnesschronic Monday Mar 26 07:18 PM

Very salty and rough.

---

tulzscha Monday Mar 26 08:15 PM

...All four whale sharks were imported from Taiwan, where whale sharks are dubbed as Tofu sharks because of the taste and texture of the flesh.

Tofu? Blegh, definitely throw it back.

---

Sheldonrs Monday Mar 26 08:27 PM

Who wants a chum stick?


BTW, never like the taste of shark. It has a mildewy taste to me.

---

Elspode Monday Mar 26 08:43 PM

---

YellowBolt Monday Mar 26 08:44 PM

Tofu tastes good as long as you get it fresh and cook it the right way. Kind of in the same sense as broccoli.

I always thought shark tasted like eel...

---

bluesdave Monday Mar 26 10:13 PM

One of the nicest tasting fish I ever consumed was a steak cut from what we called a river shark. They only grow to somewhere between 2 and 3 feet in length, and its flesh was extremely white, and very tasty - not overpowering at all.

BTW, whale sharks only eat krill, and do not have teeth. They are very gentle creatures, and grow to a huge size. We have often watched documentaries with people happily swimming with them - not for me, though.

---

zippyt Monday Mar 26 10:29 PM

It tastes just like chicken. of the sea !!!

---

DucksNuts Monday Mar 26 10:48 PM

Cant they leave anything in the bloody ocean????

I did use the F word, but remember that I might get a cyber slapping.

Oh and I dont mean to be offensive with the *they*, it just annoys me all the trouble we have with illegal whaling etc...its a pet peeve and whale sharks are gorgeous.

---

rkzenrage Tuesday Mar 27 12:32 AM

I agree.

---

Chinditz Tuesday Mar 27 02:10 AM

Was there, at any time in the proceedings a Chinese guy standing on the back of the boat mumbling:" We need a bigger boat!, Chief!, Chief!, We NEED a bigger boat!".

Even as a big seafood (and Tofu) fan, I really cannot imagine myself eating either shark or turtle, I just basically like both species to much

(Now dolphins is another story, after swimming with the A-holes and constantly getting crapped/pissed on by a dominant male who had a lot of fun sticking his nose in my groin with considerable force, I always make sure I buy dolphin-UN-friendly tuna whenever I can)

---

Aliantha Tuesday Mar 27 02:48 AM

I can't believe anyone would kill a whale shark. This is just disgusting to me although I know others don't have a problem with it.

Whale sharks are common in our northern waters. They wouldn't be killed by Australian fishermen because there's no market for that sort of flesh.

One of the most common sorts of shark flesh found in fish and chip shops here is Mako. I don't like shark meat which is usually sold as 'flake'. I wouldn't say the texture is like that or swordfish, although it's probably better for pregnant women than swordfish.

---

bluesdave Tuesday Mar 27 04:10 AM

I have heard (and I cannot cite proof), that very often when we buy fish from the supermarket with a fancy name, it is usually some form of common fish (like Mekong Catfish - that is sold under hundreds of pseudonyms).

---

Shawnee123 Tuesday Mar 27 09:51 AM

---

milkfish Tuesday Mar 27 03:01 PM

What do you use as bait to fish for a whale shark? A hook through a single piece of krill?

---

Aliantha Tuesday Mar 27 06:00 PM

That particular catfish is usually labled as bassa and sometimes even nile perch.

---

bluesdave Tuesday Mar 27 08:46 PM

I have not seen flake in a fish shop in Sydney for probably more than 30 years. I am surprised that they still sell it in Brisbane. Are you sure you are not confusing flake with hake (a fish caught around New Zealand, and often sold as generic fish)?

Today Tonight on Channel 7 last year did a story on fish, and they talked to a marine biologist and also had laboratory tests done, and they named the Mekong Catfish, as one of the most commonly sold fish, and that it was marketed under many names - not only two. They also mentioned other species of fish which are also sold with exotic names.

---

Aliantha Tuesday Mar 27 09:38 PM

Absolutely positive I'm not confusing it with Hake.

You're right about the catfish. It is sold under many different names. Sometimes even just plain old cod.

You don't believe everything you see on TTN do you Dave? lol They've been caught out a few times for 'making up' stories.

---

DucksNuts Tuesday Mar 27 10:04 PM

Still Flake down here, I have seen Hake on the menu

---

chrisinhouston Monday Apr 2 12:43 PM

All this banter about Flake, I had to get to the bottom of it.

Flake (fish)
From Wikipedia, the free encyclopedia
Jump to: navigation, search
Flake is a term used in Australia to indicate the flesh of any of several species of small shark, particularly Gummy shark. The term probably arose in the late 1920s when the large-scale commercial shark fishery off the coast of Victoria was established. (Until this time, shark was generally an incidental catch rather than a targeted species.)

Flake rapidly became popular. It has a mild flavour, a soft texture that nevertheless remains well-defined after cooking, and a clean white appearance. These qualities, combined with the ready supply and a low price, saw flake become by far the most common type of fish to be served in Australian fish and chip shops.

Flake remains popular, but it is no longer especially cheap. By the mid to late years of the 20th century, Australia's growing population and more efficient harvesting methods had led to an alarming decline in shark stocks, and the fishery is now regulated in the hope of preventing any further deterioration.

Although the primary shark species sold as flake is the gummy shark, there are several others, as listed below.

Gummy shark, Mustelus antarcticus
School shark, Galeorhinus galeus
Elephant fish, Callorhinchus milii
Whiskery shark, Furgaleus macki
Saw shark (any of several Pristiophorus species)
Various dog sharks (Family Squalidae)
During the late 1960s it became apparent that larger individuals of several shark species were contaminated with high levels of heavy metals, particularly mercury, and a public outcry eventually led to a ban on the sale of large school sharks in 1972, which remained in effect until 1985.

Retrieved from "http://en.wikipedia.org/wiki/Flake_%28fish%29"

---

xoxoxoBruce Monday Apr 2 04:06 PM

The mercury went away after 1985?
Or people didn't care after 1985?

---

bluesdave Monday Apr 2 11:01 PM

Chris, thanks for the definition of flake, but I think we (down here), already know that (as Aliantha pointed out). It seems that flake is still sold in Brisbane and Melbourne, and it might well be sold in parts of Sydney (it is a very large place), but as I said previously, I have not seen it for sale in my local area for many years. The reason I asked Aliantha if she was confusing flake with hake, was that many people used to confuse the two - it was a common error, but since shark has gone off the menu in Sydney, and hake seems to have too, for that matter, the confusion has dissipated somewhat.

---

tulzscha Monday Apr 2 11:38 PM

if you grind up an artificial hake, do you get fake hake flakes?

---

bluesdave Tuesday Apr 3 03:57 AM

Hey, that is quite clever Tul.

---

xoxoxoBruce Tuesday Apr 3 08:41 PM

Sell it to the Chinese, they pay better.

---

Aliantha Tuesday Apr 3 08:42 PM

That'd make a pretty big sushi roll. (I know wrong country)

---
Your reply here?

The Cellar Image of the Day is just a section of a larger web community: a bunch of interesting folks talking about everything. Add your two cents to IotD by joining the Cellar.