Undertoad Friday Mar 23 11:45 AM

March 23, 2007: Cat says his own name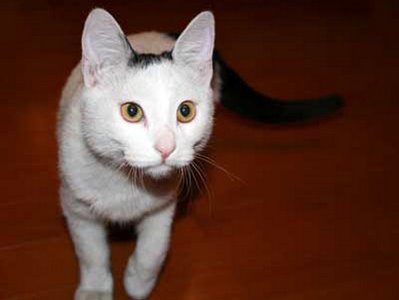 Making the rounds (Spluch, Neato) is this item.


Full story

But this IotD is nothing without the video...


---

Shawnee123 Friday Mar 23 11:50 AM

I don't know that I hear a cat...I hear a bunch of chinese people beepin' their heads off.

---

Trilby Friday Mar 23 12:14 PM

Um...I thought cats were self-cleaning

---

Happy Monkey Friday Mar 23 12:39 PM

Here are a bunch of talking cats. They really sound wierd.

---

mbrutsch Friday Mar 23 12:44 PM



Having washed a few cats in my time, I must say Agui is taking his cleaning with remarkably un-feline aplomb.

---

Shawnee123 Friday Mar 23 12:51 PM

---

glatt Friday Mar 23 01:16 PM

---

Sheldonrs Friday Mar 23 01:28 PM

Nothing more annoying than a pussy that screams it's own name.

---

Shawnee123 Friday Mar 23 01:35 PM

---

seakdivers Friday Mar 23 01:36 PM

My youngest cat talks when she's hungry. She will sit by her food bowl, and I will ask "who wants food?" and she will let out a pathetic little "meeeee".

---

gmr2048 Friday Mar 23 01:52 PM

BS!

I call BS. I bet the cat's name was something like "Ralph" before they heard the bath-time moans. Then some enterprising person with a video camera said "If we change his name to the sound he's making, it will be way cooler. And who knows, maybe we'll even win $10k on that American Funny Video show!".

Just like my cat. He says his name when his tail gets caught under the rocking chair. His name is "MEOWRAROWOWROARMEOWOWOW". Hell of a coincidence, no?

-gary

---

Sundae Friday Mar 23 01:56 PM

My cat Dylan says my name, but the video wouldn't be very impressive - he only says it when he's outside my bedroom door bullying me to get up.

And he can't even pronounce it properly.

You'll get my opinion on this video where I'm somewhere where net nanny hasn't blocked it

---

Shawnee123 Friday Mar 23 02:33 PMwrite with a pencil in their eye, take communal baths in chocolate, or ride around in a giant shoe car.
Bandwidth restraints stop me from going on...and on....and on...

---

AZjanny Friday Mar 23 03:00 PM

Did she help the cat bathe by using her tongue?

---

Elspode Friday Mar 23 07:40 PM

These people are fools. The cat is clearly saying "Mogwai", warning them to stop getting her wet.

---

xoxoxoBruce Friday Mar 23 08:54 PM

---

Kumbulu Saturday Mar 24 03:01 PM

I hear it. The people around him are imitating him but you can tell when he says it. Very sweet.

---

AZjanny Saturday Mar 24 04:52 PM

I just listened to it and it sounds like there is a little toddler in the back ground saying the cat's name.

---

wolf Saturday Mar 24 07:40 PM

Smart Cat. You have to really innovate to avoid becoming General Tso's Chicken.

---

monster Sunday Mar 25 02:42 PM

---

Wombat Sunday Mar 25 07:19 PM

I love IOTD. In fact I really love IOTD.

Please please please don't let it become VOTD.

---

Sundae Monday Mar 26 04:28 AM

I am becoming a mad old catwoman so I consider myself an expert.

---

xoxoxoBruce Monday Mar 26 08:11 AM

---
Your reply here?

The Cellar Image of the Day is just a section of a larger web community: a bunch of interesting folks talking about everything. Add your two cents to IotD by joining the Cellar.