Undertoad Tuesday Mar 20 10:50 AM

March 20, 2007: Maserati covered in shattered glass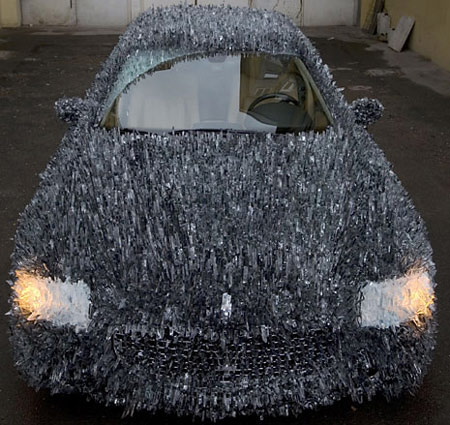 Axlrosen sends along this item which was covered by Autoblog. Italian artist Luca Pancrazzi created this work, a modern Maserati Quattroporte carefully covered with 1,763 lbs. of shattered glass.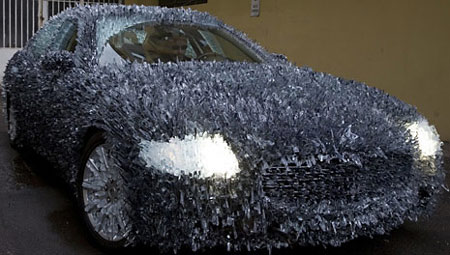 It's currently on display outside of the Moscow Museum of Modern Art.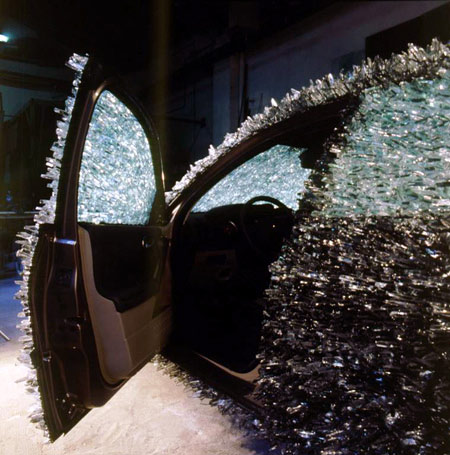 This is one of those pieces that makes a great IotD, I think, because as art you can enjoy it on any level you like. You can think about what kind of statement it is -- taking one of the finest Italian automobiles, which can do 0-60 miles per hour in 5.2 seconds, and will set you back at least $118,000 -- and coating it with a veneer of destruction. You can examine the notion of whether this remains a Maserati, or whether the artist has in fact changed it into something else. Or you can just say, how cool, how strangely beautiful.

The contrast of the clean windshield glass is particularly interesting.

---

wolf Tuesday Mar 20 10:56 AM

Is that sucker actually parked on soft white carpeting or maybe even sheepskin, as it appears in the third picture? If so, nice contrast.

I hope it has keyless entry.

---

Gawa Tuesday Mar 20 10:59 AM

It's sorta like our cars in Minnesota, coming out of a hot carwash on a cold winter's day.

---

HungLikeJesus Tuesday Mar 20 11:08 AM

In the third picture, with the open door, the windshield does not look clear. Maybe someone decided that they actually wanted to be able to drive the car.

Can you imagine if you were a pedestrian hit by this car? And then you fall into the salt pile.

---

Sheldonrs Tuesday Mar 20 11:27 AM

Is it just me? Or does this car look like the hands on the earlier IotD with the horrible skin disease?

---

Flint Tuesday Mar 20 11:29 AM

DW (Drum Workshop) has a custom finish consisting of three-dimensional (light-catching) shattered glass, under a clear laquer.

---

barefoot serpent Tuesday Mar 20 12:09 PM

maybe they can get this guy to lay on it

---

piercehawkeye45 Tuesday Mar 20 12:54 PM

If you got clipped by that car it would probably just take off your legs.

Would they actually allow someone to drive that? I doubt it.

---

glatt Tuesday Mar 20 01:06 PM

Quote:

Originally Posted by

piercehawkeye45

Would they actually allow someone to drive that? I doubt it.

The head lights, turn signals, license plates, and various windows are all obstructed. Otherwise, I bet it would be fine.

---

axlrosen Tuesday Mar 20 01:36 PM

Zoom in on that first image and here's what you see.


---

Griff Tuesday Mar 20 06:05 PM

Oops, thought that said Mazeroski covered in shattered glass. I think I'm a little too baseball focused right now.

---

milkfish Tuesday Mar 20 06:41 PM

This way you don't have to be the old guy yelling down the street "Hey you kids! Quit leaning on my car!"

---

xoxoxoBruce Tuesday Mar 20 09:59 PM

More money than brains.

---

zippyt Wednesday Mar 21 12:01 AM

Oh come ,
Here , i'll say it
SHARP CAR !!!!!!

Geeze folks I waited ALL day for some body to say that !!!!!

---

milkfish Wednesday Mar 21 01:20 PM

Well, the original Autoblog article used that same joke in its title, so you didn't have to wait.

---

King Saturday Mar 24 07:33 PM

Wow. Deadliest weapon ever.

---

Kagen4o4 Saturday Mar 24 09:25 PM

"well my husband kept picking up hookers and having sex with them on the car so i thought..."

maybe the windscreen is just refracting off the bonnet?

---
Your reply here?

The Cellar Image of the Day is just a section of a larger web community: a bunch of interesting folks talking about everything. Add your two cents to IotD by joining the Cellar.