Undertoad Monday Mar 19 01:10 PM

March 19, 2007: Qian Hongyan gets legs



It's Cellar IotD/Neatorama collaboration Monday!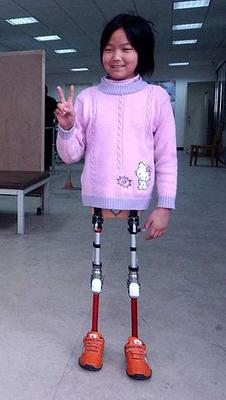 She still looks a bit strange, but this is a great advance for young Qian Hongyan. You might remember her in a different configuration, in an I of the D from two years ago: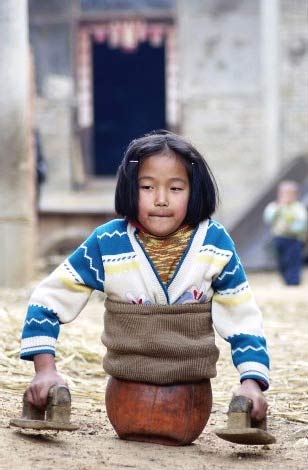 Yes! Basketball girl got her legs!

Two years ago we shared a kind of... melancholy? over her, because although she had a sad story, at least she was making due with what she had. Now this little cutie, as a young teenager, is happy and Hello-Kittified -- there is joy in the world.

Full story with no further pics

Be sure to visit Neatorama for more neato items all the time!

---

Shawnee123 Monday Mar 19 01:17 PM

Wow!

---

wolf Monday Mar 19 02:14 PM

Legs, titanium or not, are going to seriously cut into her begging proceeds.

Now that I've dispensed with the necessary sarcasm ... it's cool to see her looking happy, as well as stylin' and profilin' in the HelloKitty sweater.

I just hope that the donation money is still there as she continues to grow and needs to be refitted for new prostheses.

---

Spexxvet Monday Mar 19 02:32 PM

She can sell her basketball on ebay. Probably dozens of times. And now, with those legs, she can kick your lame ass and take your money. See, if she's a true entrepreneur she be just fine.

Oh, and wasn't it nice of wolf to send her the sweater?

Peace, Babe.

---

Griff Monday Mar 19 02:34 PM

Awesome! The future is now.

---

Trilby Monday Mar 19 02:35 PM

Amazing!


(Griff, why does George=Hillary?)

---

Griff Monday Mar 19 02:40 PM

I'm trying to antagonize two parties at once.

They both use the language of their base but have their own agenda.

I return you to your regular programing already in progress. Cool pic!

---

piercehawkeye45 Monday Mar 19 03:25 PM

Good for her. If you padded them a bit and put pants on you would barely notice.

---

glatt Monday Mar 19 04:15 PM

She stands up well, but she looks like she would fall over so easily. Very top heavy. With her sweater hanging down, it looks like she doesn't have any leg stumps to attach the prostheses to. I wonder how easy it is to walk, and if she can move the legs independently or if she sort of has to rock back and forth to get the legs swinging.

---

monster Monday Mar 19 04:44 PM

http://www.metacafe.com/watch/292284/basketball_girl/

This collection of pictures has some towards the end with the legs padded.

It looks like she hardly has any hips and pelvis -no wonder it has been so costly to get her some new legs, but I still can't believe it took so long to get her a wheelchair.

With her family being too poor to afford even that, I find it amazing that she was able to get such fantastic medical treatment after her accident that she survived -that's quite a drastic and surely pretty unusual amputation. I find it shocking that after she recovered from the surgery she was apparently returned to her family without any support -they came up with the basketball thing.

Good for her that she always seems happy. Children are so resilient and so brave without even knowing it.

---

Happy Monkey Monday Mar 19 05:02 PM

Quote:

Originally Posted by

glatt

I wonder how easy it is to walk, and if she can move the legs independently or if she sort of has to rock back and forth to get the legs swinging.

I seriously doubt that she could do either. I think the article mentioned crutches.

---

milkfish Monday Mar 19 05:46 PM

She's got legs - she knows how to use them.

---

xoxoxoBruce Monday Mar 19 11:22 PM



---
Your reply here?

The Cellar Image of the Day is just a section of a larger web community: a bunch of interesting folks talking about everything. Add your two cents to IotD by joining the Cellar.