Undertoad Saturday Mar 10 03:01 PM

March 10, 2007: The cat wants in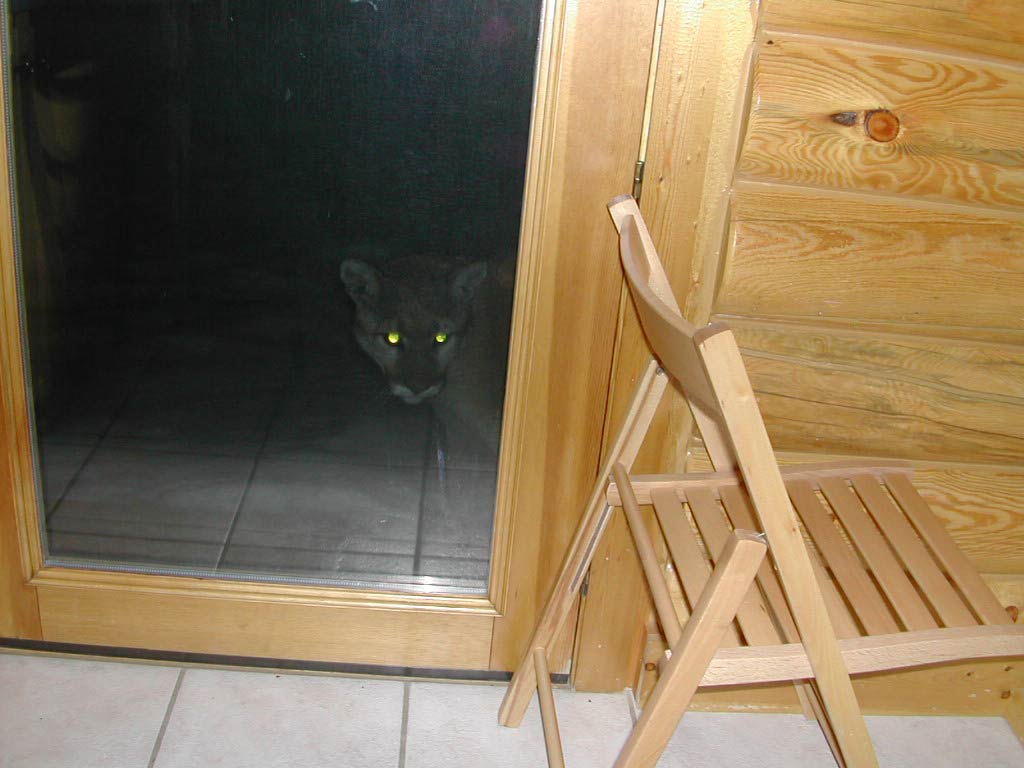 Another set that's too wide for your browsers, but I can't help but post them
full size.

xoxoxoBruce sends these along, apparently from an E-mail forward?
The text in the email:



this link to
the same four shots, along with the following text:


Aha: four days ago Snopes researched this one, and the result?

Because you know if there had been kids in the house, this cat would have been
watching them.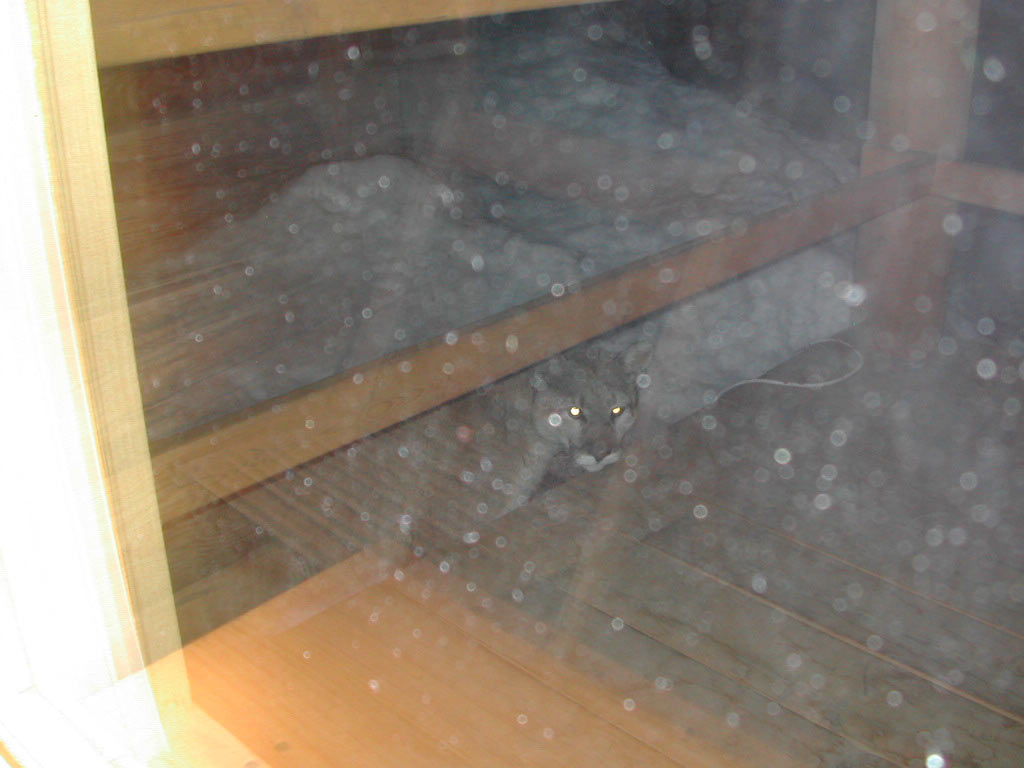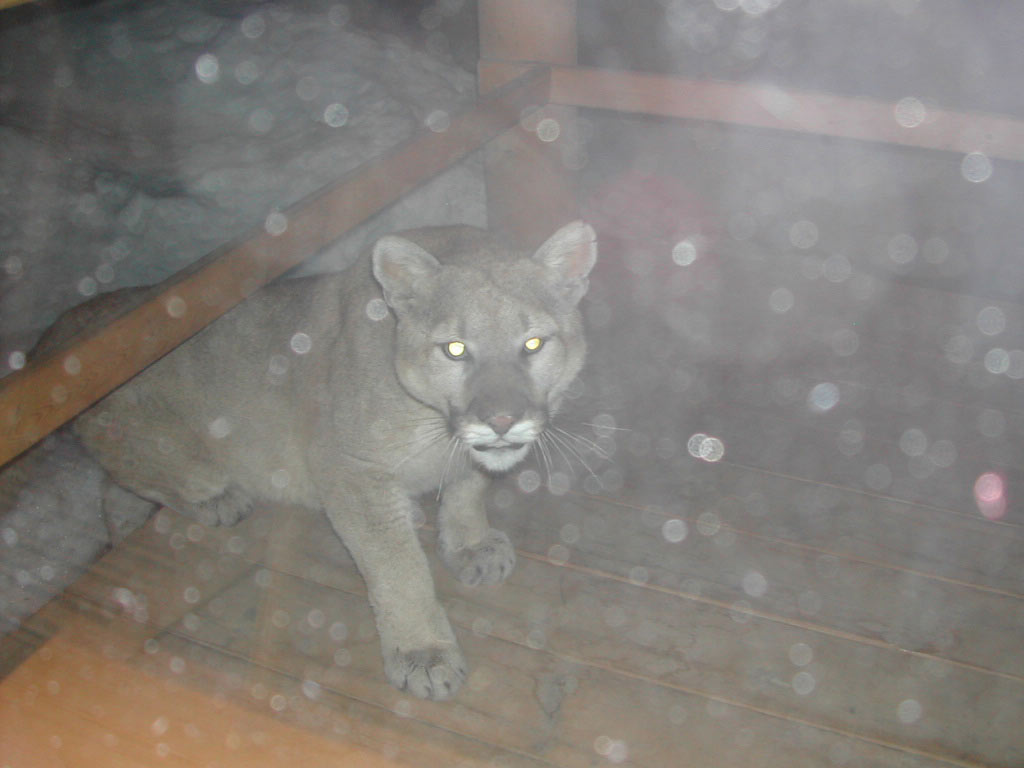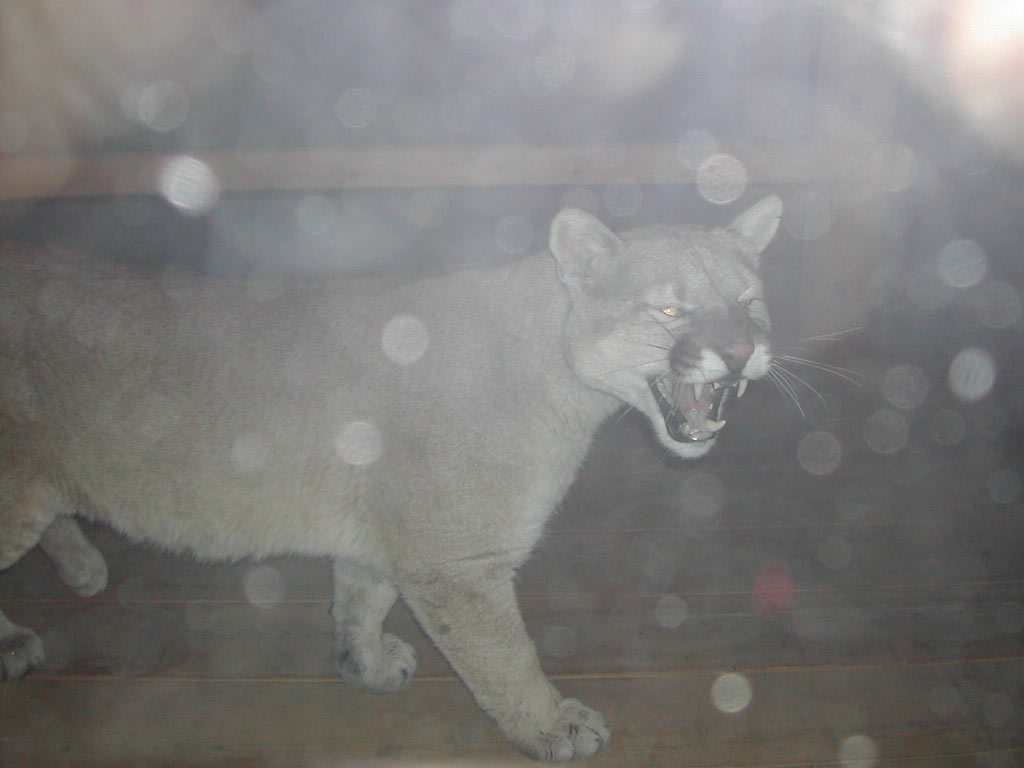 ---

Trilby Saturday Mar 10 03:40 PM

Good Kitty!

---

kerosene Saturday Mar 10 04:10 PM

For some reason I have the Flintsones theme going in my head.

---

zippyt Saturday Mar 10 05:33 PM

Good Kitty!
My ASS !!!
Kitty wants a Kiddie treat !!!

---

Elspode Saturday Mar 10 05:43 PM

Me-fuckin'-ow.

---

Trilby Saturday Mar 10 05:43 PM

---

seakdivers Saturday Mar 10 06:26 PM

That is spooky!

---

Ibby Saturday Mar 10 11:17 PM

cute animals shouldnt be allowed to be dangerous.

I love cougars.

---

warlord Sunday Mar 11 01:52 AM

Bang

---

xoxoxoBruce Sunday Mar 11 03:28 AM

I tawt I taw a puddy tat.
I did!
I did!
I did taw a puddy tat.

---

Kagen4o4 Sunday Mar 11 04:28 AM

its like seeing a big spider right next to your hand and getting that momentary "HOLY SHIT" feeling. you look out and see big fucking teeth and eyes watching you.

---

SPUCK Sunday Mar 11 07:16 AM

Kitty needs a load of 00 buckshot.

Or for you softies a load of rock salt so he figures out humans and houses are bad juju.

---

Aliantha Sunday Mar 11 08:15 PM

If I saw a cat like that hanging around my back door there's no way I'd be bothering to ring the response team. I'd just shoot it. Same as I'd hit a snake over the head with a shovel.

I guess I'd have to have a gun first, but if I lived where there'd be a chance of animals like that hanging around, I'd have one.

In the mean time, I DO have my trusty shovel under the house.

---

Griff Sunday Mar 11 08:26 PM

Those kitty cats are sposed to be making a comeback around here. I'm not so thrilled with the prospect.

Today I heard about a new accidental introduction here, Russian boars... mmm... pass the cabbage.

---

Kitsune Sunday Mar 11 10:12 PM

---

Aliantha Sunday Mar 11 10:33 PM

What?

---

wolf Sunday Mar 11 10:35 PMaccidentally introduce a Russian boar anywhere? Was someone trying to cash in on the potbellied pig market and got the wrong strain of swine?

---

zippyt Sunday Mar 11 11:17 PM

Well you know how it goes ,
"aww this little cutie could NEVER grow into those bigole' feets !!!"

---

rkzenrage Monday Mar 12 03:18 AM

Daddy got a new rug.

---

Griff Monday Mar 12 07:25 AM

---

Griff Monday Mar 12 07:26 AM

---

xoxoxoBruce Monday Mar 12 07:34 AM

Griff, the safari master guide. Boar hunts for the rich and famous. Don't go with Cheney though.

---

Kumbulu Monday Mar 12 12:47 PM

I'm on ur deck, eatin' ur dog.

---

Spexxvet Monday Mar 12 12:53 PM

---

Spexxvet Monday Mar 12 12:54 PM

---

Happy Monkey Monday Mar 12 01:15 PM

I know an old lady, who swallowed a boar.

Oh! What a...

---

ferret88 Monday Mar 12 02:18 PM

What good would it do there?

---

Shawnee123 Monday Mar 12 02:30 PM

---

bluecuracao Monday Mar 12 06:22 PM

Aww, what a beautiful kitty! I bet he's good at keeping the raccoons and field mice in check.

---

Aliantha Monday Mar 12 09:22 PM

---

rkzenrage Monday Mar 12 09:26 PM

Part of my job on our ranch was to kill as many boar as I could. It could have been a full-time job had I had the time.
They are amazing animals.

---

Aliantha Monday Mar 12 10:04 PM

My father used to shoot wild pigs for a station owner west of the city we live in. I remember going out there with him when I was a kid. I used to love rounding up the pigletts when the sows were killed. Unfortunately, they used to disappear over night usually.

---

xoxoxoBruce Tuesday Mar 13 12:38 AM

I'm embarrassed it's been twelve hours and 9 posts since you posted and nobody said howdy. Must be the wildcats and snakes got 'em distracted.

---

SPUCK Tuesday Mar 13 04:53 AMvery afraid of. As he's not out going for his staple which are supposed to be deer.

http://images.google.com/imgres?imgu...%3Den%26sa%3DN

---

xoxoxoBruce Tuesday Mar 13 04:27 PM

It's still a cat and curious about everything. They'll check out everything that gets their attention, until satisfied or frightened away.
I'm sure they question whether anything new is a danger or not. But I wonder if they question whether anything new is prey, if they have a reliable chow line?

---

Kitsune Tuesday Mar 13 04:38 PMSnopes article:



---

xoxoxoBruce Tuesday Mar 13 04:48 PM

I wouldn't go so far as saying nothing to be afraid of. Any time you have the chance of startling a critter, big enough to kill you, there is something to be afraid of. That said, they aren't usually a problem if you exercise reasonable caution not to sneak up on them.
My Mom's neighborhood has a problem with bears in the yard, tearing up the bird feeders.

---

Aliantha Tuesday Mar 13 08:20 PM

Honestly, I don't know why people complain about the poisonous animals in Australia. I think I'd rather die from snakebite than be ripped apart by a bear or lion. Imagine being eaten while you're still able to watch.

---

bluecuracao Tuesday Mar 13 08:36 PM

---

Kingswood Thursday Mar 15 12:55 AM

If you're taken by one of these, you will not go gentle into that good night.

---

Ibby Thursday Mar 15 01:04 AM

must... not... mention... dolphins...

---

BigV Thursday Mar 15 01:19 AM

no, but you godamnquick

---

Aliantha Thursday Mar 15 02:25 AM

---

milkfish Thursday Mar 15 07:58 AM

---

Clodfobble Thursday Mar 15 09:09 AM

Holy hell people, stop quoting the damn picture!

---

Aliantha Friday Mar 16 03:20 AM

but it's a nice picture. Besides, I didn't think of taking it out.

---

xoxoxoBruce Friday Mar 16 08:32 PM

It just slows down the thread loading for people with slow connections. No problem, all better.

---
Your reply here?

The Cellar Image of the Day is just a section of a larger web community: a bunch of interesting folks talking about everything. Add your two cents to IotD by joining the Cellar.