Undertoad Wednesday Mar 7 11:26 AM

March 7, 2007: Plane barely survives 20,000 feet freefall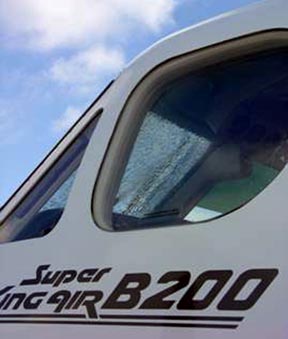 xoxoxoBruce finds this set with its story. You see the windshield spidered in the above shot. That happened at 27,000 feet... let's go to the text from the forwarded email: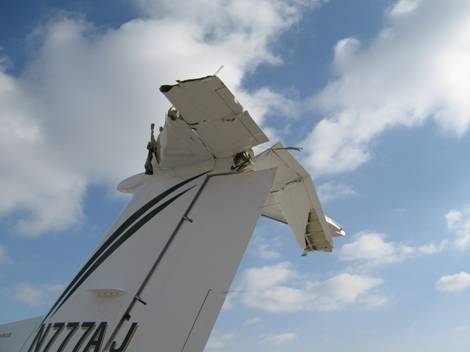 When they get out of the plane, this is what they saw... a tail almost completely destroyed.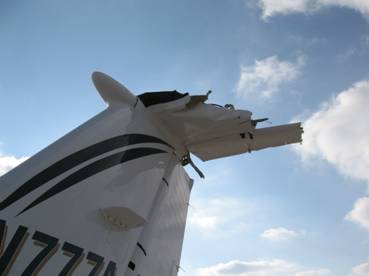 Well that first image of the tail is taken at a strange angle, and you can't really make out how destroyed it is. Here's the left side of it, from another angle.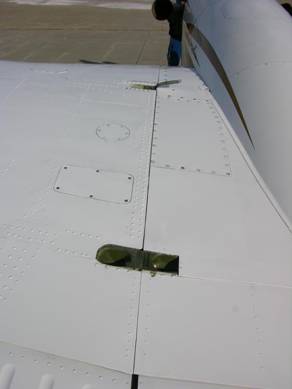 The covers for the bolts that hold the wing on have been blown off.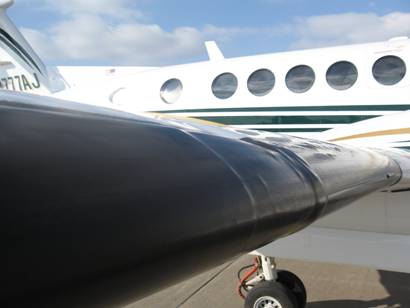 The wing itself has been bent, leaving a severe crease.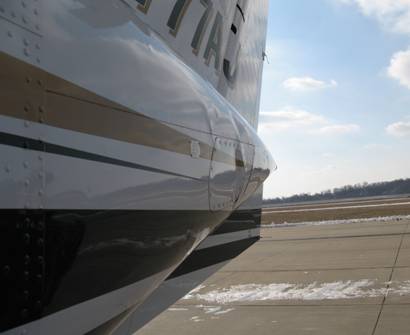 Even the fuselage has bent slightly.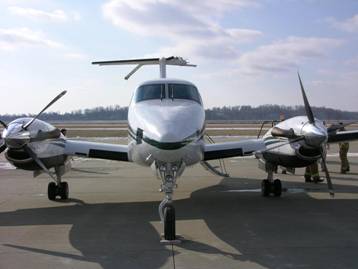 From the front you can see how much of the tail is missing.

The landing was shot on videotape by an amateur, and the local news folks did a story on it, first story at this search page. A nice note: the pilots rented a car to get to their eventual destination. Yeah, good idea.

---

Sheldonrs Wednesday Mar 7 11:35 AM

"Thank you for falling with us. Have a nice day! buh-bye."

---

Shawnee123 Wednesday Mar 7 11:36 AM

---

Sheldonrs Wednesday Mar 7 01:03 PM

---

SquadRat1 Wednesday Mar 7 01:32 PM

I wonder if these were the guys that won the Mass Millions jackpot?

---

Shawnee123 Wednesday Mar 7 01:36 PM

---

milkfish Wednesday Mar 7 01:38 PM

Heh heh heh, he said "tail stall."

---

SquadRat1 Wednesday Mar 7 01:39 PM

---

Saraax Wednesday Mar 7 03:12 PM

Mrs.

Or a free ride. When you've already paid.

---

xoxoxoBruce Wednesday Mar 7 03:41 PM

A friend of mine that works at Embry-Riddle flight school in Florida, told me they use a bunch of this type of plane. Rugged and reliable is their reputation.

Fortunately there were no passengers, so they didn't have to disinfect the seats.

---

Elspode Wednesday Mar 7 04:34 PM

I once saw Bob Hoover do a ten minute power-management flight demo (translation: flying with the engines off) in a Rockwell AeroCommander, which I think may have been a predecessor, or at least a pretty close copy, of this aircraft. These things are *awesome* planes.

There's no way these guys won a lottery. They used up their entire lifetime supply of luck surviving this.

---

Trilby Wednesday Mar 7 05:20 PM

perhaps there was a goblin on the wing? *

* most excellent Twilight Zone story ever!

---

footfootfoot Wednesday Mar 7 06:48 PM
:p

---

rfoxx Wednesday Mar 7 09:03 PM

Those guys were incredibly lucky. If they had lost the other half of the tail, there would have been nothing they could do to make any kind of landing. As it is now, that plane is crap. I doubt you could find and fix all the structural damage to where it would be safe to fly again. The engines were probably horribly over-revved, but they might be salvageable. It doesn't say, but it wouldn't surprise me if even the avionics got barfed on. No used bargain here.

---

beagle1971 Wednesday Mar 7 11:52 PM

I looked up the registration (N777AJ) and found some more info on the incident:

http://forums.ubi.com/eve/forums/a/t...3/m/8711080335

http://planenews.com/ntsb.php?ev_id=...8X00156&kkey=1

Looks like they went into an overspeed situation, given the plane's cruising speed is 292 knots, and the FlightAware.com site shows their max speed was 419 knots at one point (although that's listed as ground speed, so that might be misleading.)

---

RellikLaerec Thursday Mar 8 12:03 AM

Well i would think to be glad they didn't have autopilot on. If they would have, the plane would have never fallen fast enough for them to regain consciousness. They would have just kept flying till they ran out of fuel. Course, they would have frozen to death first, so the crash wouldn't of been so terrifying. I think I remember hearing a story like this happening. The FFA found the plane flying off course and had it intercepted when they realized that the pilots and passengers were dead. They just left the plane to fly till it ran out of fuel, then let it crash in a field. How would you like to get that call about a loved one?
Damn lucky pilots. Really glad to hear a happy ending!

---

Cloud Thursday Mar 8 12:05 AM

Superman saved 'em!

---

tulzscha Thursday Mar 8 12:13 AM

With the advent of camcorders, Hoover added a flourish to the act by pouring a cup of tea from a Thermos, while performing a slow barrel roll (a 1G maneuver). Video of this has been widely distributed, to the pleasure of Aero Commander enthusiasts.
---

wolf Thursday Mar 8 03:16 AM

Welcome to the Cellar, Beagle, and thanks for the research!

The best known plane, a small jet, that flew on autopilot until crashing after decompression was the one carrying golfer Payne Stewart. There was apparently a similar incident in 2005 that involved a Boeing 737 in Greece that killed 121. Apparently they call them "ghost flights."

---

xoxoxoBruce Thursday Mar 8 05:53 AM


I don't understand the 419 knots, link.
09:41AM 36.37 -93.95 183 6500
09:41AM 36.37 -93.93 187 27000
09:42AM 36.37 -93.87 193 8300
They went from 6.5k ft to 27k ft then 8.3k ft in a minute or two. But then they climbed to 27k ft and basically held it there until 10:22AM. The 419 knots ground speed was about 10:07AM while they were in straight, level, flight. It doesn't seem logical they would have done either the speed or altitude, after the incident. What am I missing here?

From that page, the link to the flight status shows the "HORIZON TIMBER SERVICES INC (ARKADELPHIA AR)", flight;
Departure 08:30AM CST 08:39AM CST
Arrival 10:37AM CST 09:30AM CST
Speed 275 kts
Altitude 27000 feet
They left 9 minutes "late" and arrived over an hour "early". I can see leaving 9 minutes later than the filed flight plan, especially with no passengers. But when they file the plan, do they add some time to the expected arrival so nobody gets excited if they run a little behind?

Proofreading this, (yes I do, even though my posts don't look it:p ) I realized it sounds like a cross examination. Not so, I just wondered if you could educate a dummy like me on how this works.
Where's Maggie when you need her? I know there must be some pilots out there that can easily 'splain it.

---

beagle1971 Thursday Mar 8 12:02 PM

Well, ground speed isn't equal to air speed, but I don't know what the conversion of the two would be, accounting for air density and such, so what I posted earlier is misleading concerning rated speed and ground speed listed at the tracking site. I just theorized that the plane went over its rated speed, which is what caused the structural damage, most notably to the tail, but also the wing buckling.

---

xoxoxoBruce Thursday Mar 8 09:43 PM

OK, thank you.

---

Sundae Friday Mar 9 06:07 AM

Where IS Maggie anyway?

---

Trilby Friday Mar 9 08:41 AM

---

Sheldonrs Friday Mar 9 09:18 AM

---

busterb Saturday Mar 10 02:59 PM

LSU fooball coach a few years ago. Plane crashed in ocean.
on this page. http://en.wikipedia.org/wiki/Bo_Rein

---

tw Sunday Mar 11 03:10 AM

---
Your reply here?

The Cellar Image of the Day is just a section of a larger web community: a bunch of interesting folks talking about everything. Add your two cents to IotD by joining the Cellar.