Undertoad Thursday Mar 1 07:07 AM

March 1, 2007: Remotely controlled dove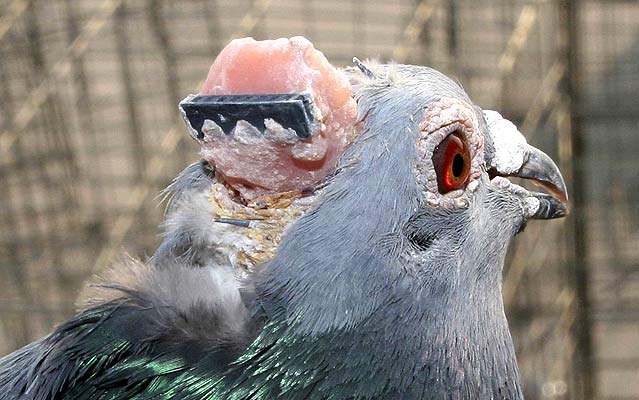 20minutos.es has this one in their daily gallery. It's Shandong University in Qingdao, China, and they say they've worked out how to place electrodes in the dove's brain such that they can direct where it flies.

Dove? Or pigeon?

Anyway, I sort of doubt it. The decisions on where and how to fly roll through the bird's brain really fast. They may be able to tell it to turn left one time, lowering its left wing or whatever, but they surely can't direct it as if with a joystick or Wii controller.

The picture is striking, because it looks like these guys are just rudely cutting into the bird's skull, inserting their controller, and then covering the whole wound up with a hot glue gun. (It's probably not actually glue, but still.) It just doesn't seem like there would be enough bogus science involved to justify hurting the animal.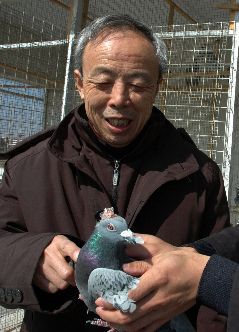 ---

Sundae Thursday Mar 1 07:12 AM

This was in the Metro yesterday, but without such a graphic picture.
I thought at the time that it sounded grim.
That's definitely a pigeon in my book.

---

Trilby Thursday Mar 1 08:09 AM

the Chinese definitely need a PETA chapter.

---

Pie Thursday Mar 1 08:25 AM

All the same, eek!

---

Ibby Thursday Mar 1 08:33 AM

This is so chinese.

It really is.

"We need mind control! I dont care if you have to open-air the brain, do it!"

---

Sheldonrs Thursday Mar 1 09:09 AM

I can understand the use of animals in some experiments for medical research but only if there is no other alternative.
This just seems needlessly cruel. I hope every bird in China craps on the researcher's heads and then pecks their eyes out.

---

Kitsune Thursday Mar 1 09:47 AM

Oh, the fun I'll have with this...!

---

Flint Thursday Mar 1 09:53 AM

bird crap on a treadmill...

.

---

Shawnee123 Thursday Mar 1 10:11 AM

Wacky f'in Asians.

---

Tomtheman5 Thursday Mar 1 10:44 AM

My partner is terrified of birds. I *need* to get my hands on one of these things.

No more sleeping on the couch for me, once I set my pigeon to "eye-pecking" mode

---

Elspode Thursday Mar 1 02:50 PM

That picture kind of reminds me of how lobster tails are served.

---

Trilby Thursday Mar 1 02:51 PM

---

Shawnee123 Thursday Mar 1 03:05 PM

Why don't we chop a hole in some Chinese person's head, implant a chip, apply some sticky holding substance, so we can see WHAT THE F*** POSSESSES THEM TO DO SUCH STUPID THINGS?

---

Trilby Thursday Mar 1 03:13 PM

---

Dypok Thursday Mar 1 03:19 PM

I wonder if the missile defense system will pick it up?

---

Sundae Thursday Mar 1 03:21 PM

And that night we are going to sit down and eat lobster thermidore and you are going to enjoy it. Or you don't get any more drugs.

---

Kitsune Thursday Mar 1 03:23 PM

If cockroaches tasted as good, you'd bet I'd eat them instead of spraying for them.

---

Tomtheman5 Thursday Mar 1 03:32 PMremember?




Well...the larvae, anyway...eeeeyuck. Personally, I can't stomach anything we've listed here...lobster, bugs... anything that crawls is safe from being eaten by me.

---

Trilby Thursday Mar 1 03:41 PM

---

Sundae Thursday Mar 1 03:44 PM


---

paqito Thursday Mar 1 04:20 PM

mmmhh. I believe that at 20minutos.es there's no difference between pigeon and dove. They probably wrote "paloma", is the correct word in spanish to call that little critter, and it's usually traduced as "dove".
It's very rare to use "pichon", that will be more like "pigeon". They use "pichon" for "baby bird" too.

By the way. I do not believe the chinese tried to control the movement of the muscles, just the orientation sense of the dove is enough. So, they just wanted it to fly north or west, not to control everything.

It has practical aplications, everything that we do to understand the brain is important. And a test of our understanding like that, is a great jump.
And of course it can help control the animals that the military organization of the world ( like the american ) use. Imagine what you can do with a controled dolphin to protect a submarine instalation.

And please, imagine what a totalitarist state can do with that when they move from pigeons to humans... Just imagine.

But what is sad for me is to see the happy face of the chinese guy when he has in his hands a tortured victim of humanity wish for power.

Paqito

---

Trilby Thursday Mar 1 04:24 PM

no offense meant paqito--but you are the very last person I would invite to a party...good luck.

---

Spexxvet Thursday Mar 1 04:25 PM


---

Spexxvet Thursday Mar 1 04:27 PM

---

Elspode Thursday Mar 1 05:18 PM

That sounds like a plan hatched by Dr. Evil...along with the friggin' sharks with friggin' laser beams on their heads.

---

magilla Thursday Mar 1 05:27 PM

Or eat.

Or beathe on your own.

Chris

---

Shawnee123 Thursday Mar 1 05:36 PM
Well mother of God...do I have a big old sign that says "be offended by everything Shawnee says today because in some small way it must be directed at you"?

Bite me Magilla. Then I'll stick a chip up your ass and see if it registers what a moron you are....K?

---

Shawnee123 Thursday Mar 1 05:37 PM

---

Shawnee123 Thursday Mar 1 05:40 PMbeathing better. Um, bite me. Um, f*** you. Um...you suck. Um, yes you do.

---

cashc Thursday Mar 1 05:46 PM

I think that this will see some sort of practical application in the future..

Now you can attack me.

---

Spexxvet Thursday Mar 1 07:35 PM



That's why she earns that funniest female award, IMHO!

---

xoxoxoBruce Thursday Mar 1 09:31 PM

She goes off like it's a personal attack, if you disagree.... but she's cute as hell so we put up with it.



paqito & cashc, Welcome to the cellar.

I think the biggest leap forward with robots will be the machine to human brain interface.
That would certainly have medical applications. If they hooked an astronomers brain to a powerful robot, he could play for the Phillies while waiting for night.

I agree they were probably controlling the birds magnetic direction sensing to "steer" it's flight, maybe with preset adjustments rather than real time corrections.

If you're repulsed by the picture, you don't want to visit any of the thousands of labs in this country that use animals for testing all sorts of things.

---

rkzenrage Friday Mar 2 01:41 AM

See... they both have, like, 70's tight polyester on and they're all mad an' sweaty.
Shawnee takes a swipe at Spexx an' its ON!
All, rollin' aroun', shirts comin' off, hair flyin' aroun', chests heavin and swayin'.... yeah... like that...

---

SPUCK Friday Mar 2 06:21 AM

A Pigeon is the Lesser Feathered Rat while the SeaGull is the Greater Feathered Rat

Doves on the other hand are just one of the nastiest dumbass birds that has ever landed on our window-sill bird feeder. They constantly try to kill each other. Viciously! I now hate them after watching them on our feeder. I cannot begin to understand why some idiot decided they were the bird symbol-of-peace.

---

SPUCK Friday Mar 2 06:24 AM

Kitsune; Where on earth did u find that picture of a Lesser Feathered Rat crapping on that surely,(now) mentally damaged, girl in a sprint and having already been nailed. !!!???? Amazing! I think that Lesser Feathered Rat must have crapped 1/3 of its body weight on her!

By the way they are extremely tasty!


I agree that someone may benefit from radio controlled pigeons but that guy looks like a hobbyist flying a model airplane..

---

Shawnee123 Friday Mar 2 09:08 AM



It does feel personal when someone implies that I do bad people things just because of a single post of mine.

Anyway, yesterday felt like the weight of the world on me, and yes I do come out fightin'. My problem, not theirs.

I was fully expecting to come back and be ostracized and yet Spexx and Bruce and Rkz made me feel so much better...yes, just being me. Imagine!

Thanks!

---

Kitsune Friday Mar 2 09:21 AM

---

Spexxvet Friday Mar 2 09:23 AM


---

Shawnee123 Friday Mar 2 09:27 AM

Yikes! :p

---

Sheldonrs Friday Mar 2 09:35 AM

---

magilla Friday Mar 2 01:05 PM

I hope you feel much more grown-up now. If the first two replies didn't do it, I am sure the third did.

Chris

---

Shawnee123 Friday Mar 2 01:10 PM

---

Shawnee123 Friday Mar 2 01:11 PM

You can be accusatory but don't expect anger? How is it in the fantasy world you inhabit?

---

magilla Friday Mar 2 02:35 PM

Chris

---

Kitsune Friday Mar 2 02:51 PM

Less drama, more R/C bird air force.

---

Shawnee123 Friday Mar 2 02:52 PM

Well you got that right, but how is this not a snarky comment:





1) You don't know me, what kind of person I am, or what I stand for.
2) We're not talking stem cell research here.
3) So, there's no other way than a sloppy silicone job with a cheap chip in a bird's head? Something a little more humane?
4) I'm no Peta activist, but I do think that wacky asian went a bit far with application of said chip implant
5) Big chip in pigeon's head has very little bearing on how I might feel about having a chip in my head to help me walk.

In conclusion I'd like to say you jumped the gun, you did accuse, and you can pretend eye-batting innocence all you want...just from now on pick on someone else's posts and leave me out of it.

Kewl?

---

magilla Friday Mar 2 03:07 PM

Actually, I was pointing out that there might be legitimate scientific and medical reasons for doing this kind of thing. Much of our knowledge of brain function- and malfunction- was accumulated by deliberately damaging animals' brains. This could easily be a first step in helping people regain lost motor function, and if it does, I for one am all for it.

As for your invitation to self-censor myself, I respectfully decline in advance. Please feel free to ignore any posts of mine, though.

Chris

(snip)

---

Shawnee123 Friday Mar 2 03:12 PM

Yeah, you're right...in fact I'm going home right now to bash in some cat's brains to ascertain the effect of brain damage on feline digestive systems.

I didn't ask you to self-censor I asked to be left out of it.







I, for one, am not impressed with your perceived uber-intelligence.

---

glatt Friday Mar 2 04:38 PM

I used to eat lunch with my girlfriend in the park across the street from my office building. There was a bench in that park that was absolutely covered with crusty bird shit. It was nasty. Nobody ever sat on it for obvious reasons. On day, we noticed that the bench had been power washed and was perfectly clean. Of course we didn't sit on it. There were birds in the tree above. You just knew what would happen if you sat there. Instead we sat down on the opposite side of the park and forgot about it. Until we heard screams a little while later...

---

BigV Friday Mar 2 04:38 PM

magilla, shawnee123;

I read the thread, twice. I don't see any accusations. I read shawnee's responses as wild overreactions to no obvious insult or attack. I would *indeed* be keenly interested in the possible future applications based on the results of these kind of experiments. I don't see any evidence that this experiment is cruel at all. Your most recent comment in the animal modification/augmentation thread displays none of the scandal and outrage you displayed here. Why?

Y'know, never mind. I withdraw the question. You're scandalized and grossed out by the pigeon experiment, fine. But you overreacted to magilla's post where he quoted you the first time. And you vigorously dragged the dialogue downward in the subsequent exchanges. Maybe you're having a bad day, but whether you are or not, you don't need to invent enemies and attacks where there are none.

Here,


take two, they're small. And if this post pisses you off too, then you'll be throwing good outrage after bad, because this isn't an attack, it's a reality check.

---

xoxoxoBruce Saturday Mar 3 12:11 AM

Yeah, just chill out. the eye is watching you.

---

rkzenrage Saturday Mar 3 12:21 AM

Teh wrong!

---

Kitsune Saturday Mar 3 09:59 AM

Someone needs to put some Goatse hands on that thing.

---

xoxoxoBruce Saturday Mar 3 10:58 AM

Goatse hands on an eye?

---

magilla Saturday Mar 3 12:18 PM

But I promise to be good

---

Shawnee123 Saturday Mar 3 12:56 PM

Whatever, BigV. I didn't ask for you to get in on it, but you felt the need, just as Magilla felt the need to keep pushing the issue. Back me in a corner, this is what happens.

I don't care if you like me, if you disagree with me, I really don't. I'll react any way I see fit. If Mr Magilla had perhaps not started his comment with "Um..." like he was talking to a blithering idiot the whole tone might have been different. Instead of saying, you know shawnee...here is what they might be trying to accomplish he says "um, you might feel differently if..." I would hope that if anyone was emoting about their feelings as it related to MY profession I might just try to explain to them where it's coming from.

My god, all I did was make fun of the wacky asians and their animal cruelty penchant.

You're as inconsequential to this exchange as the bird is to you.

You don't know bad day, believe me.

Now, at the risk of pissing off someone else I don't even know...that's all from me on this subject. In the future I hope I don't have any interest in posts either of you might be involved in...you're much too smart and knowing for me.

---
Your reply here?

The Cellar Image of the Day is just a section of a larger web community: a bunch of interesting folks talking about everything. Add your two cents to IotD by joining the Cellar.