Undertoad Tuesday Feb 27 09:31 AM

February 27, 2007: Psychedelic octopus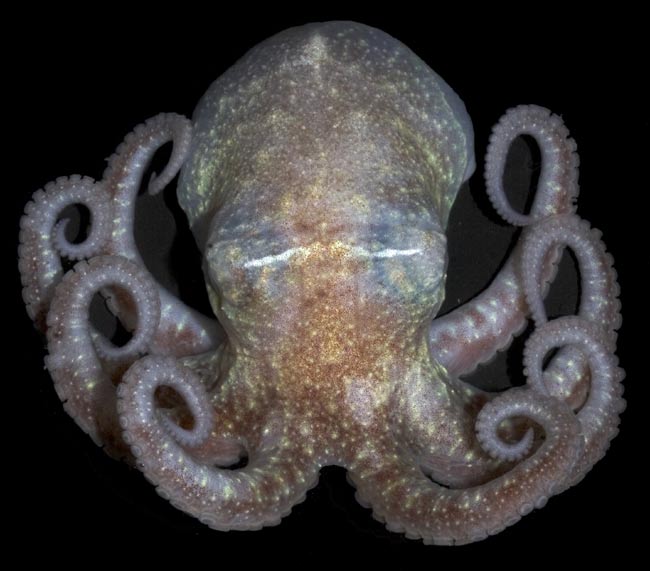 You haven't seen this beast before -- it's new, or at least, new to us.

LiveScience has the full story and several other images. To sum up:

The Larsen Ice Shelf in Antarctica is breaking up, a result of global warming. Two years ago, a sector of it the size of Rhode Island collapsed. Ocean that had been covered with ice 220 metres thick, for 12000 years... was suddenly open sea.

This gave researchers the chance to investigate a huge area of the earth that they couldn't really look at before. First, they found crabs attached to methane gas vents... something you figure I must have made up, but no, there they are.

See, even if it's mind-boggling, nobody is going to drill through 220M of ice just to study methane-eating clams.

But now, without all that ice to contend with, they've found 1000 species there, 30 of which are previously unknown to us. This freaky octopus is one of the new creatures.

They figure most of the species had been there all along, with a few beasts moving in to take advantage of the new conditions.

Suggested by Jacquelita

---

Sheldonrs Tuesday Feb 27 09:37 AM

I guess this will at least give us a more complete list of all the animals we will be killing off thanks to global warming.

---

Shawnee123 Tuesday Feb 27 09:40 AM

I waited too long to be punny on the last few IOtDs...I won't make that mistake again.

This octopus has the right to bear arms. He's blind, and his octomologist has been unable to help, except to prescribe some medicinal coral reefer to help ease the pain. But don't let his disabilities fool you, he's a genus, that Octopus.

Aw crap, forget it...Sheldon? Help me out!

---

Sheldonrs Tuesday Feb 27 09:57 AM

---

Shawnee123 Tuesday Feb 27 10:01 AM

Aw man, ya hurt me, Shel...after all those nice things I said about you.



---

Sheldonrs Tuesday Feb 27 10:13 AM
I'm Jewish and I grew up in NJ. I'm immune to guilt. :-D

---

Snapple Tuesday Feb 27 10:19 AM

I'm with Sheldonrs. Sad and troubling that it took the destruction of something in order for us to discover something new that might just die because we discovered it.

---

Shawnee123 Tuesday Feb 27 10:32 AM

Welcome to the Cellar Snapple!

---

barefoot serpent Tuesday Feb 27 10:39 AM

lash it down with some seaweed on a lump of sticky rice and sell it for large amounts of Yen in Tokyo.

---

Trilby Tuesday Feb 27 10:55 AM

---

Trilby Tuesday Feb 27 10:58 AM

Oh,yeah. That octopus is gross.

---

Sheldonrs Tuesday Feb 27 11:38 AM

Marry me! It's difficult to find a woman who can love a gay man unless her name is Liza. :-)

---

todd_brannigan Tuesday Feb 27 11:42 AM

Looks like a Protoss, no?

Maybe I'm just a StarCraft geek.

---

lumberjim Tuesday Feb 27 12:19 PM

no jokes about the fart eating crabs!? i'm outta here!

---

fargon Tuesday Feb 27 12:29 PM

Cthulhu we worship you.
www.callofcthulhu.com

---

milkfish Tuesday Feb 27 12:54 PM

It looks like it just had its tentacles permed.

---

Trilby Tuesday Feb 27 02:53 PM

If you ever need a 'cover story' (as I'm sure you already know, not everyone is enlightened) you can use me! I'll be your adoring cyber-wife!

Now... what would you like for dinner? Adorable mini-bruschetta pizza's? Thai chicken sticks? um....you ARE cooking, right? coz nothing is free, ya know.

I will be your cyberwife in exchange for cybermeals--kewl?

---

Sheldonrs Tuesday Feb 27 04:31 PM

Is that OK sweety-kins? ;-)

---

Snapple Tuesday Feb 27 04:40 PM
thank you. long time lurker. first time poster. on here anyway. cheers!

---

xoxoxoBruce Tuesday Feb 27 10:04 PM

Hold on....who says these critters, Octopus, Sea Squirts, Crustacean, cucumbers, clams, are dieing? Maybe they were intelligently designed to be unleashed on the world, to replace the dieing critters, when the ice shelf melts. The Lord works in mysterious ways.

---

Sundae Wednesday Feb 28 10:28 AM

The Lord is defrosting his freezer. This is his version of the lonely prawn that always appears - even if you have never had frozen prawns in your freezer.

We'll discover a few manky old peas next, just watch.

---

Shawnee123 Wednesday Feb 28 10:38 AM

lmao

---

monster Thursday Mar 1 10:11 PM
I don't want to get to the three-year-old chicken stock that might be useful one day, Please let's all make it stop! We need to distract The Lord with an unbeatable planet-wide freezer sale, so he fills it right back up with good stuff.

---

Guess Friday Mar 9 06:52 PM

does anybody else see the picture of Jesus right inbetween his eyes? the two white lines are his arms and his head w/ a beard right in the middle. i thought it was funny how that was the first thing i thought when i looked at the octupus, but nobody else seems to have noticed it. you could hunt it down and sell it on ebay!

---

Shawnee123 Monday Mar 12 10:18 AM

You're right...there's Jesus, plain as day!:p

---
Your reply here?

The Cellar Image of the Day is just a section of a larger web community: a bunch of interesting folks talking about everything. Add your two cents to IotD by joining the Cellar.