Undertoad Monday Feb 19 01:54 PM

February 19, 2007: Ivrea, Italy food fight with oranges



It's Neatorama Collaboration Monday!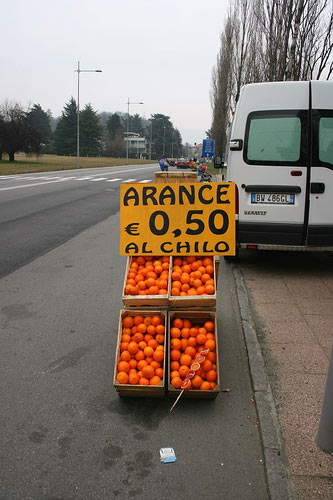 IotD always covers the Tomatina tomato food fight in Spain. Well, how about an food fight with oranges in Italy? That's what the Carnevale di Ivrea is, and it's on the same scale as Tomatina but with harder-hitting fruit.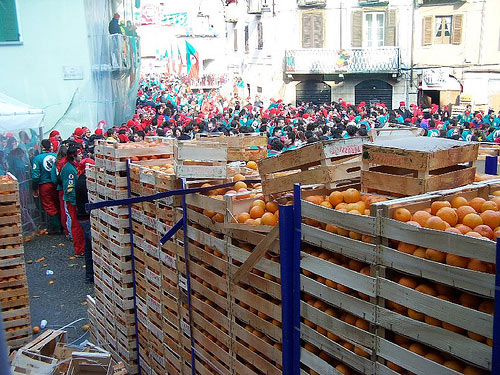 The backstory is better in this festival. It's a 13th Century tale of a young lass named Violetta, and the rude Marquis Raineri de Biandrate.

The Marquis, it turns out, was in the habit of taking the virginity of all eligible young women before they would be married.

He stole Violetta away on the night before her wedding. But this time, when he showed her to the citizenry from the castle balcony, the townspeople became enraged. Defending her honor, they stormed the castle and burned it to the ground.

Now when the situation is recreated, the oranges represent the head of the Marquis, and the juice represents his blood. It seems like they would get better mileage out of tomatoes, like Tomatina. But you go to symbolic war with the metaphors you have, not the metaphors you might want, or wish you had at a later time. This town has oranges, so there it is.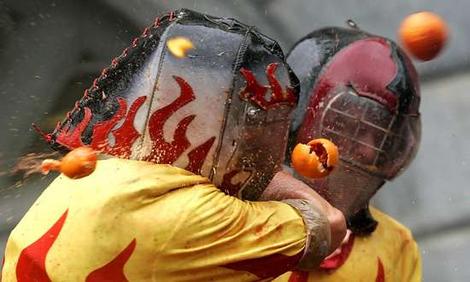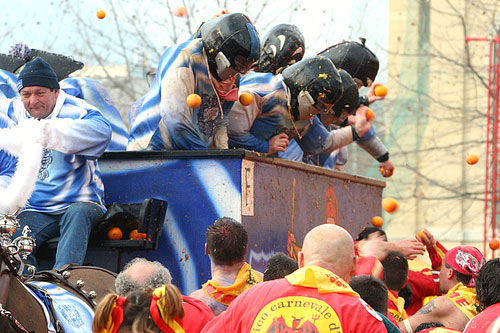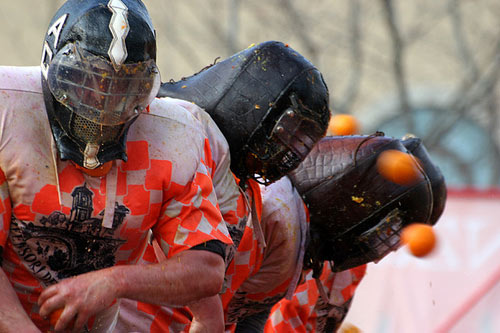 The fight is fierce, and the aftermath is quite bloody. Notice the banners and colors for different teams. There are nine teams in all, and they are judged. Unlike Tomatina, the spectators are theoretically protected from getting hit with wayward fruit. Because that would sting!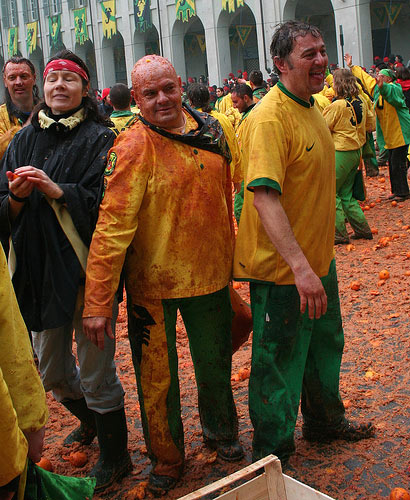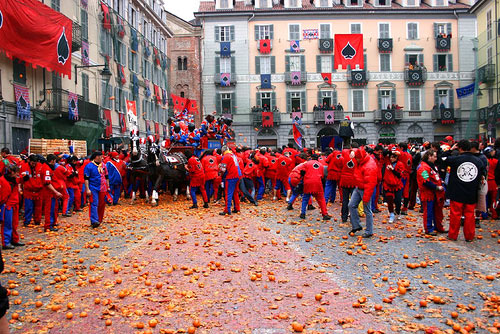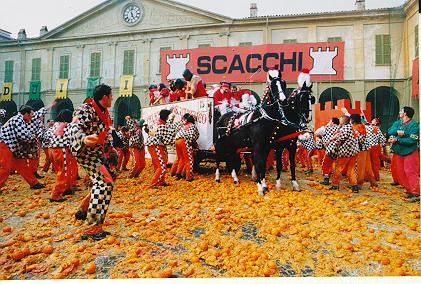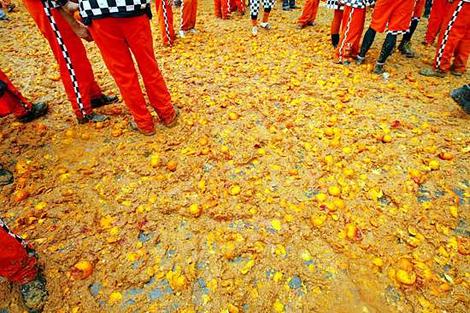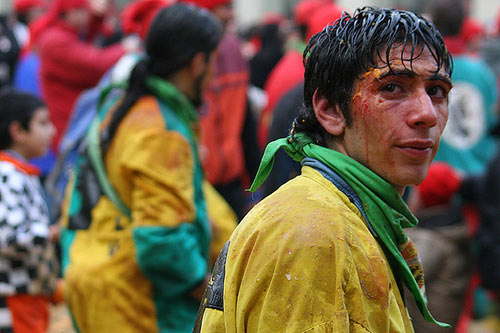 Be sure to check out Neatorama for more neato items every day.

---

Elspode Monday Feb 19 02:43 PM

Orange you glad you didn't get that juice in your eyes?

---

Sheldonrs Monday Feb 19 02:57 PM

They all look pithed.

---

Cloud Monday Feb 19 03:01 PM

well, but are they blood oranges?

---

Shawnee123 Monday Feb 19 03:13 PM

Sowing seeds of destruction, just like the inquisition!

---

barefoot serpent Monday Feb 19 03:23 PM

Italy has always been known for it's navel warfare.

---

Sheldonrs Monday Feb 19 04:22 PM

Maybe this was just a pit stop.

---

monster Monday Feb 19 04:48 PM

I don't see the appeel.

---

Undertoad Monday Feb 19 04:50 PM

Why not? Clearly these people have a zest for life!

---

monster Monday Feb 19 05:04 PM

But don't juicy that people are getting hurt?

---

Elspode Monday Feb 19 05:11 PM

Looks to me like they'd C that they were getting beaten to a pulp out there.

If someone was running at me with an orange, I'd tell them, "Citrus right down and stay still!"

---

Flint Monday Feb 19 05:12 PM

The orange fight is really . . . d'oh!

---

xoxoxoBruce Monday Feb 19 06:14 PM

Don't they know there are children in Biafra swallowing pebbles to stave off hunger pangs. Think of the children.

---

Sheldonrs Monday Feb 19 06:55 PM

Not a battle for the weak. Only vital men C the glass as half full.

---

monster Monday Feb 19 07:12 PM

pipped to the pun there.....

---

Sheldonrs Monday Feb 19 07:28 PM

I understand the pits are the real tasty prize. But, If at first you don't suck seed...

---

milkfish Monday Feb 19 07:28 PM

Half a Euro per kilo (or chilo) seems really, really cheap to me. Maybe they're nasty-tasting fruit.

---

monster Monday Feb 19 07:33 PM

looks like those fruit orange -pardy

---

cooties Tuesday Feb 20 10:22 AM

I hope they kept a watch on the rind.

---

TheCaretaker Tuesday Feb 20 12:53 PM

Truck L'Orange

Those teams sure view each other with a jaundiced eye.

... at least for safety's sake they're wearing blaze o_____.


May the lord have mercy on my soul.

---

Shawnee123 Tuesday Feb 20 01:32 PM

oranges poranges nothing rhymes with oranges

---

monster Tuesday Feb 20 01:42 PM

Orange is another one of those words I cannot pronounce American-style. Well I think I can if I try hard enough, but my kids just laugh at me.

---

TheCaretaker Tuesday Feb 20 01:48 PM

Don't forget sporange, Shawnee, it's a pack of spores. Like a seed pod.

I just realized.
Especially with the football pads, all they need is to use one white bronco instead of two brown horses to make an artful re-staging of OJ Simpson's arrest.

---

xoxoxoBruce Tuesday Feb 20 11:02 PM

---

monster Tuesday Feb 20 11:34 PM

---

Sundae Wednesday Feb 21 01:00 PM
I've been trying as many different ways as I can think of and they all seem improbable....

---

barefoot serpent Wednesday Feb 21 02:08 PM

as in Home on the O'______.



---

Undertoad Wednesday Feb 21 02:09 PM

Orangeyouthecuriousone.

---

monster Thursday Feb 22 12:07 AM



However, never one to resist a challenge (and all y'all in the chosen land please remember I'm surrounded by Michigandans, Canucks and U of M students, so when it comes to representing the whole of the county ymmv.....)

Say "oar" and then try to picture that the sound is above your tongue towards the back of the mouth. Now say it again, but put the sound under the tongue (this may make you push your chin forward) and breath out as you say it. Then say Eng as in engineering -exactly as you would say it in engineering -same stress.

It's bizarre that such a simple word should be so hard, but kids make great litmus paper and mine assure me that orange is a word that reveals me as a foreigner. (Squirrel and Mirror are the other two that come to mind right now)

---

milkfish Thursday Feb 22 02:26 PM

Go to the relevant page on Merriam Webster and click on one of the two little red speaker symbols. I think my pronunciation is a little closer to the first one, but I probably use both interchangeably myself.

---

monster Thursday Feb 22 03:13 PM

yes, that first one is pretty similar to what I hear round here. Perhaps a little more stress on the first syllable. It's the vowels that cause me the grief. I know, I'm strange.

---

xoxoxoBruce Thursday Feb 22 11:14 PM

Oar-an-jez.

---

seakdivers Friday Feb 23 12:16 AM

or-inj

---

Undertoad Friday Feb 23 08:30 AM

Arrnge

---

Trilby Friday Feb 23 09:12 AM

Once again I am envious of another country because: They have an annual village-wide food fight (doesn't have to be food, though, the Japanese have an annual town-wide water pistol fight that I also envy) AND because it's based on murdering a lecherous noble. Though, to be honest, I rather like my nobles lecherous. The more lecherous, the better, I say.

---

Clodfobble Friday Feb 23 11:43 AM

But do you like your lechers to be noble?

---

Kingswood Friday Feb 23 09:14 PM

At least they're not throwing beetroot. Beetroot stains are almost impossible to remove.

---

xoxoxoBruce Friday Feb 23 11:25 PM

I was hoping my ex would beetroot, but nooooooo, the stains were atrocious.

---
Your reply here?

The Cellar Image of the Day is just a section of a larger web community: a bunch of interesting folks talking about everything. Add your two cents to IotD by joining the Cellar.