Undertoad Saturday Feb 17 12:41 PM

February 17, 2007: Section of Chinese mountain painted green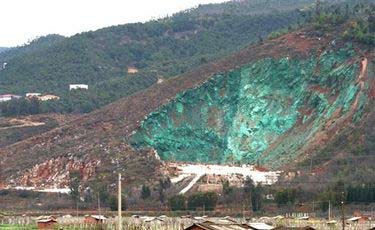 I've been waiting for better photos of this phenomenon, but for some reason the wires aren't printing higher-resolution versions. The full story boggles the mind:

Quote:
Villagers in southwestern China are scratching their heads over the county government's decision to paint an entire barren mountainside green.

Workers who began spraying Laoshou mountain last August told villagers they were doing so on orders of the county government but were not told why, media reports said Wednesday.

Some villagers guessed officials of the surrounding Fumin county, whose office building faces the mountain, were trying to change the area's feng shui _ the ancient Chinese belief of harmonizing one's physical environment for maximum health and financial benefit.

Others speculated it was an unusual attempt at "greening" the area in keeping with calls for more attention to environmental protection. Photographs of the mountain showed the exposed rock covered in an artificial green the color of Astroturf looming over houses against a scrubby background.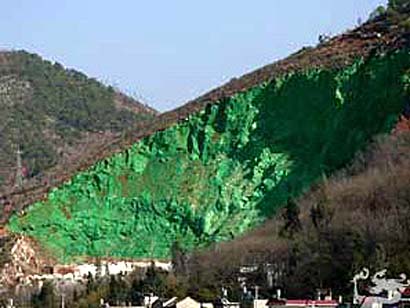 Quote:
The official Xinhua News Agency estimated the cost of the paint job at 470,000 yuan ($60,600) and quoted villagers saying that if spent on actual plants and trees, the money could have restored a far greater area of barren mountain.
---

skysidhe Saturday Feb 17 12:51 PM

I've seen something like this before. My guess was it was seedlings and or some combination of things to keep the errosion from continuing.

---

lumberjim Saturday Feb 17 01:17 PM

hydroseed is that color. i used to do that for a landscaping outfit


---

seakdivers Saturday Feb 17 02:08 PM

lj - I was just thinking the same thing. We had our front yard hydro seeded a few years ago and it was neon green for almost two weeks!

---

Undertoad Saturday Feb 17 02:17 PM

Details beyond the wire story from this blog for the Chinese region in question:



Quote:

Fumin County, about 40 kilometers northwest of Kunming, has made its way into international news, and not for its good rock climbing spots. Officials in Fumin are having difficulty explaining how a quarried mountain was allowed to be painted bright green by a Sichuanese businessman in a rather literal and misguided attempt at 'greenifying' the mountain.

According to Chinese media reports, a Sichuanese businessman surnamed Du that had married a local Fumin resident had been advised to alter the fengshui of Laoshou Mountain, which had been quarried for more than 20 years, and which Du himself had quarried. Quarrying operations on the mountain were halted in 2000 due to resident complaints and environmental concerns.

During a period of lackluster business, Du had apparently sought the advice of a fengshui consultant, who reportedly told him that the quarried mountain was adversely affecting his business. Afterward, Du hired a crew of men to paint the entire quarried area bright green, a project that took 45 days. There are varying reports of how much paint was used, with the highest estimate by state news service Xinhua, which quoted the total cost of the paint at 470,000 yuan.



---

Elspode Saturday Feb 17 02:32 PM

Bullshit. Goddamn sneaky Chinks are mining Kryptonite. I'm tellin' Superman!

---

Spexxvet Saturday Feb 17 04:06 PM

It is was South Philly, they would have put astroturf on it.

---

xoxoxoBruce Saturday Feb 17 08:28 PM

I sense a cover up.

---
Your reply here?

The Cellar Image of the Day is just a section of a larger web community: a bunch of interesting folks talking about everything. Add your two cents to IotD by joining the Cellar.