Undertoad Wednesday Jan 31 12:50 PM

January 31, 2007: Stuck salvation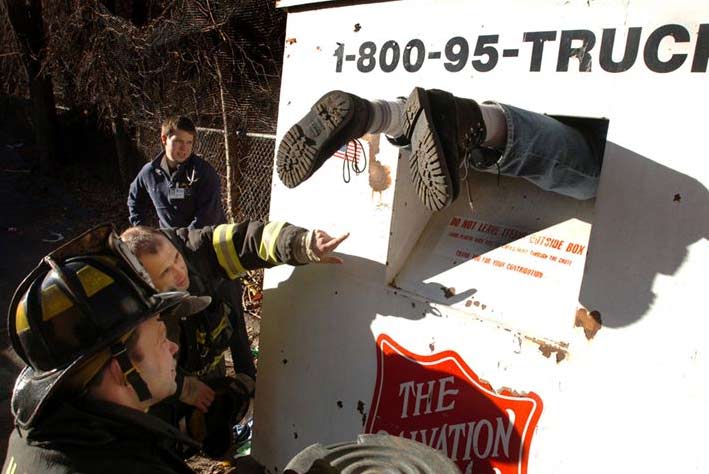 Dateline, Norwalk Connecticut, a few days ago -- the official caption says this guy probably got stuck because the weather turned cold and he went looking for free clothes to get warmer. Seems like a bit of a disconnect -- it's probably somebody that could use charity but who wasn't ready to squeeze through more official channels.

---

Flint Wednesday Jan 31 12:54 PM

Is this kid jackin' off?

---

rupip Wednesday Jan 31 12:56 PM

i guess this is a volunteer - he is stupid, but has a golden heart

---

Larry Wednesday Jan 31 01:17 PM

He probably just tried to donate some clothes, but forgot to take them off first.

---

lumberjim Wednesday Jan 31 01:56 PM

and wanted to keep his shoes

---

Sheldonrs Wednesday Jan 31 02:11 PM

Maybe he's unemployed and thought that was a job opening.
He just tried to fill it.

---

Dypok Wednesday Jan 31 02:11 PM

His socks are white, and there is tread on his boots. If he is homeless, its a recent development.

---

findpolitics Wednesday Jan 31 02:18 PM

jackin



---

BigV Wednesday Jan 31 02:19 PM

I don't think he was unready for the official channels, but that the official channels were unready for him. Probably he needed the clothes at a time and place where the store wasn't located/open, like nighttime when it's colder. And obviously those drop boxes outnumber the stores. He probably was nearer the box with the warm clothes at the time when he was cold. My guess anyway.

---

glatt Wednesday Jan 31 02:25 PM

If he was able to cross his legs while twisting his body a little so his knees were able to bend downward, he could just drop right into the box and be all set. Well, until he wanted to get out, that is. But at least he'd be in a big pile of warm clothes where he could make a nest to sleep.

---

Slothboy Wednesday Jan 31 02:27 PM

Dumb question, maybe. But I've looked that story up on the interweb and none of the stories say if the guy is alive or not. Did he die? They keep saying they "believe" he was looking for a coat... that seems to imply that they can't just ask the dude WTF he was doing.

---

glatt Wednesday Jan 31 02:28 PM

Not a dumb question at all. If he was stuck there for a while, I can see him dying of it. Especially since it was cold.

---

Happy Monkey Wednesday Jan 31 02:37 PM

It seems as if they'd mention it if he died. They did mention he was stuck for 12 hours, which strikes me as an odd framing if he died.

He could have been mentally impaired and unable or unwilling to explain himself.

---

nil_orally Wednesday Jan 31 04:36 PM

---

monster Wednesday Jan 31 04:49 PM

Perhaps someone donated him?

---

monster Wednesday Jan 31 04:50 PM

My guess is drunk and stopped for a nap in a warm place on the way home, or did it for a dare.

---

xoxoxoBruce Wednesday Jan 31 06:20 PM

He's lucky somebody didn't steal his shoes.

---

Nightsong Wednesday Jan 31 06:45 PM

Its a shame when folks be tossin out a perfectly good white boy like that.

---

monster Wednesday Jan 31 09:01 PM


deduction based on dress? Or the fact that they're trying to rescue him?

---

xoxoxoBruce Wednesday Jan 31 11:07 PM

It's a movie line.

---

Gawa Thursday Feb 1 12:51 AM

...reminds me of that scene in Fargo with the stupid crook in the wood chopping machine...

---

mitheral Thursday Feb 1 01:34 AM

---

rkzenrage Thursday Feb 1 02:16 AM

Happens quite a bit around here.

---

monster Thursday Feb 1 08:47 AM
thanks. That's what I get for spending too much time on t'internet.

/still thought it was funny though, which is probably very bad.

---
Your reply here?

The Cellar Image of the Day is just a section of a larger web community: a bunch of interesting folks talking about everything. Add your two cents to IotD by joining the Cellar.