Undertoad Tuesday Jan 23 12:16 PM

January 23, 2007: Two thousand sacrificed pigs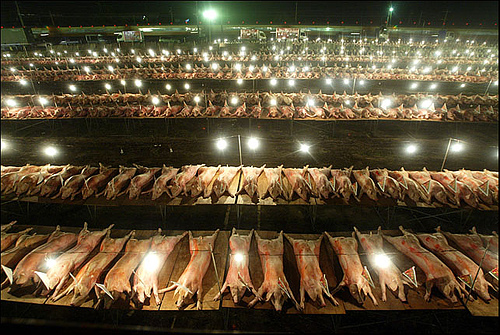 gmr2048 points to this recently-uploaded Flickr set, which is labeled with nothing other than 2000 pigs as sacrifice and offerring to the deity General Chao of Wudeh temple at a temple festival in Jendeh, southern Taiwan, 19 Jan 2007, and I hereby fairly use the first shot of them knowing that you'll probably be tempted to click through to the rest of the set.

---

Deuce Tuesday Jan 23 12:21 PM

I'll leave the obligatory "I wonder how they taste" cracks for others.

It looks like they're all bowing, prostrating themselves, doesn't it?

---

glatt Tuesday Jan 23 12:25 PM

What a waste.

Edit: It looks like Sgt. Pepper's Lonely Hearts Club Band is playing the festival/sacrifice.

---

Sundae Tuesday Jan 23 12:44 PM

I know I should be horrified at the waste (I assume they are not eaten afterwards? extensive Googling tells me no more about this) but some of the pictures had me laughing out loud.

In fact if avatars were allowed on this site I think mine would be one of an apparently cheerful dead pig, smiling even though he is split from stem to stern and with a gaudy flag flapping about his head....

---

Elspode Tuesday Jan 23 01:06 PM

*General*? There's a deity which holds a military commission?

---

Deuce Tuesday Jan 23 01:18 PM

Perhaps they mean "non-specific".

---

monster Tuesday Jan 23 01:23 PM

Apparently Jendeh is Persian for Whore.

---

Sundae Tuesday Jan 23 01:31 PM

---

Phil Tuesday Jan 23 01:34 PM

mmmm .... bacon!

---

Sheldonrs Tuesday Jan 23 01:48 PM

I believe the movie version that will tell this story shall be titled "Watch On The Rind".

---

monster Tuesday Jan 23 01:53 PM

(I have medium-safe search enabled to protect the internet from my 9yo. Should I flip the switch and see what comes up.... or maybe not....)

---

wolf Tuesday Jan 23 02:30 PM

---

wolf Tuesday Jan 23 02:32 PM

I like this shot of the happy pig arrangers.

---

xoxoxoBruce Tuesday Jan 23 03:20 PM

Whispering sweet nothings?

---

Trilby Tuesday Jan 23 03:22 PM

Where the holy gawd is sproglet?????

/snicker/ yeah, that's what I thought /snicker/

---

Sheldonrs Tuesday Jan 23 04:32 PM

Prequel to "Charlotte's Web":

"Charlotte's BBQ"

---

axlrosen Tuesday Jan 23 06:27 PMminipops version of Sgt. Pepper, actual size.


---

SPUCK Wednesday Jan 24 05:25 AM

I bet they eat them.. I hope they eat them...

---

Sundae Wednesday Jan 24 05:35 AM

...I'd help them eat them...

---

footfootfoot Wednesday Jan 24 09:34 AM

im in ur temple killing yur pigz...

Hey, at least they aren't trying to claim it is ART.

---

xoxoxoBruce Wednesday Jan 24 09:27 PM

C'mon, 2000 pigs... one of them had to be named Art.

---

monster Wednesday Jan 24 11:45 PM

...or are they......

---
Your reply here?

The Cellar Image of the Day is just a section of a larger web community: a bunch of interesting folks talking about everything. Add your two cents to IotD by joining the Cellar.