Undertoad Thursday Jan 18 01:27 PM

January 18, 2007: Bee attack!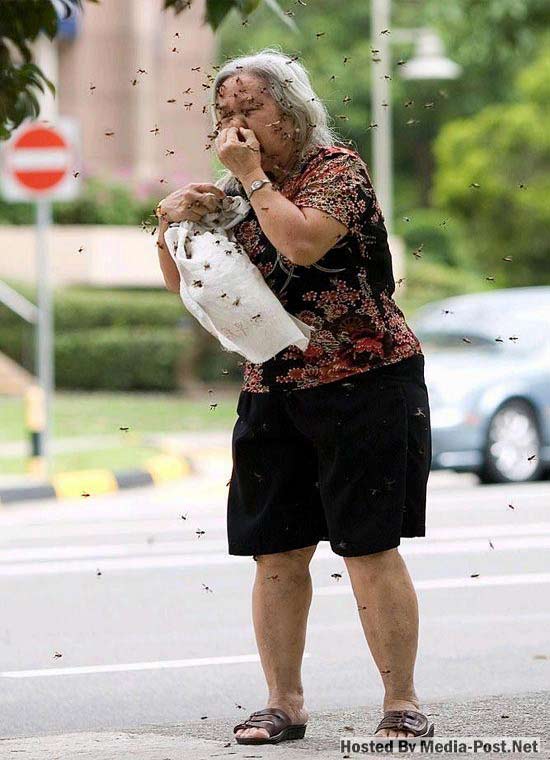 xoB finds this item at the watermarked MediaPost.net, but the images there were poorly handled and wound up stretched. I've used Photoshop's Transform to return them to viewable status.

At first you think it's graphic, but it's not really; just something that'll invoke fear in the hardest of us, and sympathy in the coldest of us.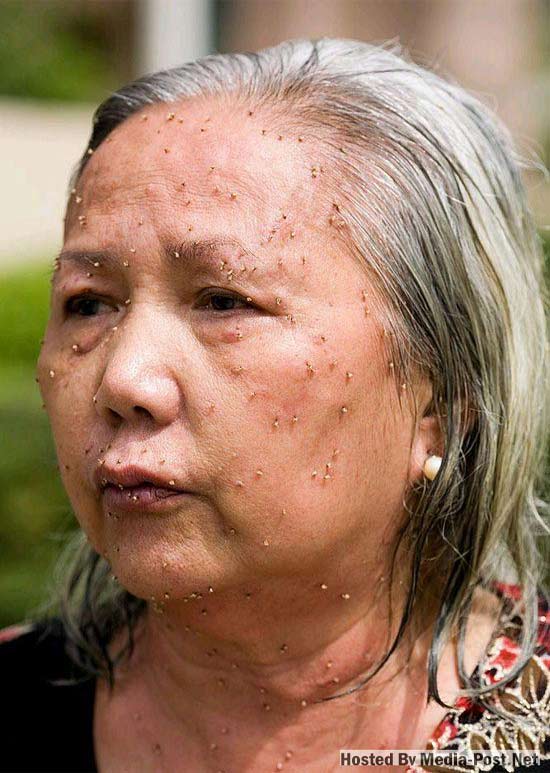 The story:
---

lumberjim Thursday Jan 18 01:37 PM

oh, those cowardly f**kers!

the amzing thing is that she stopped to pick her nose in the midst of the attack. must have been a troublesome booger.

---

Shawnee123 Thursday Jan 18 01:39 PM

---

Flint Thursday Jan 18 01:40 PM

insert joke here:

.

---

Beestie Thursday Jan 18 01:42 PM

That's awful but she doesn't look all that bad - she must have leather for skin. What kind of bees were they and why did they go after her. She wouldn't be standing there like that if they were killer bees but regular honey bees usually won't attack randomly.

---

Shawnee123 Thursday Jan 18 01:43 PM

---

Flint Thursday Jan 18 01:45 PM

Edit: Do you know something you're not telling us, Beetsie ???

---

Shawnee123 Thursday Jan 18 01:49 PM

---

wolf Thursday Jan 18 02:04 PM

We call it canola, Shawnee. They mean the plant, not the activity.

---

Trilby Thursday Jan 18 02:07 PM

I thought we called it maize?

---

wolf Thursday Jan 18 02:08 PM

Given the look of the Do Not Enter sign, and the use of the word "hawkers" and proper pluralization of "passersby," I conclude that this did not take place anywhere in the U.S. Is there the same problem with Africanized bees elsewhere in the world?

---

Shawnee123 Thursday Jan 18 02:27 PM

(I know, I was kiddin')

---

mrputter Thursday Jan 18 02:28 PM

Used to live there. I've been to that hawker center a number of times at Zion & Orchard Roads across from (what is now) Great World City (used to be... Centrepoint? Or right next to it? Anyway.)


However, I cannot claim to know much about Singaporean bee behaviour.


(Edit: Arrgh. River Valley Rd., not Orchard Rd. Been a while.)

---

ferret88 Thursday Jan 18 03:11 PM

Wonder if she was wearing, as is stereotypical, WAY TOO MUCH of that floral old-lady perfume...

---

Trilby Thursday Jan 18 03:25 PM

some things we can assume based upon her pic--she is NO slave to fashion and, judging by her shoes, she's a hippie.

She may very well be diabetic. Check the legs.

---

Shawnee123 Thursday Jan 18 03:38 PM

---

Lisau Thursday Jan 18 04:46 PM

She looks so calm to me.
Why is that?

---

Shawnee123 Thursday Jan 18 04:53 PM

Bee endorphins (also known as beendorphins.)

Welcome to the Cellar!

---

OpalWater Thursday Jan 18 05:30 PM

This picture terrified me into posting a response. That's a first. It could just be 'cause I'm insanely allergic to insects. If I had been this little old lady I would have been dead.

---

Beestie Thursday Jan 18 06:12 PM

They do my bidding.

World domination to come.

I suck at haiku.

---

yesman065 Thursday Jan 18 06:50 PM

They were headed straight through her nose to her neocortix - nevermind - thats another thread. Although thats how some perfumes smell.

---

ashke Thursday Jan 18 07:40 PM

Yikes, bees in Singapore? Hope I never meet any of those buggers...

---

xoxoxoBruce Thursday Jan 18 07:53 PM

Welcome to the cellar OpalWater.


And a second to Shawnee's welcome of Lisau.

I've had a reaction to Hornets a couple of times, but I should think that many stings would make anyone pretty puffy.

---

SydneyBoy Thursday Jan 18 07:59 PM

---

lumberjim Thursday Jan 18 09:04 PM

i love making pee come out! thanks for sharing that with me! no, really! yay! pee!

---

DucksNuts Thursday Jan 18 10:10 PM

Pee's a good thing?

---

lumberjim Friday Jan 19 01:33 AM

making someone laugh so hard that they pee is. c'mon, you've let a little out reading stuff on here once or twice haven't you? I know I make Aliantha pee all the time. she thinks i'm hysterical.

---

Lisau Friday Jan 19 08:27 AM

---

astrodex Friday Jan 19 09:55 AM

Was that too much information?

---

wolf Friday Jan 19 03:01 PM

---

tulzscha Friday Jan 19 06:46 PM

How dare we make fun of the poor lady's execution. Cut down, in broad daylight...

Not dead? But, as you can clearly see in the second picture, she's been gruesomely bee-headed!

---

DucksNuts Sunday Jan 21 06:49 PM

Horse riders = pelvic floor of steel baby!!!

---

rkzenrage Sunday Jan 21 06:50 PM

I have very little sympathy for cowards.
Those people who did not help her should be prosecuted. Many states have laws regarding that. I think there should be a Federal law.

---

richlevy Sunday Jan 21 06:59 PM
Most loyal subjects are they.
I am the bee king.

---

yesman065 Sunday Jan 21 09:24 PM

---

DucksNuts Monday Jan 22 05:57 AM

It just sounds so....wrong

---

Deuce Monday Jan 22 11:30 AM

.
We live only for the Queen.
None shall rule but she.

---

Aliantha Monday Jan 22 11:00 PM

Yes LJ...you make me piss myself laughing every day. You're so funny I just can't help myself.

*wonders where the depends are*

---

Explicit Wednesday Jan 24 05:59 PM

Holy shitballs

---

SPUCK Thursday Jan 25 04:17 AM

We need a collection to get Aliantha some Depends.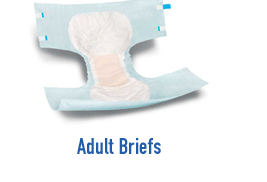 ---
Your reply here?

The Cellar Image of the Day is just a section of a larger web community: a bunch of interesting folks talking about everything. Add your two cents to IotD by joining the Cellar.