Undertoad Tuesday Jan 16 12:36 PM

January 16, 2007: Lion kiss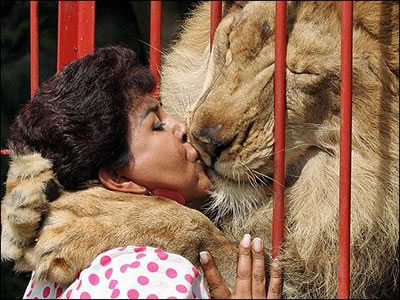 This one has gone around so much that you've probably seen it. There was also news video of it. This woman is in the habit of hugging and kissing her lion.

---

glatt Tuesday Jan 16 12:41 PM

---

Sundae Tuesday Jan 16 12:45 PM

Mmmm-mmmm, raw meat breath, dirty great big yellow teeth, raspy tongue all fresh from licking hairy arse and furry balls - what's not to like?

(and that's before I get started on the lion!)

---

xoxoxoBruce Tuesday Jan 16 01:12 PM

She looks like she might cook up well, but should be cleaned first..... you don't know where she's been.
Is this payback for all the critters we've eaten in IOtD?

---

Elspode Tuesday Jan 16 02:18 PM

Absolutely she's a moment away from being mauled at this creature's whim, but on the other hand, anyone who's ever owned housecats will recognize the look of utter love and contentment on that lion's face. Even though he might eat her tomorrow, he *loves* her, and loves the attention she's giving him. I've even had cats that wrapped their paws around my neck that way, holding me closer and purring as they did so.

---

Phil Tuesday Jan 16 02:20 PM

---

Sheldonrs Tuesday Jan 16 02:45 PM

The lion knows there are cameras around. If they weren't she would be Samaritan TarTare.

---

Trilby Tuesday Jan 16 02:52 PMwomen!

---

Shawnee123 Tuesday Jan 16 02:55 PM

I sure would love to cuddle a big old lion.

I think a lot about The Life of Pi in cases like these, where he talks about growing up in the zoo, and wild animals are wild animals no matter how tame they seem.

But that doesn't mean I want to believe them. I want to hug every lion, tiger, or bear that I see, oh my!

---

ferret88 Tuesday Jan 16 03:05 PM

I'd think she'd be tough and game-y. But maybe a lion would like that.

On the other hand (paw?), maybe he just likes her perfume. Wait, that's another thread...

---

CharlieG Wednesday Jan 17 07:50 AM

One time I met an animal trainer who had a panther. He was talking about "big cats" and said that they really are just like house cats - they behave the same way, and love you the same way, with one MINOR difference.

When a house cat decides to play a little rough, or makes a mistake and give you a nip or a scratch, you go put on a bandaid (tm) - when a panther/lion/tiger makes the same "oops I'm sorry" mistake, you call the ambulance

---

rkzenrage Wednesday Jan 17 11:04 AM

Watched Ghost & The Darkness twice... nope.

---

Elspode Wednesday Jan 17 12:25 PM

---

Hoof Hearted Wednesday Jan 17 11:37 PMGhost and the Darkness was filmed, I read the book it was based on...it is much worse than what was portrayed in the movie...graphic photos, too.
The Man-Eaters of Tsavo, Lt. Col. J. H. Patterson. Peter Capstick Library.
I've also seen the mounts of the Tsavo Lions at the Chicago Field Museum. They were very 'healthy' looking despite the fact they had sparse manes.

---

glatt Thursday Jan 18 09:01 AM

They just recently found the cave with all the human bones in it too. That railroad work site was just a smorgasboard for the lions. They were living large.

---
Your reply here?

The Cellar Image of the Day is just a section of a larger web community: a bunch of interesting folks talking about everything. Add your two cents to IotD by joining the Cellar.