Undertoad Thursday Jan 11 12:25 PM

January 11, 2007: Ewes die of asphyxiation, fright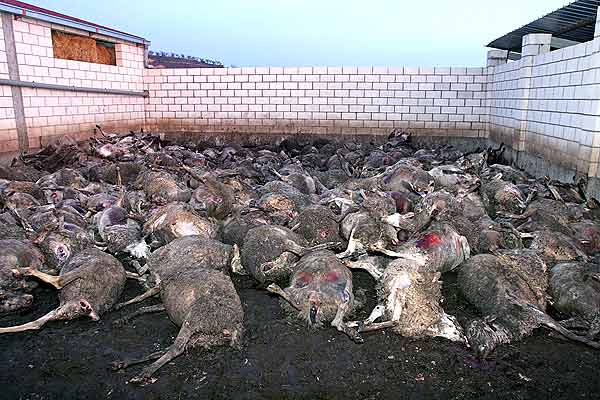 An unhappy animal shot today. 24 horas en fotos at 20minutos.es has this dreadful one, translated by Bablefish:
---

Beestie Thursday Jan 11 12:29 PM

Too bad that didn't happen near a country road in Tennessee.

---

glatt Thursday Jan 11 12:50 PM

The vultures scared them to death, and then didn't eat them?

---

Elspode Thursday Jan 11 02:57 PM

They aren't smelly and rotten enough yet.

---

lumberjim Thursday Jan 11 03:18 PM

i don't believe it. sheepshit, i say.

how does an animal asphyxiate under an open sky? much less a hundred or so. you might as well say that they were smote by an angry god.

---

footfootfoot Thursday Jan 11 03:24 PM

---

Pie Thursday Jan 11 03:49 PM

People get crushed to death in a crowd. Sheep are (arguably) stupider than people.

---

Wombat Thursday Jan 11 05:20 PM

96 people died the same way at the Hillsborough football disaster in 1989 at Sheffield, England.

---

Shawnee123 Thursday Jan 11 05:39 PM

---

Hoof Hearted Thursday Jan 11 07:02 PM

I find it odd that they died in a nice, flat, layer...

I'd say either trampled, and the live animals moved away for the photo...or a low lying gas crept into the solid walled pen and asphyxiated them. I just can't get my mind around trampled. I'd expect them to be 'piled' more and not in a single layer.
hh

---

lumberjim Thursday Jan 11 07:46 PM

---

footfootfoot Thursday Jan 11 07:53 PM

Looking at the "ring around the corral" (bad pun) I note the grime, which leads me to wondering if they all made it a habit to congregate and poop in the area. Thermal inversion, methane, and that's HH's creeping gas theory. And methane displacing O2 is asphyxiation if I'm not mistaken.

Plus the mighty arm of the lord smiting with the power of tens of vultures.

However you slice it, ewe wouldn't want to be there.

---

lumberjim Thursday Jan 11 07:56 PM

maybe they got a particulary gassey batch of sheepchow [up]tm[/up] and the resultant flatulence was their undoing?

---

lumberjim Thursday Jan 11 07:57 PM

how the fuck do you make that little TM ?!

---

DucksNuts Thursday Jan 11 08:44 PM

™??

---

milkfish Thursday Jan 11 09:31 PM

---

xoxoxoBruce Thursday Jan 11 10:16 PM

paridera
1- adj. [Female] fertilizes of any species:
paridera cow.
2- f. Site in which it stops the cattle, specially the wool one.
3- Action and time to give birth the cattle.

Loarre is a villa of the province of Huesca, municipality pertaining to the region Hole of Huesca. It is located to the foot of the mountain range of his own name to 27 km to NOT of Huesca in the A-1206 highway between Bolea and Ayerbe



---

WabUfvot5 Thursday Jan 11 10:17 PM

They needn't all have suffocated. It says they died of asphyxiation and fright. It's possible the ones in back couldn't breath while the others died from fright. Perhaps their little hearts burst from pumping too fast.

---

Hoof Hearted Thursday Jan 11 10:55 PM

Sheep ARE very stupid, however having raised lambs for 4-H and being around large groups of sheep pressing together...they cannot press together (while standing with all 4 feet on the ground) enough to prevent them from being able to breathe. Their wool is a very good buffer between each other, allowing air space and room to expand their lungs.
And while I concur about sheep stupidity...I cannot see that many dying of fright from some large birds. These animals are harried by humans, dogs and various other predators...I've never heard of them dropping dead from fright. Turkeys, on the other hand...

I wonder if someone forgot to WATER these animals and has concocted a story to save their ass.

Also, the ring around the wall is from the lanolin sheep produce getting rubbed on the surface and dust sticking. Check out doorways in barns and such where the animals' bodies rub as they go past...it is always dirty from the oils of their coat and dust.

---

footfootfoot Thursday Jan 11 11:36 PM

---

xoxoxoBruce Friday Jan 12 12:00 AM

---

Hoof Hearted Friday Jan 12 12:56 AM

The posted picture does not show 300 ewes, and I've seen sheep ranching, shearing, and butchering operations with wooden pens holding hundreds to thousands of sheep crowing each other so tightly the dogs had to walk on the backs of the sheep to get across the pen to do their work of cutting animals out for sorting.

I cannot dispute that the animals are dead, they certainly are, but it seems improbable to me that they died in the manner they are claimed to have...trampoling seems most likely...but again, I find it odd that they are in a single layer and not piled or overlapping.

My reasoning behind thinking sheep could not squeeze other sheep up against an immoveable wall is because of their short legs and lack of leverage and weight. Animals are going to stand. Some will lean, but most will keep their legs under them. It is instinctive. If you are off balance, you could fall and die. Period. All animals want to stand upright to survive. They do not want to be down, and especially upside-down is anathema to them.
I would expect that sheep at the outer edge of a herd WILL press away from whatever is stimulating them. The other sheep (away from the stimulation) are not going to react very much at all. As soon as they are out of sight of the stimulation (stupid sheep) out-of-sight-out-of-mind, they will just stand. Their wool will create the buffer needed to breathe. The few leaning sheep are not enough weight to crush other sheep up against a wall.

These ewes appear to have died where they stood. Asphyxiation from air displacement seems likely, as stated...but I feel poisoning from contaminated feed could also be a likely culprit and could cause them to die en mass in a single layer.
I'd like to know what a necropsy had to say about cause of death...

---

xoxoxoBruce Friday Jan 12 04:43 AM

I agree the story and picture don't jib...not 300....not piled. Another tragic victim of Babelfish?

---

SPUCK Friday Jan 12 07:33 AM

The problem was one of them tried to light a fart and we got the "Moderator Island effect."

---

lumberjim Friday Jan 12 10:23 AM

---

yesman065 Friday Jan 12 11:38 AM

Um, maybe the ones that didn't die were let out before the picture was taken - just a thought.

---

BigV Friday Jan 12 11:46 AM

(TM)

or

(TM)




---

mbrutsch Friday Jan 12 11:47 AM

ampersand,pound sign,1,5,3,semicolon.

---

footfootfoot Friday Jan 12 01:00 PM

huh ™

---

BigV Friday Jan 12 01:36 PM

---

Hoof Hearted Friday Jan 12 03:50 PM
I don't know how this correlates to the discussion. 300 dead? Not (300) in that picture, and if they were dead, they wouldn't be alive to be let out. Do you mean if they were trampled? The live animals that walked all over the dead ones just walked away while their departed brethren were left behind for the photo op.
I'm not sure what you meant.
hh

---

Happy Monkey Friday Jan 12 04:08 PM

If they were crowding against one wall (away from the vultures), presumably (and ironically) the ones closest to the vultures would have been likely to survive.

---

Iggy Friday Jan 12 05:00 PM

They were probably trampled and after the "care givers" moved the live animals they spread out the dead so they could count them or something.

---

Hoof Hearted Friday Jan 12 08:23 PM

---

lumberjim Friday Jan 12 08:28 PM

they cook more evenly that way, too

---

lumberjim Friday Jan 12 08:31 PM

'owdyou learn that, eh?

---

footfootfoot Friday Jan 12 09:09 PM

---

footfootfoot Friday Jan 12 09:14 PM

Youse all gonna die of asphyxiation, right?

.

---

WabUfvot5 Friday Jan 12 09:19 PM

I've never heard of vultures attacking a person but the two I saw feasting on a possum didn't look like something I wanted to mess with. A whole flock of them could be intimidating.

---

Clodfobble Friday Jan 12 11:35 PM

---

footfootfoot Saturday Jan 13 12:57 AM

for some reason that takes me to the homepage

---

yesman065 Saturday Jan 13 11:10 AM

---

Shawnee123 Tuesday Jan 16 03:08 PM

™

Well by golly I never heard of that before!

Can't get the alt one to work, though.

---

yesman065 Tuesday Jan 16 04:20 PM

I'll just bookmark this page and copy(Ctr+C) and then paste (Ctr+V)it wherever I need




™

---

busterb Tuesday Jan 16 07:12 PM

ALT+0153. For this to work™ use the number pad, with number lock off. ™

---

lumberjim Tuesday Jan 16 07:48 PM

›š˜œ§¨™žŸ— §¨Ç£
all kinds of wierd shit in those keys!

---

lumberjim Tuesday Jan 16 07:56 PM

alt+

0181 µ
0182 ¶
0183 ·
0185 ¹
0186 º
0187 »
0188 ¼
0189 ½
0190 ¾
0191 ¿
0197 Å
0198 Æ
0199 Ç
8881 ▒
8882 ▓
8884 ┤

who's got the map of this shit. i could make cool text art.

---

Happy Monkey Tuesday Jan 16 08:05 PM

It's Unicode. A semi-subset is the ASCII character set, which you can use by only using three digits with ALT.

---

monster Sunday Jan 21 08:01 PM

☺☻♥♦♣♠•◘○

hmmm.....


Ö ™½êçoÞ


oooh I like that one :Þ

---

wolf Sunday Jan 21 08:28 PM

---

yesman065 Sunday Jan 21 08:48 PM

Just askin - How does a thread thats about dead sheep end up at "Windoze/Accessories/System." ?

---

xoxoxoBruce Sunday Jan 21 11:26 PM

All good things come to those that wait.

---

yesman065 Sunday Jan 21 11:55 PM

lol thanks Bruce - I knew I could count on you!

---

glatt Thursday Jan 25 01:53 PM

First it's ewes, now it's chickens.






---

Sundae Thursday Jan 25 01:55 PM

Evil vulture child

---
Your reply here?

The Cellar Image of the Day is just a section of a larger web community: a bunch of interesting folks talking about everything. Add your two cents to IotD by joining the Cellar.