Undertoad Friday Jan 5 09:13 AM

January 5, 2007: Writing sea lion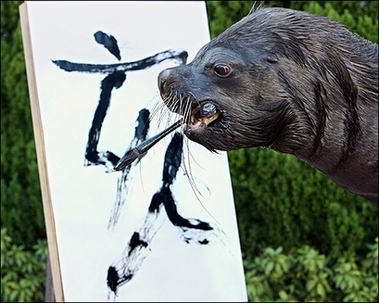 Caught by Spluch is this fine AFP story and image, the official caption and photo credit:

---

milkfish Friday Jan 5 09:23 AM

Meant to say "I'm bored."

---

Sheldonrs Friday Jan 5 09:32 AM

Is it just me, or does the bottom figure look like a human bending over?

---

glatt Friday Jan 5 09:38 AM

They read it wrong, the sea lion is doing fractions. 1/42

---

Sundae Friday Jan 5 09:41 AM

Jonao san is simply stating a desire for "More fissssh please!"

---

YellowBolt Friday Jan 5 10:01 AM

http://www.cellar.org/iotd.php?threadid=7840

I don't know about you, but it seems like he's gotten better since last time.

---

Undertoad Friday Jan 5 10:08 AM

Durn, another one where I forgot about the earlier entry!

I used to remember all of them, but it gets impossible... this is the 1909th one!

---

Flint Friday Jan 5 11:11 AM

.

---

wolf Friday Jan 5 02:28 PM

That really looks like someone got him started with the right character, and then shoved a brush in his mouth for a photo op. I need video.

---

footfootfoot Friday Jan 5 03:11 PM

Mom, camp is ok but boring. send more money for sea urchins and kelp.
thanks. say hi to sparky.
love

---

Shawnee123 Friday Jan 5 03:32 PM

He has many talents...You should hear him sing!

---

Sundae Friday Jan 5 03:50 PM

Does he sing like this?

Safe for work but it is a song, so turn your monitor down

---

Shawnee123 Friday Jan 5 04:24 PM

He does include that song in his repertoire, it's his signature song in fact. However, he tends to sing it less falsetto; more bluesy. He's a very deep and soulful sea lion.

---

Karenv Friday Jan 5 05:02 PM

Has anyone ever considered that he might have the intelligence to be taught to paint specific characters? I mean they say a dog is equivalent to a seven year old, and seven year olds aren't dumb, so a seal is probably trainable. (I don't believe for a minute that he can read it.) But I suspect the lack of an opposable thumb (or flipper bone) is the major obstacle to demonstrating intelligence.

---

glatt Friday Jan 5 05:20 PM

---

Clodfobble Friday Jan 5 05:21 PM

No kidding. A seven-year-old can read well and do quite a lot of math, just for starters. I'd say a dog is equivalent to a 3 year old.

---

monster Friday Jan 5 10:01 PM

---

Happy Monkey Friday Jan 5 11:46 PMBabylon 5? And what his previous claim to fame was?

---

wolf Saturday Jan 6 03:18 AM

That is just too easy for this crowd. Bill Mumy was half of Barnes and Barnes ... and he played Will Robinson on Lost in Space, as anybody who halfway paid attention to Dr. Demento in the 70s knows.

---

wolf Saturday Jan 6 03:19 AM

I guess if a sea lion can balance a ball on his nose for hours at a time, writing Chinese characters must be a piece of cake.

---

xoxoxoBruce Saturday Jan 6 03:36 AM

---

Shawnee123 Saturday Jan 6 09:26 AM

---

Happy Monkey Saturday Jan 6 02:41 PM

---

wolf Saturday Jan 6 02:47 PM

I am acknowledged in my circle of friends as the Fount of All Knowledge. I have personlized pencils that say so.

One of my other friends, the Great Mall of Wisdom, has personalized pens.

The reason for the difference should be obvious.

---

xoxoxoBruce Saturday Jan 6 08:29 PM

I knew he was Will Robinson, but no idea who Barnes and Barnes are. Do I get half credit?

---
Your reply here?

The Cellar Image of the Day is just a section of a larger web community: a bunch of interesting folks talking about everything. Add your two cents to IotD by joining the Cellar.