Undertoad Sunday Dec 17 02:21 PM

December 17, 2006: Holly, the tree climbing dog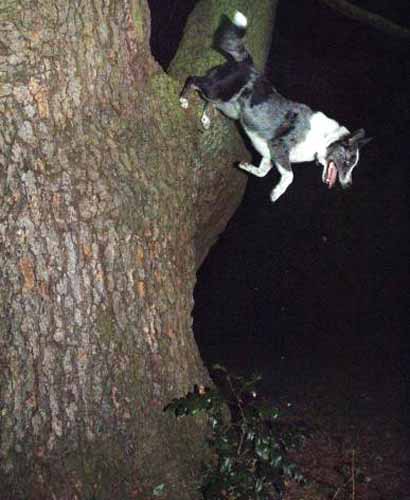 Meet Holly. The full Ananova story:

Quote:
Officials at Spetchley Park Gardens, near Worcester, hope Holly, a short-haired collie, will swell the number of visitors to the seasonal walk.

Holly, whose owner Kate Portman is the head gardener at the park, has opted to enter the spotlight in recent weeks by climbing trees at the 30-acre site.

Ms Portman said: "She climbs trees in the garden at other times of year and has her favourites, such as cedar, pine and evergreen oak, but when the illuminated trail is on she just goes crazy, climbing anything and everything in sight.

"You would think she would go for the easy ones which have branches hanging down to the ground, but if it's a tree she particularly likes the look of, it doesn't seem to matter if it has low branches or not, she simply runs and accelerates straight at and up the trunk.

"Then she sits in the branches for a few seconds, admiring the view, and then jumps down to repeat the process."
---

xoxoxoBruce Sunday Dec 17 10:42 PM

Sheep dogs.

Man, if you don't keep them busy they'll amuse themselves.... chances are you won't like what they choose to do, though.

---

Ibby Monday Dec 18 04:19 AM

...How?

---

xoxoxoBruce Monday Dec 18 04:40 AM

By tearing up every nonliving thing you own.

---

SPUCK Monday Dec 18 05:36 AM

Ah you can fix that... You train them to herd school busses.




I cures them of living.

---

DanaC Monday Dec 18 05:55 AM

My dog is a bearded collie: they're bred to herd cattle. Supposedly, a well trained Beardie was able to drive cattle from farm to market town(sometimes a long way) without the farmer being there. I definately know about it if my dog gets bored:P

---

CharlieG Monday Dec 18 10:36 AM

a friend has a collie - it's fun to watch the dog herd the family - and it does. It was sort of trained to - he has a daughter with Down syndrome who has a tendency to wander off - the dog is trained to let my friend or his wife know if the daughter starts to wander

---

SPUCK Tuesday Dec 19 06:45 AM

That's a cool application of an ability!

---

CharlieG Tuesday Dec 19 09:00 AM

Quote:

Originally Posted by SPUCK

That's a cool application of an ability!

Yeah - the dong is just NOT really happy unless the whole family is in one place - very strange - come over to vist, YOU get herded too...

Yo, Humans ... Get IN that bunch over there - yeah, that means YOU - woof....

---

Pie Tuesday Dec 19 10:44 AM

Wanna see a nervous breakdown? Get an Aussie to try to herd ferrets.

---

barefoot serpent Tuesday Dec 19 11:14 AM

Quote:

Originally Posted by CharlieG

Yeah - the dong is just NOT really happy unless the whole family is in one place

Paging Dr. Freud...

my sister had a bull terrier mix that all you had to do was to look up and it was up a tree in a flash... wayyyy up.

---

Karenv Wednesday Dec 20 03:02 AM

I used to have a longhair German shepherd that would swim around us in the river to herd us into the island.

---

Shawnee123 Wednesday Dec 20 05:03 PM

arf

---
Your reply here?

The Cellar Image of the Day is just a section of a larger web community: a bunch of interesting folks talking about everything. Add your two cents to IotD by joining the Cellar.