Undertoad Friday Nov 10 11:34 AM

November 10, 2006: Nepalese police dogs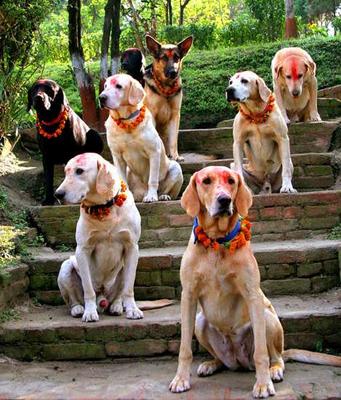 Aww. The official Sydney Morning Herald cap says Nepalese police dogs are adorned in celebration of Kukur Tihar, the festival of dogs.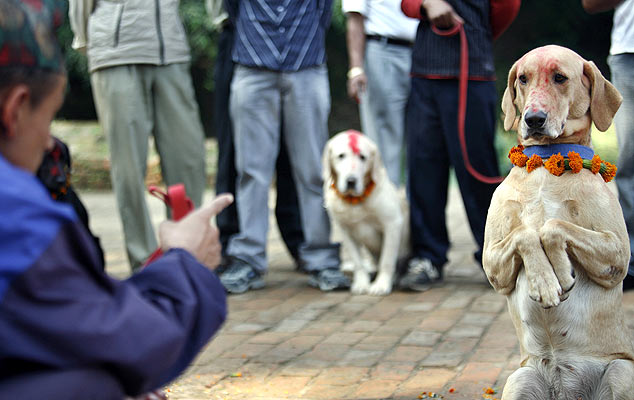 If it seems familiar, you were reading IotD three years ago when we covered it then. Let's revisit the key quote from it:

Quote:
The second day is called 'Kukur tihar', dogs day. A dog plays many roles in our society. We have dogs in our houses as guardian of the house. As the legend also says that there is a dog at yama's gate guarding the gate to the underworld. The dog is also the steed of the fearful Bhairab, the god of destruction. So on this day a big red tika is put on a dog's forehead and a beautiful garland around the neck. After worshipping the dog, it is given very delicious meal. This day the saying 'every dog has his day' comes true; for even a stray dog is looked upon with respect. We pray to the dog to guard our house as he guards the gate of the underworld and to divert destruction away from our homes. On this day you can see dogs running around with garlands on their neck.
---

Trilby Friday Nov 10 11:53 AM

Along with the Asian Water Pistol Festival, I think we should adopt this custom, too.

And, the Spanish Tomato Fight.

---

lawman Friday Nov 10 12:10 PM

There's a dog in the first pic that's pretty excited about all the fuss...

---

Trilby Friday Nov 10 12:11 PM

You're right, lawman!

---

Shawnee123 Friday Nov 10 12:12 PM

Quote:
Originally Posted by lawman
There's a dog in the first pic that's pretty excited about all the fuss...

Thanks for pointing (no pun intended) out that pig in a blanket. Ewwww!

---

Emrikol Friday Nov 10 01:02 PM

Bwahahaha!



http://en.wikipedia.org/wiki/Proper_Condom_Use

---

Elspode Friday Nov 10 01:04 PM

This is where cultural differences can cause a big problem. Tourists, seeing the red splotches on these dogs, probably think that a bloodthirsty beast is running loose.

---

Spexxvet Friday Nov 10 01:16 PM

Hot dogs for dinner, everybody! Light the grill!

---

xoxoxoBruce Friday Nov 10 10:12 PM

How could anybody be afraid of the dog in the second picture.

---

Nao Saturday Nov 11 01:32 AM

they look rather old :P

---

chrisinhouston Saturday Nov 11 09:53 AM

The second image is funny; the dog looks like he is being lectured by the owner and the one in the background seems worried that he is next.

---

Savannh Saturday Nov 11 11:33 AM

So what day is this festival? I couldn't find a specific date by Googling. My dog wants to know for next year. She has requested honours and a garland.

---

xoxoxoBruce Saturday Nov 11 11:51 AM

Pssst.....make up a day. How's the puppy going to know.

---

Undertoad Saturday Nov 11 12:25 PM

I think the Nepalese calendar may be different. The festival that includes dog day is called Tihar, and it falls on different days (on our calendar anyway) each year. And it turns out they worship crows and cows too:

via here:


Quote:

Tihar: This festival of lights that falls between October/November is the second biggest festival after Dashain. This festival lasts for five days and people worship Laxmi – the Goddess of Wealth. All the houses are cleaned and decorated with the belief that Goddess Laxmi will enter the house that is the cleanest and people lit candles, oil lamps and other lights and the whole place looks illuminating. During the five days, crows, dogs and cows are worshipped and honored with vermilion, garland and delicious food for what they have done in the lives of humans. Crows are regarded as the messenger that brought news even during the times when there were no postmen and no postal services. Dogs are the most obedient animals and they guard our house as true guardians. Cow is also a symbol of wealth in Hinduism and she is also the national animal of Nepal. During Tihar, the Newari community in Nepal also observes Mha puja – a ritual of worshipping one's own body and life. On this very day, the Newari New Year which is also known as Nepal Sambat begins. The festival ends with Bhai Tika – brothers' day when his sisters worship him for his long and healthy life to safeguard the lives of his sisters. This is also a gambling time in Nepal as gambling is not illegal during this festival.



---

Sundae Monday Nov 13 12:48 PM

My cats demand worship every day (I type with a bag of chicken at my feet that I just pelted down to the butchers to get)

They also believe in kamikaze cuddles - fling themselves at me claws out when I come nekkid out of the bathroom, working on the assumption that they will find purchase somewhere.

If they're found wandering around with red marks on their heads soon it won't be a tika I can tell you.

---

xoxoxoBruce Monday Nov 13 07:07 PM

---

DanaC Monday Nov 13 07:09 PM

My dog doesn't need additional worship. he already knows he's loved and adored and fed a regular supply sausages.

---

Sundae Tuesday Nov 14 11:32 AM

Sausages he finds himself that is....

---

chrisinhouston Saturday Nov 18 04:42 PM

This could be them on their way to the ceremony!

---
Your reply here?

The Cellar Image of the Day is just a section of a larger web community: a bunch of interesting folks talking about everything. Add your two cents to IotD by joining the Cellar.