Undertoad Wednesday Sep 20 12:00 PM

September 20, 2006: South African white girls join Swaziland's "reed dance" [NSFW]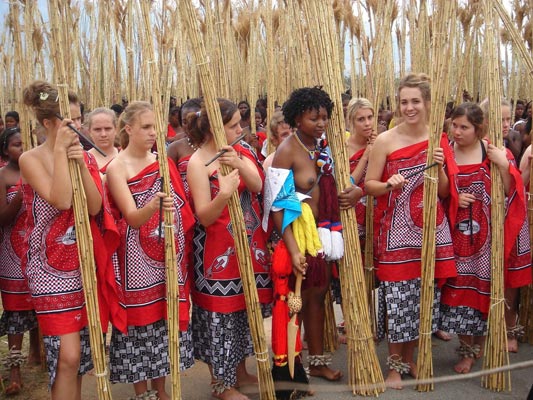 It must be foriegn cultures week on IotD or something.

The reed dance? I had not heard of this thing until looking for more information on the above picture. The reed dance turns out to be a major cultural event in Swaziland.

Every year, all the virgins in the country are gathered at the Queen Mother's house. They wear almost nothing. They form a big line and walk to the river. There, they use knives and machetes to cut reeds - like the ones shown above - and carry them back to build a wind break around the royal palace. After that, they dance. For two days. Naked.

In fact it would appear that the white chix here are unusually clad for the event. They're from South Africa; they're on a cultural exchange of some sort. But clearly they have not embraced the culture completely and one wonders whether it has been truly ascertained that they are virgins.

this page has photos of the trek

The presence of all these virginal young girls in various states of nakidity has, unfortunately, attracted a huge voyeuristic tourist crowd.

Here's a bit of a disconnect. African feminists are against it:

Quote:

"The reed dance is an example of traditions that oppress Swazi women. Where the king is given the power every year to choose a young virgin woman to be one of his many wives," FemAct said.

But website "Celebrating Women" finds it to be a celebration of womanhood:


Quote:

The next day when Ndileka joins the throngs of maidens at Umhlanga, I lose track of her in the crowd of identically-dressed young women. Afterwards, she is still high on Swazi womanhood when I locate her surrounded by Reed Dancers who are pulling their cell phones from underneath their shields, preparing to reconnect with the real world.

"It was wonderful." Ndileka bubbles. "I can't wait for next year! You are not afraid of showing your bum because the other girls have also got their bums out, your breasts because everybody's got their breasts out. You don't have to worry about someone staring at you because everyone is dressed the same. Some girls are really big and I was proud of them for showing off their bodies like that; they were confident."



---

rkzenrage Wednesday Sep 20 12:13 PM

I'm starting to think that feminists hate women.

---

Spexxvet Wednesday Sep 20 12:25 PM

They're too young for me, but they're still BOOBIES!

---

Tomtheman5 Wednesday Sep 20 01:38 PM

I know I've seen this scene before... Swaziland's Next Top Model w ?

---

xoxoxoBruce Wednesday Sep 20 08:35 PM

From UT's link;

Quote:

On the second day of the reed dance, in the morning, some tourists watched the girls and took photographs of them while they were bathing in the nearby river. Motorists, too, were spotted luring the girls by promising them food and money.

A man from Chile who claimed to be a "freelancer", stood among the girls in the Lusushwana River, taking photographs.

When confronted and asked why he was not taking photographs where the ceremony took place at Ludzidzini, he said: "I do not like your line of questioning, lady. I don't have to explain anything to you."

Also, on the main road to the royal palace, lines of luxury cars were parked at the side of the road, the drivers negotiating with the girls to get into the cars.

Siphelile Thabethe, 16, Nokuthula Mathebula, 14, and Jabulile Manana, 13, confirmed that they were standing at the side of the road because they wanted a lift home to Matsapha as they had run out of money.

A Mercedes-Benz was seen leaving after the driver spoke to them. They were visibly afraid, and they confirmed that the car had been driving up and down the road for a long time and the driver had been asking them to "come with him to where he stays at the hotel".

Sounds like they could do a better job with crowd control.

---

footfootfoot Wednesday Sep 20 09:55 PM

Where the white chick dowas at?

---

Elspode Thursday Sep 21 05:45 PM

There's nothing more heartwarming than a traditional coming of age rite followed by propositions for the underage participants to prostitute themselves. Ah, culture.

---

wolf Friday Sep 22 11:15 AM

So, what happens if the king decides he wants one of the blonde chicks as his wife this year? International incident? 100 ounces of gold from the girl's father to buy her back?

---

rkzenrage Friday Sep 22 02:52 PM

Sounds like a fun time.
Wolf... you play the game, you play by the rules. People's cultural traditions are not weekend "excursions".

---
Your reply here?

The Cellar Image of the Day is just a section of a larger web community: a bunch of interesting folks talking about everything. Add your two cents to IotD by joining the Cellar.