Undertoad Saturday Sep 9 08:42 AM

September 9, 2006: Wolf girl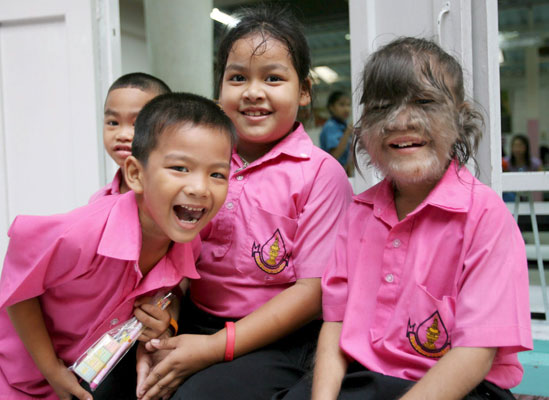 This Thai girl is Supatra Sasuphan, nicknamed Nat. Apparently she lives a normal life, and a happy one. She looks happy. But she has a rare problem: Hypertrichosis, which as you can see causes hair to grow all over her face and body.

The caption on this item claimed that there have been 40 documented cases since first documented in 1648. But it's not a disease; it's a natural human genetic variation. That's right: somewhere deep in our DNA is the ability for all of us to be like that.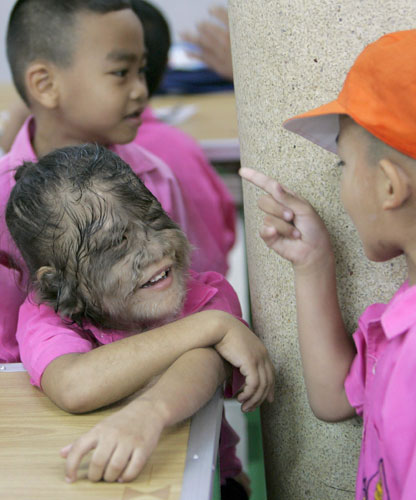 This Mexican family has multiple cases of it, showing how the genetic linkage appears.

IotD has seen this before here.

---

Griff Saturday Sep 9 08:54 AM

That kid has a lovely smile.

---

xoxoxoBruce Saturday Sep 9 09:20 AM

I wonder if they combed it down over her face for the photographs? It seems they would try to comb it, or cut it, away from her eyes. That would be a source of constant irritation, getting poked in the eye.



aside: From the link....

Quote:

Life for hairy brothers Victor "Larry" and Gabriel "Danny" Ramos Gomez is anything but dull.

Larry? Danny? Like Cellar member Billy, in China, there seems to be a desire for Anglo sounding nicknames.

---

Spexxvet Saturday Sep 9 11:49 AM

I hope she donates to the oil spill hair clean-up effort.

---

Trilby Saturday Sep 9 12:46 PM

Can't somebody at least OFFER her electrolysis? Just as an option? Perhaps she truly is happy like that but, my lord, it looks like it would be pretty hot under all that hair.

---

RellikLaerec Saturday Sep 9 05:15 PM

hmm... when she washes her face, does she use facial soap or shampoo?

---

DucksNuts Saturday Sep 9 08:55 PM

Hmmm - to take the high road or the low road??

Its Sunday, I'll take the high road.



Quote:

Originally Posted by Bri

Can't somebody at least OFFER her electrolysis?

I was thinking Laser Hair Removal, better long term effect, but I guess its a big outlay of money and yeah, maybe she is really happy.

---

milkfish Sunday Sep 10 07:50 AM

I'm assuming those other kids are classmates, not siblings. Either way, I would nominate them with their nonchalance as being the most remarkable parts of the images. (I like how the girl in the second picture is not the one being pointed at.)

---

Promenea Sunday Sep 10 09:51 AM

What surprises me is the relative lack of hair on her arms. I'd always thought that this gene didn't simply direct hair growth on the face but on the whole body as well.

---

The 42 Sunday Sep 10 11:05 AM

Poor little girl

She may seem happy now, but just wait until she hits seventh grade... it'll just go downhill from there. I hope they find some way of getting rid of that hair by then!

Now, I personally don't have anything against people with physical differences, (how can I, in my proffesion?) but what she has is not a deformity and not a disorder, so her classmates may be less sensitive about it.

One funny question- why is some of the hair white?

She does have a lovely smile, though.

---

capnhowdy Sunday Sep 10 07:05 PM

I wonder if she'll have a huge bush when she gets grown.

---

kisrael Thursday Sep 14 10:33 AM

BoingBoing mentioned that the parents hope the hair falls out as she becomes an adult, as sometimes happens in these cases, but if not they do have an offer for laser treatment.

---

Pie Thursday Sep 14 10:49 AM

UT, just out of curiosity, why did you change the way you specify the date on the IoTDs?

---

Undertoad Thursday Sep 14 11:07 AM

To better accomodate blog-format readers who are accustomed to the day-first date format. (vBulletin readers already get a dose of mm-dd-yyyy on every message.)

I agree that the very best format is year-month-day, but that's a clash of civilizations that we just won't win.

---

Pie Thursday Sep 14 02:55 PM

Ah-so.

---

rkzenrage Thursday Sep 14 06:40 PM

Quote:

Originally Posted by Griff

That kid has a lovely smile.



---

xoxoxoBruce Thursday Sep 14 07:59 PM

The picture on Kirk's Boing-Boing link makes her look much more hairy....very much more.

---
Your reply here?

The Cellar Image of the Day is just a section of a larger web community: a bunch of interesting folks talking about everything. Add your two cents to IotD by joining the Cellar.