Undertoad Sunday Aug 27 01:27 PM

August 27, 2006: Giant praying mantis invades Prague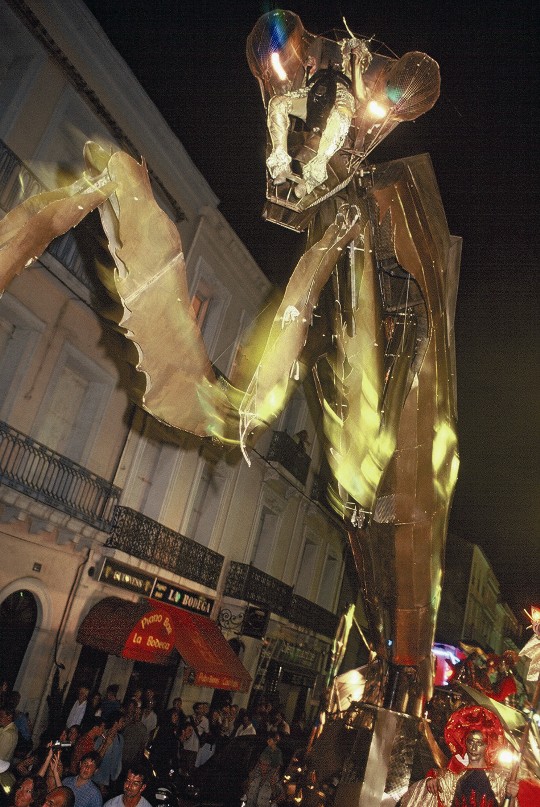 Not a REAL praying mantis, you fools, but a ROBOT mantis. Remember the Royal de Luxe elephant and girl who invaded London, well it appears to be a trend. A trend I must encourage.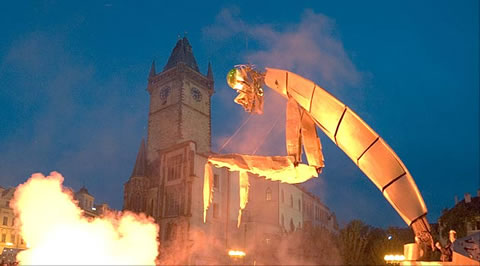 I wish there were some shots from further back, but these few are fine as is, and scary to boot. Apparently this was for a festival, the Letní Letná festival, which is "new circus". An official web site (in Czech) provided some of these photos, and someone (can't remember who? Take credit, somebody) also pointed me to that shot, which Neatorama also had. N-rama also points to this Prague Post article in English which explains the whole event:


Quote:

The term "New Circus" refers to a type of entertainment spectacle with fantastical poetic imagery that's evolved from traditional circus performances over the past 30 years, most notably (and stylishly) in France. It embraces the traditional circus skills of acrobatics, clowning, object manipulation, fire and light spectacle. It also maintains the traditional function of circus as a ritualistic sublimation of human weirdness, where audiences alternate between fear and laughter at a series of different acts before celebrating the whole mess in exultant procession and music.

New Circus is also an art form for contemporary times. It incorporates psychological understanding into archetypal imagery of fairy tales and transformation, tending to string acts together into more coherent theatrical story lines, creating thrills and amazement not by displaying freaks or trained animals, but by spectacular human skill and technological wizardry.

What about the mantis?


Quote:

The main acts this year are French groups Compagnie Malabar and Cirque Trottola, and Escalarta Circus from Spain. Malabar will present two evening performances of Helios II, an extravagant fire show of innovative pyrotechnics performed in the open air in honor of the sun god. The group also uses a spectacular 9-meter-high (30-foot-high) and 24-meter-long mechanical praying mantis that incorporates live music and several human acrobats hanging from ropes, animating its parts. This cyber-punk fairy-tale beast moves with eerie grace, preceded by two leaping, stilted creatures that will also be seen bouncing through the streets of the city center.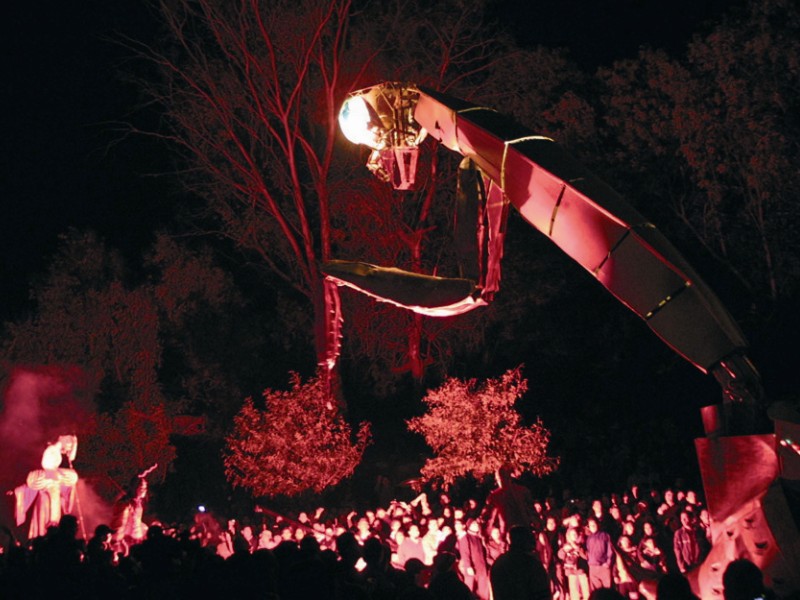 Waaaay coooool.

---

capnhowdy Sunday Aug 27 02:08 PM

Really cool. And huge, too.

I saw a similar machine at a monster truck thingie a while back that breathed fire and actually crushed cars with his jaws.

Great Images.

---

xoxoxoBruce Sunday Aug 27 04:34 PM

It was glatt's idea, I just passed it along.

---

The 42 Sunday Aug 27 05:13 PM

Coooool! Now they just need a giant aphid

Suggestions for the next huge thing:
Godzilla
King Kong
A giant beanstalk

Anyone else with suggestions?

---

9th Engineer Sunday Aug 27 06:10 PM

Any chance it was Robosaurus CH?

---

lulu Sunday Aug 27 07:35 PM

Very cool. I wonder how long it took to put together the praying mantis.

---

milkfish Sunday Aug 27 10:48 PM

They're spreading! This one from Japan is a bit different - "6.3-meter-long and 3.4-meter-high" and a bit more nicely colored.

---

Sundae Monday Aug 28 06:26 AM

For some reason that really creeped me out. Other than the normal aversion to a huge insect I mean.

Am now worried when I pull the curtain tomorrow morning it will be there looking in the window. Hmmmm, a bit less Bacardi tonight I think.

---

neatorama Tuesday Aug 29 12:25 AM

Praying mantises are cool, especially when they're mad!


---

xoxoxoBruce Tuesday Aug 29 07:42 PM

Damn...that's a cool Mantis. I wonder if the color means it tastes bad, like so many insects?

---

zippyt Tuesday Aug 29 11:42 PM

The caption for that pic seems to be " OH LORDY LORDY !! I A'bout Shit my self !!!

---

Elspode Tuesday Aug 29 11:51 PM

I'm pretty sure that this is the last thing we'll see when we land on Mars.

---

capnhowdy Wednesday Aug 30 07:49 PM

Quote:

Originally Posted by 9th Engineer

Any chance it was Robosaurus CH?

Yes. That was it. I think it was like 40 ft tall. Sorry..... too lazy to google....

---
Your reply here?

The Cellar Image of the Day is just a section of a larger web community: a bunch of interesting folks talking about everything. Add your two cents to IotD by joining the Cellar.