Undertoad Tuesday Aug 22 02:28 PM

8/22/2006: Hobo nickels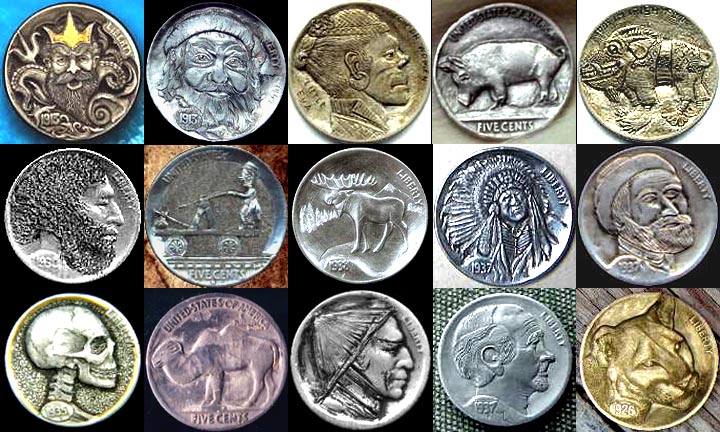 xoB sent this along, and I did see it somewhere else earlier, can't remember where.

Folk artists have used just about every material on earth. That includes earth and dirt, as last week linkers were interested to see perfectly round, highly polished balls of dirt as folk art from Japan.

When the US first minted the buffalo nickel in 1913, the practice of carving a new face onto the nickel was started, because the coin was thick and its metal was malleable.

Nickels were carved by several practically unknown artists - including actual hobos - and those early works are now collectable. But modern nickel-scratchers keep up the practice and create new works, and most in the set above are modern.

Wikipedia entry

---

glatt Tuesday Aug 22 02:48 PM

That's really cool. I never heard of these things before.

---

Pancake Man Tuesday Aug 22 03:30 PM

But in 1913, wouldn't a nickel buy you a house, a car, and ten gallons of gas? Seems kinda rich for a hobo....

---

Emrikol Tuesday Aug 22 03:30 PM

That is awesome!

You never cease to amaze me UT. Thanks!

---

hampor Tuesday Aug 22 03:47 PM

Aren't there legal implications?

They put those bumpy edges onto coins to keep people from shaving them. I bet those laws could apply here too.

---

dar512 Tuesday Aug 22 03:59 PM

My understanding is that, for coins, it is only illegal to modify a coin with the intent to defraud. It's different for paper money.

---

Undertoad Tuesday Aug 22 04:00 PM

Credit xoBruce where credit is due!

---

The 42 Tuesday Aug 22 04:18 PM

That's incredibly cool!

Kudos, xoB!

---

xoxoxoBruce Tuesday Aug 22 08:06 PM

The Hobo Nickel Society has the history and tons of pictures and links.
Some of the nickels done in the last 10 years or so were done by professional engravers, as a hobby. Those, of course, are incredible but the early ones, although somewhat crude, are pretty impressive considering they were working with tools like a jack knife and bits of broken glass.

---

Fas88 Wednesday Sep 1 09:23 PM

Quote:

Originally Posted by

Undertoad

xoB sent this along, and I did see it somewhere else earlier, can't remember where.

Folk artists have used just about every material on earth. That includes earth and dirt, as last week linkers were interested to see perfectly round, highly polished balls of dirt as folk art from Japan.

When the US first minted the buffalo nickel in 1913, the practice of carving a new face onto the nickel was started, because the coin was thick and its metal was malleable.

Nickels were carved by several practically unknown artists - including actual hobos - and those early works are now collectable. But modern nickel-scratchers keep up the practice and create new works, and most in the set above are modern.

Wikipedia entry

Hobo nickels are definitely the modern art form but as minting goes back to ~500 BC that's actually the oldest era when coins were probably carved. Of course that's a bit of speculation but if you consider that originally the 'mints' were actually individual castings of coins done by artisan workers you realize that you're going to have artists whose profession is handmaking coins, and they are surely going to do some custom work!

At any rate these coins are just absolutely stunning and there is a certain romance that goes along with picturing hobos riding a car and 'whittling' away on a nickel as a creative outlet. Thanks for this.

---

xoxoxoBruce Wednesday Sep 1 10:56 PM

Welcome to the Cellar, Fas88.


I'm sure there were some counterfeiters, it ancient times too, although it's tougher when the metal in the coin is the value.

---
Your reply here?

The Cellar Image of the Day is just a section of a larger web community: a bunch of interesting folks talking about everything. Add your two cents to IotD by joining the Cellar.