Undertoad Thursday Aug 10 09:42 AM

8/10/2006: Jackson's chameleon with baby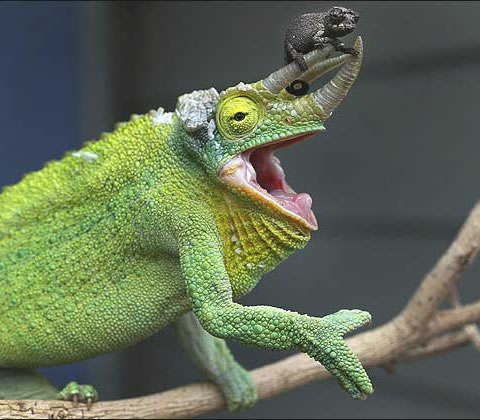 No, actually it's Thursday but I have a better one lined up for tomorrow. Thumbs up for a Jackson's Chameleon with its offspring, and it's one of 22 bred recently at the Taronga Zoo. Neatorama points to the shot from the Sydney Morning Herald. The official cap:


Quote:

For the first time, Taronga Zoo has successfully bred the spectacular Jackson's Chameleon, with 22 of the little creatures doing extremely well. Only 4cm long, the young tree dwellers were introduced to the media late last month.

First time at the Taronga Zoo? I don't think so! IotD's 9/27/2002 entry is also a Jackson's Chameleon newborn, at the same zoo. Looking kind of like this one, though definitely not the same beast, and this is a better photo. Apparently that's what the little ones do, they perch on the forehead. Ironically, that may be the only place the chameleon can't move it's eyes to see it.

I like how the parent looks overjoyed, and the baby looks kinda angry.

Hey maybe you weren't following IotD in 2002 and so this will be new to you!

Cellar IotD congratulates Neatorama on his own recent newborn, a girl. His little one is surely much more beautiful than this one, and not so ash-colored.

---

glatt Thursday Aug 10 09:49 AM

Same guy? The time frame is right.


---

Leus Thursday Aug 10 10:42 AM

The title for this post is so misleading...

---

Trilby Thursday Aug 10 10:48 AM

Quote:

Originally Posted by Leus

The title for this post is so misleading...

I was thinking the same thing!!

Cute horn'ed beastie!

---

Griff Thursday Aug 10 11:36 AM

Yep. I was expecting MJ.

---

Sundae Thursday Aug 10 01:19 PM

More bright green animals to make me hungry! Perhaps that's why the little ones are so dark, to be less appealing.

---

Ibby Thursday Aug 10 02:57 PM

I think the whole point of being a chameleon is that they dont stay that colour all the time...

---

capnhowdy Thursday Aug 10 06:26 PM

Michael Jackson and Boy George. Having a baby. All babies don't look alike.

---

Leah Thursday Aug 10 09:48 PM

Oh, what a cute little baby.

---

Undertoad Thursday Aug 10 09:57 PM

Now that I look at the whole thing again, this is from the original set of chameleons born at Taronga in 2002, and the Sydney Morning Herald gallery is old. The caption writer failed to mention a date. It's all good though, because this is not the same chameleon from the 2002 IotD, and it's still, to my mind anyway, supremely cool. I really love how these little babies hang out on their parents' horns.

---

xoxoxoBruce Thursday Aug 10 11:00 PM

How's she going to explain the color of that baby to her mate? Maybe they mated at night.

---

neatorama Sunday Aug 13 05:47 AM

Thanks for the congrats (and for picking something from neatorama for cellar), Undertoad!

---

dar512 Sunday Aug 13 02:18 PM

Quote:

Originally Posted by xoxoxoBruce

How's she going to explain the color of that baby to her mate? Maybe they mated at night.

They are actually basilisks. The baby looked at the mother and turned to stone.

That's my theory anyway.

---

Undertoad Tuesday Sep 19 08:43 AM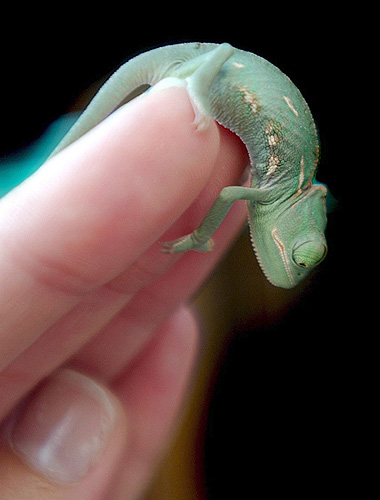 This one's four weeks old, also a shot from Taronga, on the wires today -- so they did in fact have a hatching last month.

---

xoxoxoBruce Tuesday Sep 19 09:47 AM

It looks a lot different than the adult in the first picture. This little guy actually has a head instead of a mouth and horns on the end of it's body.

---
Your reply here?

The Cellar Image of the Day is just a section of a larger web community: a bunch of interesting folks talking about everything. Add your two cents to IotD by joining the Cellar.