Undertoad Monday Aug 7 12:31 PM

8/7/2006: 50,000 balls in Aussie artwork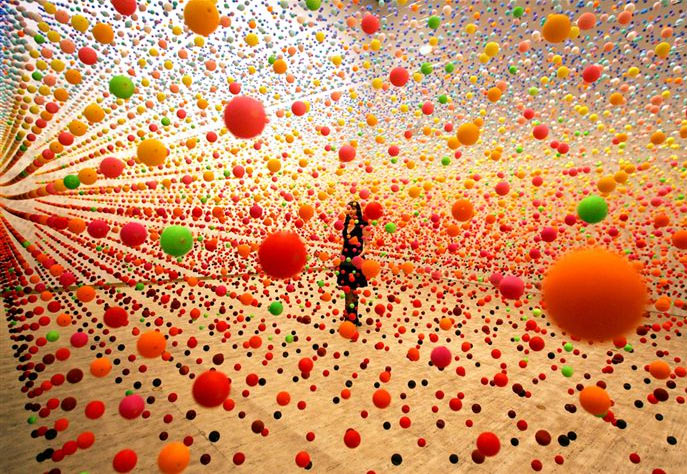 Put this in the "interesting art" category, and here's another thread title that sounds dirty but isn't. Here we have a work titled "Atomix -- Full of Love, Full of Wonder". Artist Nike Savvas (shown in the picture making final adjustments) is Australian, the installation is at the New South Wales Art Gallery.

It represents the "shimmering outback" -- the colors come from the colors of the outback, and the balls are blown with fans so that they move a little bit in the wind. Nice work! I would like to see it in person.

via MSNBC Week in Pics.

---

Pie Monday Aug 7 12:33 PM

"Now they know how many balls it takes to fill the Albert Hall..."

---

lumberjim Monday Aug 7 12:34 PM

you can see that she looooooooves the balls

---

Flint Monday Aug 7 12:35 PM

Try to walk through there without getting tea-bagged!

post option #2:
"some balls are held for charity, and some for fancy dress, but when they're held for pleasure they're the balls that I like best"

---

Ibby Monday Aug 7 12:49 PM

I think Flint wins with AC/DC.

"ball-sucker! ball-sucker! ball-sucker! ball-sucker!"

---

Flint Monday Aug 7 12:53 PM

When a cutle little art-chick touches 50,000 balls, everybody wins!

---

Emrikol Monday Aug 7 01:14 PM


Cool!

---

Flint Monday Aug 7 01:17 PM

Oh, wow...spatially-oriented pixels! That is frickin' brilliant.

---

MsSparkie Monday Aug 7 01:27 PM

Not being a baseball fan, it would have been even better if it was all pucks!

---

footfootfoot Monday Aug 7 05:00 PM

Puckin' brilliant then.

---

footfootfoot Monday Aug 7 05:01 PM

That is exactly what it looks like when you chow ten grams of shrooms.

That is awesome.

I'm there.

---

xoxoxoBruce Monday Aug 7 05:28 PM

Where are the pigeons when you need 'em?

---

capnhowdy Monday Aug 7 05:45 PM

Great work! I don't think it would be near as interesting without the mirrors. Imagine it with black background, flourescent balls and black light. Now that would be 'shroomy.

---

Wombat Monday Aug 7 07:17 PM

I really like it.

I don't say that often about art.

---

Hagar Wednesday Aug 9 04:40 PM

Quote:

Originally Posted by Wombat

I really like it.

I don't say that often about art.


ditto - now I think I should go and get myself checked out.

That's a really good installation.

---

barefoot serpent Wednesday Aug 9 04:41 PM

I wonder if they would let me in if I showed up with a tennis racquet?

---

glatt Friday Aug 11 04:46 PM

Here's a similar display of lighted balls. Makes a 3-D display.

---

xoxoxoBruce Friday Aug 11 11:38 PM

I like that glatt, but looking through the pictures, I definitely like it better outside.
I wonder what UT's would look like outside where you could see scenery, background, distance, through it?

---
Your reply here?

The Cellar Image of the Day is just a section of a larger web community: a bunch of interesting folks talking about everything. Add your two cents to IotD by joining the Cellar.