Undertoad Wednesday Aug 2 02:54 PM

8/2/2006: Cellarite seakdivers, from Hoonah Sound, Alaska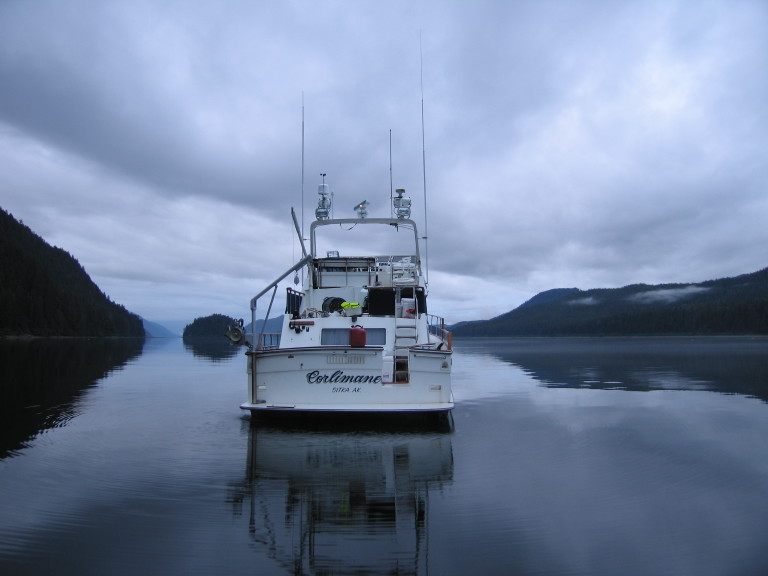 I didn't really "get" this series of shots taken by Cellar user seakdivers, until xoB suggested a narrative for it. But here is your day on Hoonah Sound.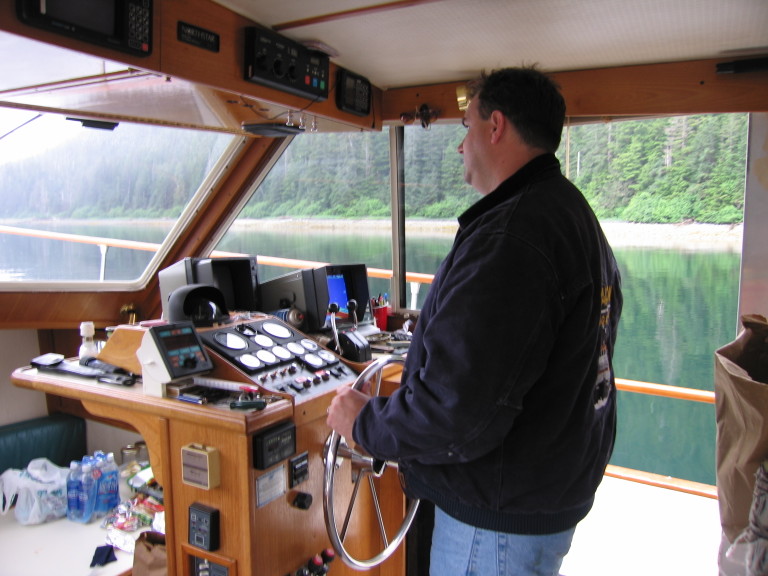 Drive that boat out to the Sound...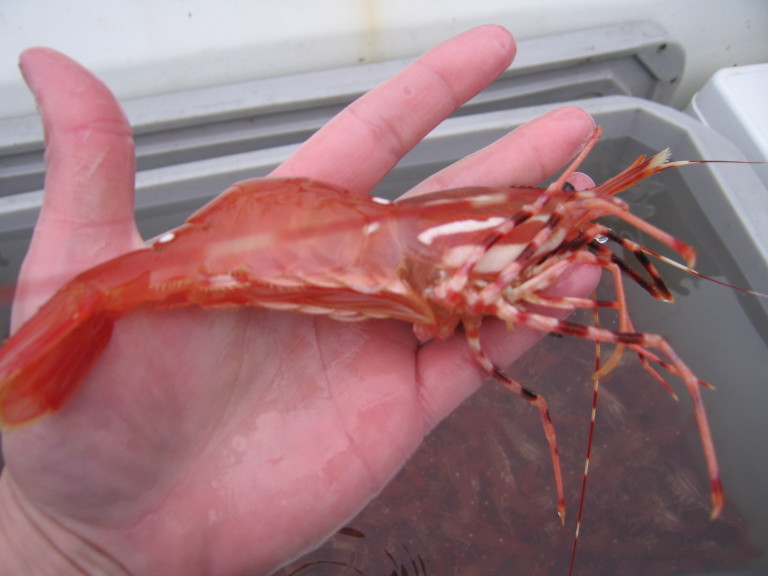 You might catch some shrimp.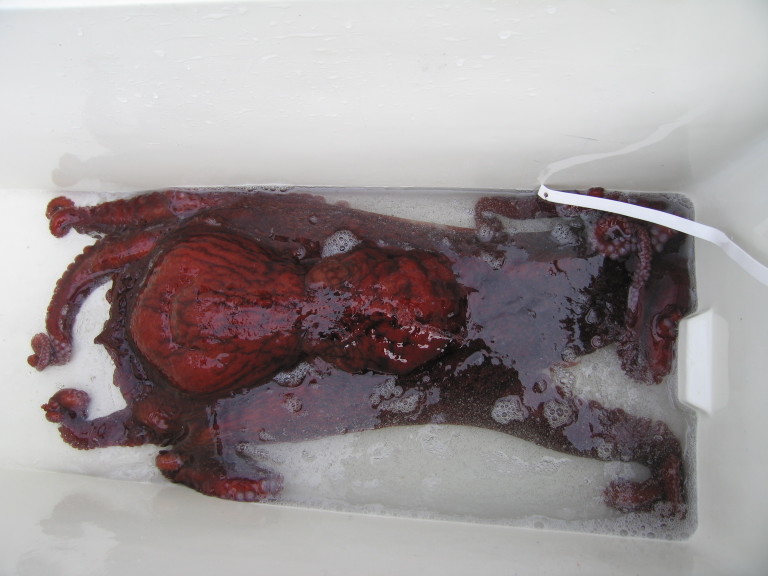 An angry octopus finds his way into your pot.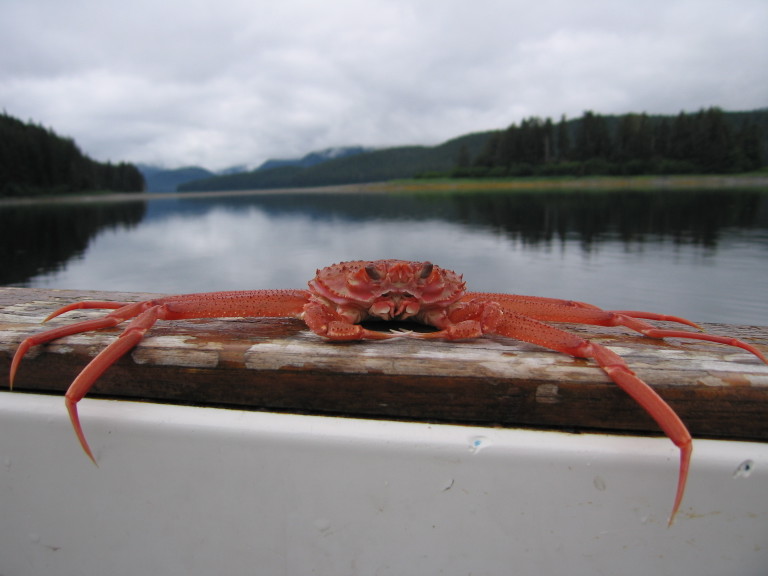 Along with the awesome crabs.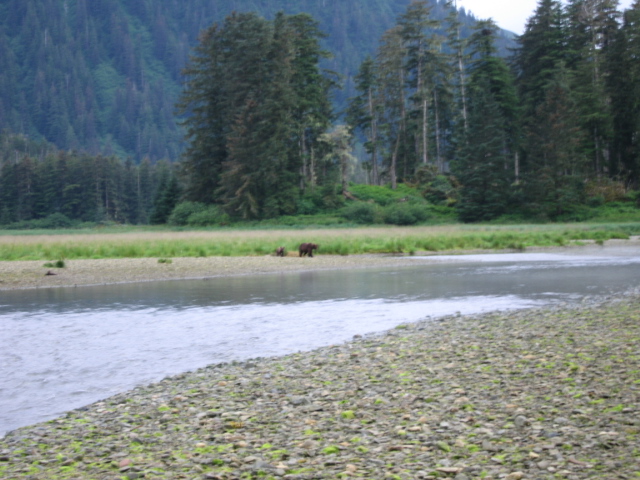 Even some bears on the land.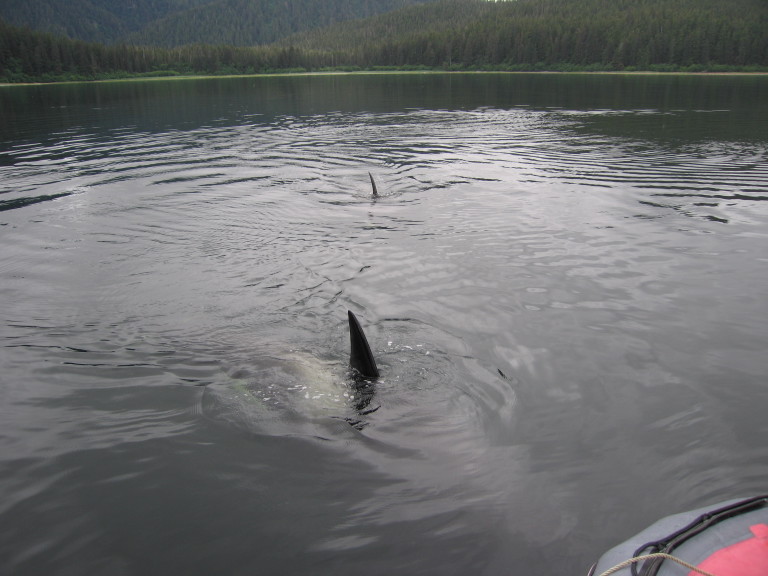 And some noisy Orcas arrive on the scene.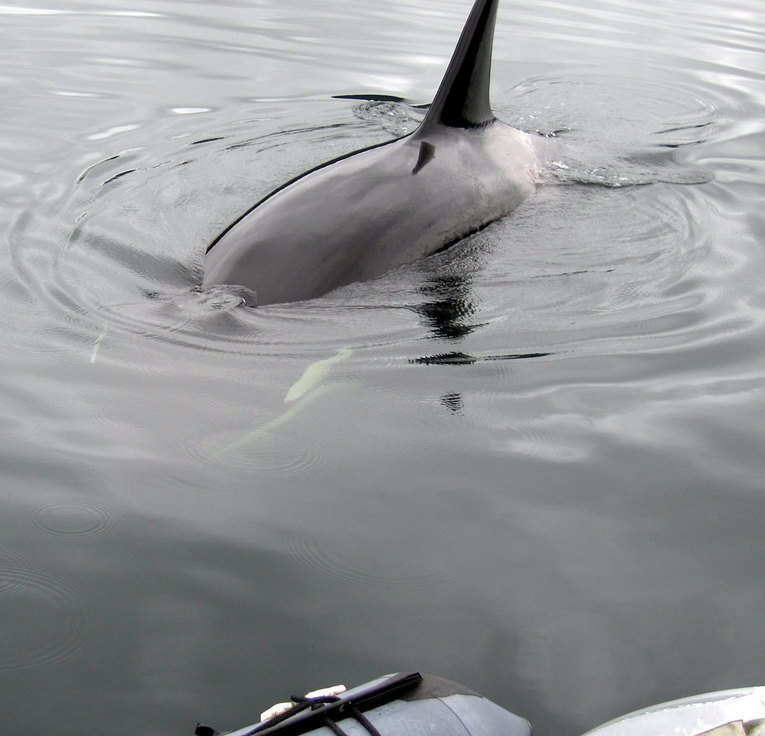 They're playing with some kind of toy...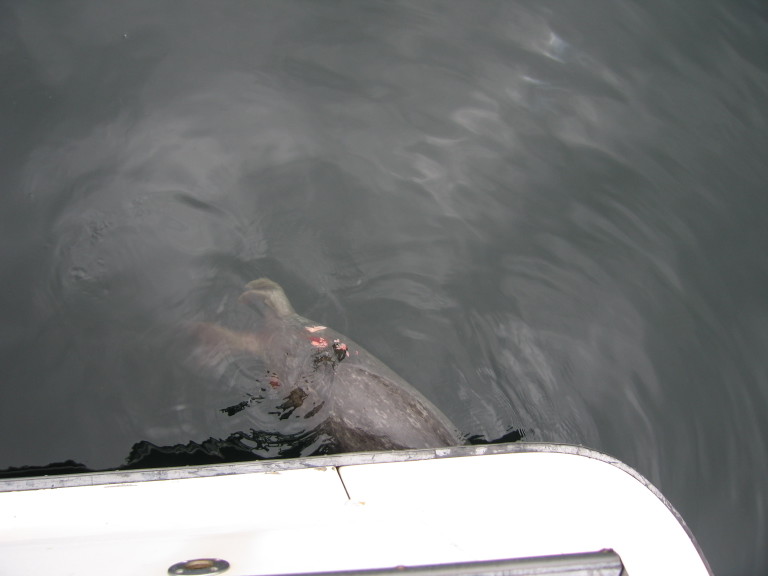 Uh-oh, the toy is an injured seal!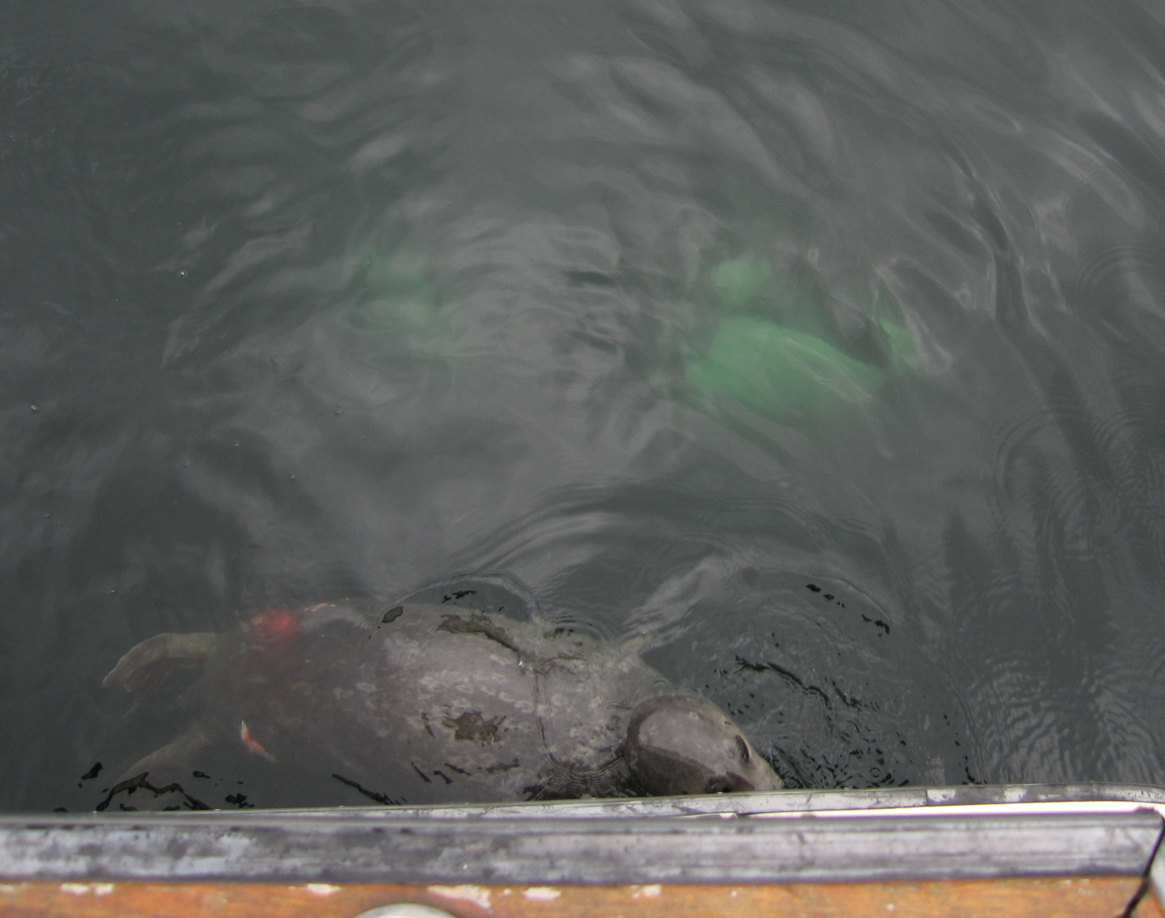 Says seakdivers:

Quote:

The basic outline of the story is that we came across a pod of orcas playing with/ terrorizing a seal. We cut the engines, and the seal hid under our boat. The orcas wanted their toy back, so we had about 2 hours of scary entertainment! We couldn't start the boat back up because the seal kept hiding between the props. In the end the orcas got bored & left, and the seal zoomed off to safety.

Phew! What a tale! And it's accompanied by a cool video:



All from seakdivers' Photobucket page here.

Thanks to seakdivers, and to xoB who recognized the IotD potential and fought for it by holding my hand on it! I needed that!

---

glatt Wednesday Aug 2 02:57 PM

Great IOD!

---

Flint Wednesday Aug 2 03:01 PM

This Image of the Day really puts a human face on Image of the Day.

---

Emrikol Wednesday Aug 2 03:17 PM

*claps*

I really liked this one. Not only were the pictures really good (quality wise, and content) but the story was fun!

IotD++ for you!

---

chrisinhouston Wednesday Aug 2 04:19 PM

I don't get it. What is a Seakdiver? When I saw the posting I thought it meant a Sikh Diver which I was trying to picture until I opned the file! Anyway I think the little seal was about to be dinner for the orkas. It's one of those huge moral dilemas. They saved the seal from his fate with the orkas but with the wounds he probably died anyway or was an easy dinner for some other predator. And what of the orkas? They went off hungry. It's too hard to play God.

---

Undertoad Wednesday Aug 2 04:22 PM

Cellar user seakdivers. I'll rewrite the title for clarity.

---

ferret88 Wednesday Aug 2 04:48 PM

yeah, what is a seakdiver?

---

Griff Wednesday Aug 2 05:08 PM

I think it is South-East Alaska Divers?

---

Trilby Wednesday Aug 2 06:06 PM

Great scenery spoiled by sea spiders, mean sea orca's (where's the whale penis?) and disgusting sea octupus--



Great scenery, though.

---

capnhowdy Wednesday Aug 2 06:11 PM

This isn't Hoonah Sound.
It is Heaven.
Really good IOtD. Bravo. Wish I were there.

---

thecynicproject Wednesday Aug 2 06:12 PM

I think the documentary Deep Blue covers this whale behavior

---

Leah Wednesday Aug 2 06:33 PM

Wow what a magical place to visit. Wish we had something like that over here in Oz. But me, I would have done all in my power to try and save the poor little seal, or better still got the guys to rescue it

I'm glad to hear it finally got away, injured but alive. Thanks for those Bruce.

---

BigV Wednesday Aug 2 07:13 PM

And starve the whale? Deprive the juvenile of the lesson of how to hunt? And risk being mauled by the seal for your effort? Didn't you watch Mutual of Omaha's Wild Kingdom? Weren't you taking notes?

[/circle of life theme] :wink:

---

richlevy Wednesday Aug 2 07:48 PM

Very nice video. And yeah, if I was in a small boat and annoyed two Orcas, I'd be saying "Oh s***t" too.

---

xoxoxoBruce Wednesday Aug 2 09:58 PM

I didn't know the seal escaped.

---

Nothing But Net Thursday Aug 3 05:08 AM

Puts a different perspective on your wilderness experience to realize you're somewhere in the middle of the food chain.

---

ajaccio Thursday Aug 3 09:32 AM

Loved this iotd. It made me feel like I was on the water myself. Living in the desert - that was a treat!

---

wolf Sunday Aug 6 04:52 PM

Quote:

Originally Posted by richlevy

Very nice video. And yeah, if I was in a small boat and annoyed two Orcas, I'd be saying "Oh s***t" too.

I haven't thought of killer whales as "cute" since I saw the movie ... I know that Shamu is just waiting for an opportunity to bite your face off.

---

seakdivers Sunday Aug 6 11:00 PM

The story in two parts

Hey xoB & UT - Thanks for getting this posted! I know my pics were out of sequence on Photobucket - I couldn't figure out how to rearrange them.

I've got a better narrative written by my husband (he's an author - can you tell?) Here it is..... it's a bit long, but it describes the events very clearly (I have to post it in two parts due to length)
***********

Friends & Colleagues;

This past weekend my wife, her father, and I took a three day journey from Sitka to the North Arm of Hoonah Sound. By the end, we agreed it was probably one of the most incredible if not revealing trips of our lives to date. For those not familiar with Southeast Alaska - it's different up here.
The blues are bluer; the greens are greener; the water is about 49 degrees year round; and it's one of the few places where nature reaches out to kill the stupid, the ignorant, and the prideful.

http://www.tongass-seis.net/shrd/shrd.html

Our plan was to go pull shrimp pots set by my father in law several days prior, or face the prospect of losing them. We left at about 4pm Friday and expected fairly bad weather (rain, wind, and a lot of rolling around).
Our course took us up past Katlian Bay, through Olga Straits, Neva Straights, and then out into the Eastern edge of Salisbury Sound. At that point, in the middle of our passage through Salisbury, it became clear that the weather was going to be different. The water was flat calm like glass and there was almost no wind. Clouds hung in the sky, black and gray, with the sun breaking through in conspicuous areas that always seemed just far enough away to be unreachable and more than a little disturbing.

These are common pre-storm conditions up here. And this particular region is known for being just miserable in terms of weather. Seeing it like this was special, if not bizarre and concerning. More bizarre - George (my father in law) gave me the helm for more than a while. It's a 48 ft Tollycraft(basically a yacht) named the Corlimaness. He rarely trusts anyone to take the wheel during any part of this particular run up North, but the weather was strangely accommodating. To be clear, I know enough to know that I don't
know enough to be piloting anything like this without George standing within shouting range.

We made our way up past Suloia Bay and reached Sergius Narrows, to cross it into Peril Strait. Everyone who travels up here knows that Sergius Narrows through to Peril Strait is the only place for the Pacific Ocean to flow through Baranof Island to Chatham Straits behind it. It is characterized by tides that can reach 8 knots, and dozens upon dozens of whirlpools. It is a dangerous area any for ANY vessel that crosses it, and some smaller craft wait until slack tide to be safe - especially if there's weather. But most times one can make it through alright if one pays attention. Larger boats,
however, must wait for slack tide. If they did not, the swirling currents can push them onto the rocks or, under the wrong circumstances, suck them down to the bottom.

http://www.nawwal.org/~mrgoff/photoj...giusbuoy2.html

See also:
http://www.nauticalcharts.gov/viewer/AlaskaTable.htm


We passed through the narrows to Peril Straight, which empties out at Poison Cove. Instead of going towards Deadman's Reach, we went to meet up with our shrimp pots in the North Arm of Hoonah Sound. They were stretched across the east side of Moser Island, which George calls "the deer factory". We reached our pots at about 11pm, and dropped anchor at the Northern most shore of Moser Island. There's a sort of cove there, and a shelf, which we hoped would hold the anchor in place. But with the wind so calm, the water so still, and clouds so strange - we joked that it would be no surprise to
wake up with our boat in the trees the next morning.

So early the next morning we woke to still calm and near perfect weather and pulled our pots; twenty had been set. The second pot contained no shrimp, but an octopus with it's longest arms stretching almost ten feet from tip to tip. The octopus had become trapped in our pot when it entered to eat all of the shrimp, which it did. In doing so, I guess it became too fat too leave. As octopus is a delicacy up here, and I let the last one go(a year or so ago), we decided to keep this one.

Over the course of the weekend we pulled and headed three sets of shrimp, resulting in 11 - 12 gallons of shrimp tails. These are the general family shrimp stores for the next six to eight months. Our average shrimp weighed about 2-3 ounces, with a lot of them bigger than that. Each set is stored in sea water for about two hours with water running over it, to allow the shrimp to evacuate it's waste without suffocating in it. Then they are headed one at a time by hand, and washed of their bluish-blackish blood. More importantly, they cook up white, and look and taste nothing like the grayish, foggy colored Argentinean shrimp that people in the lower 48 buy in
grocery stores and restaurants. After learning how those are caught and not cleaned, washed or evacuated - I won't eat shrimp in the lower 48 again. Let alone most other forms of seafood that I haven't caught myself.

In any case, after the first pull that morning, I went diving to look for bay scallops and Dungeness crab. Both are plentiful this time of year in different parts of Hoonah Sound. After an educational but unsuccessful dip to about 50 ft, I returned to
the boat. We pulled anchor and aimed for the head of Hoonah Sound to look for bears. This time of year, they are finding streams that open into the sound where the salmon are returning to spawn. And there are open flats breaking up the tree-lines all along the sound where bears can often be seen. As we headed deeper in, some deer came out of the tree line on Moser Island and followed us for a very short while across to Half Tide Neck.

Then things got real weird.

---

seakdivers Sunday Aug 6 11:11 PM

Part Two - I had to cut some words.. sorry :)

There is a beautiful waterfall on the Eastern shore of Hoonah Sound, about 2/3 of the way up the North Arm, just before a small island that you can't see on any chart.
That's were we spotted them. By all local common sense, you shouldn't find them here; not this far up into the sound, away from the open ocean. But there they were: four killer whales. There were by certain count three adults and a juvenile. Keep in mind that we see killer whales on a fairly regular basis in Sitka Sound, which has a wide mouth connected to the open ocean. So we are used to seeing them in twos and even twenties. But only from a distance. Except one other time when we were diving a couple of years back in Kanga Bay - but that's another story.
These killer whales seemed to be playing, so we killed the twin diesel engines, and along with them our propellers. Our boat glided smoothly atop the glassy water into what we thought was going to be a killer whale playground, in hopes of a front row view and few memorable photos. They splashed and rolled and dove for about 5 minutes as we coasted to a stop among them.
That's when we spotted the seal, about 15 feet off our aft port. And it didn't look right.
Seals normally behave like elegant underwater birds. They fly through the ocean, and look up at you from beneath the blurry surface on their backs, curious and generally friendly. Or they pop just their heads out of the water and spy on you from a distance of less than fifty feet. Their bodies seem always to be moving or in a state of complete readiness.
This seal wasn't doing any of that. It was in the water on it's belly, with it's back section and head sticking just breaking the surface. And it wasn't moving. It was more like floating. George immediately recognized this and declared the seal dead.
Then we were reminded of the killer whales. Two of them rose from beneath the seal and nudged at it. The seal huffed and rolled it's head towards us.
It was very much alive. Then my wife, Melissa, called out from the top deck. She had the best overall view. The seal was bleeding, she said. It looked as though it's back end had been bitten off.
When the seal didn't dive, and began dog paddling towards our boat without the assistance of it's hindquarters, I could only agree. Just before it reached us, the largest orca sped towards the seal and breached, then slammed down on the seal. It didn't want the seal to get away from it's control.
The seal didn't give up. It somehow reached the surface again and got right up next to us, then disappeared. We could hear it splashing, barking, and breathing heavily. It was exhausted, and hiding under our swim platform.
I went out onto the back deck and watched as the seal tried in vain to hop up onto the platform at least two times. It had big, pleading eyes and made a sound that I'm not sure I could mimic. It wanted to get out of the water; it wanted to get away from all those sharp teeth in the water.
The orcas were swarming beneath the boat, circling. Every so often they surfaced, watching us and figuring us out.
I have heard many stories over the years about killer whales from George, who has been piloting tugs in Southeast Alaska since he was sixteen, and from other relatives who have lived and fished in the area since the 60s. They all agree. Killer whales are among the most vicious and intelligent creatures in the ocean. They hunt for sport, kill for practice, and are experts at torturing seals, sea lions, and the like. To be clear, the primary food for killer whales in Sitka Sound is salmon; that's what they eat. This they were doing for some other reason.
Later, we realized that the killer whales were using this secluded part of the sound to isolate the seal as a training exercise - they injured it to teach the juvenile how to hunt.
For the next 10 minutes, which seemed like an hour, we had an ethical
dilemma. We had imposed ourselves into a situation thinking it was one thing, but by the time we realized it was something else, we had become a part of it. The weather and current were non existent, so we weren't moving without the engine. If we turned the engine on, that would very likely chop up the seal, and may even hurt the killer whales, but then the killer whales would be off our backs. On the other hand, if we sat there, we would have to listen to the seal dying outside for as long as that took. Our best information was that the seal had been mortally wounded, but killer whales were in no hurry to kill it.
At some point I just couldn't stand it anymore. Others who weren't there to see it or hear it can say what they will. But in that time and that place, with the seal as it was trying to get aboard to any kind of safety, and with us unable to move -I made the decision that we should shoot the seal, and asked George to do it. Melissa agreed. George is a much more experienced shot, and could better avoid hitting the boat on accident.
George took his .357 Colt Python to the back deck and waited. The seal's head eventually came out from beneath the swim platform and he put the end of the barrel a few inches from it. Then he retracted the pistol and told us that the seal's hindquarters were intact. There were a couple of lacerations in the seal's fat, and it was definitely injured, but not mortally. Only one of his wounds was actually bleeding. He was just so over exhausted and out of air that he was having all kinds of difficulty staying under.
That plan was immediately scrapped - if the seal was not going to have died from his injuries, we couldn't just kill it. There was still some hope.
It could still rest up in the propeller assembly and then escape.
Know this: The whole situation was intended to tire the injured seal and strip it of rationality through terror. Like wolves, killer whales will often hunt cooperatively in pods. It has been observed that they work together to encircle and herd prey into a small area before attacking. The juvenile was learning about this.
For the next hour and a half, the killer whales continued to fly beneath the boat and make passes at the wounded seal, then circle the boat. After every three or four passes, the biggest one and the juvenile would go about 50 feet off the bow and confer above the surface, like two patrol cars parked with driver's windows facing each other. Then the juvenile would come in and make some passes on their own. All while the big one would sit motionless with it's eyes and nose at water level - watching. This pattern repeated itself continuously.
During that time, we actually toyed with the idea of trying to help the seal onto the swim platform with our halibut net. However, it was very possible that one of us could have been knocked into the water with the now pissed off killer whales. It's important to bear in mind that initially we could have been seen as neutral observers by the killer whales. But that big one, the one figuring us out, I think that it became very clear to him or her which side we had chosen.
To be sure, our decision was at some point deliberate. The killer whales were essentially bullying and even torturing this seal. The killer whales could have picked that seal off at any time, and they didn't. But there was something about the boat they didn't want to violate. As close as they were, they never once even grazed the hull. And believe me when I tell you they were close.
At the end of the second hour, the killer whales took a steady but leisurely heading towards the south, in the direction of the open ocean. They weren't in any hurry, but they obviously had somewhere more important to be.
Fifteen minutes later, we were able to coax the seal out by turning over the engines without engaging the props, then starting the skiff, already in the water and tied off at the back. It came out, looked around, and then jetted off towards shore at a depth of about fifteen feet.
We made our way back down to pull and reset the shrimp pots. When that was done, we returned to the head of North Arm, where we anchored for the evening.
It gets dark at about 11pm this time of year. At about 8pm, we spotted no less than three sows with two cubs each in the grass near a stream that was jumping with salmon. The decision was made to head in and get a closer look.
At this point, we were still feeling fairly immortal, having survived the killer whales and having helped to protect the seal (bearing in mind that the orcas could have tipped the boat at any time and had us for lunch).
I got my 30-30 Winchester and George loaded up his 454 Freedom Arms. George also set out a jug of fuel for the skiff to take with us, as we were pretty low. How low he wasn't sure, but it would be bad to get stuck out there on empty with a charging bear.
On the way in, fog gathered over the water at about two feet. We aimed for the deepest part of the water heading in - a groove made by the stream emptying into the sound. At low tide it would be exposed. It was no more than three feet deep.
That's when the seals came out. There were 20 - 30 of them. They all swam out to meet up and encircle the skiff. Their little gray-brown heads and big, round, black eyes were all that we could see, apart from their wake as the moved. I don't know what it meant, but it seemed like they recognized us, and weren't unhappy to see us in the neighborhood.
As for the bears - we got ashore, got too close, and took some bad pictures. Eventually we felt we were pushing our luck. It was time to get back to the boat. The last picture I took that night was of the back deck as we approached in the skiff, the forgotten jug of fuel still sitting there.
The lesson - things aren't always what they seem. Sometimes they're
different. And sometimes they're even way more different than that.

---

zippyt Monday Aug 7 12:14 AM

WOW !!!
Just Fucking WOW !!!

---

Griff Monday Aug 7 07:23 AM

Amazing guys, really amazing.

---

chrisinhouston Monday Aug 7 07:42 AM

Quote:

Originally Posted by seakdivers

More importantly, they cook up white, and look and taste nothing like the grayish, foggy colored Argentinean shrimp that people in the lower 48 buy in grocery stores and restaurants. After learning how those are caught and not cleaned, washed or evacuated - I won't eat shrimp in the lower 48 again.

Not to be a stickler for factual integretity but the Gulf of Mexico and the lower Eastern Atlantic states offer a pretty good supply of domestic shrimp. The Texas state record for shrimp, I believe was 3/lb which makes for some pretty good size shrimp! While most of our Gulf shrimp have a greyish color when raw they cook up white. Pink shrimp typically come from Florida waters.

That being said, I agree with the point about farm raised vs wild. Most of what I see at my local market comes from India or Thailand. The evacuation method mentioned is similar to what people in Louisana do with crawfish, soak them in fresh water so they clean themselves out.

---

Elspode Monday Aug 7 09:42 AM

IMHO, this is *the* best of the IOTDs. There's always something interesting, wonderful, marvelous to be found in this longtime favorite thread, but when it features something nearly alien to the rest of us, yet experienced by one of our own, it takes on a whole new gloss.

Seakdivers, its stuff like this that makes 1,000 sf ranch homes in your town cost the same as veritable mansions in mine. Living in Alaska is like having a front row seat to Reality and being pulled up to dance with The Boss.

Excellent photos, excellent narrative...I'm just out of superlatives.

---

xoxoxoBruce Monday Aug 7 06:13 PM

I'm relieved that everyone lived happily ever after. After a diaper change.

---

Griff Monday Aug 7 06:58 PM

I saw a huge white-tail buck just before I saw this thread. I was thinking that I lived in a cool place but...

---
Your reply here?

The Cellar Image of the Day is just a section of a larger web community: a bunch of interesting folks talking about everything. Add your two cents to IotD by joining the Cellar.