Undertoad Friday Jul 14 12:04 PM

7/14/2006: Horses and fawn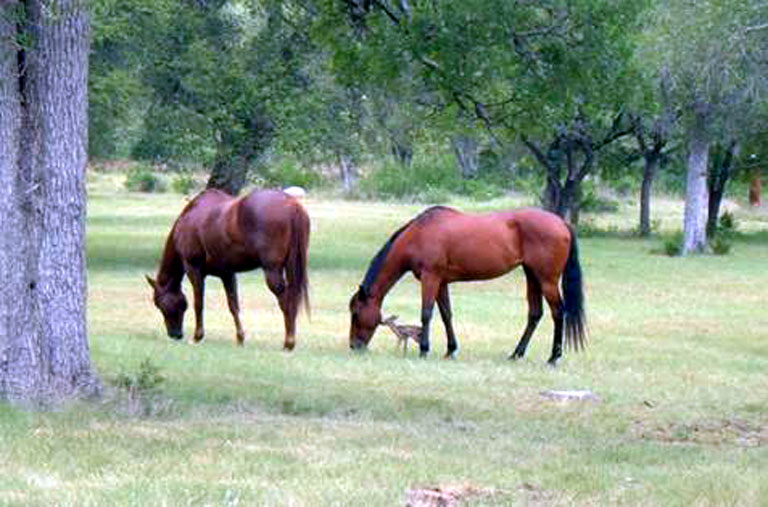 xoxoxoBruce gets these images and does a lot of work seeking out the source, but there is no source. A flickr page where the shots seem to have come from simply says "i do not know who took this - was sent to me by my dad".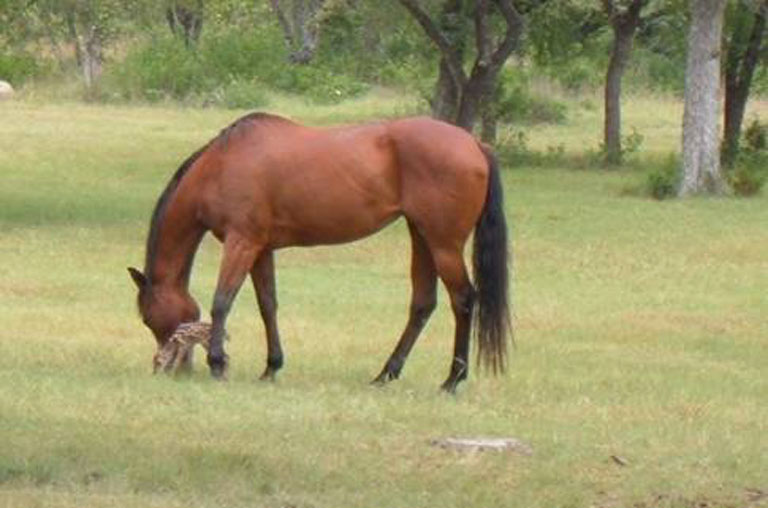 xoB found a hunting forum where the pics were posted; when I went to the general index of threads there, the pics were posted a second time, this time saying that "These pics were taken near Indianapolis, apparently Momma Deer went out for lunch, and little Spotty latched onto the first warm bodies it could find. After the horses moved on, Momma Deer came back and retrieved Spotty, all ended well."

So if anyone has better source info, let us know. Meanwhile,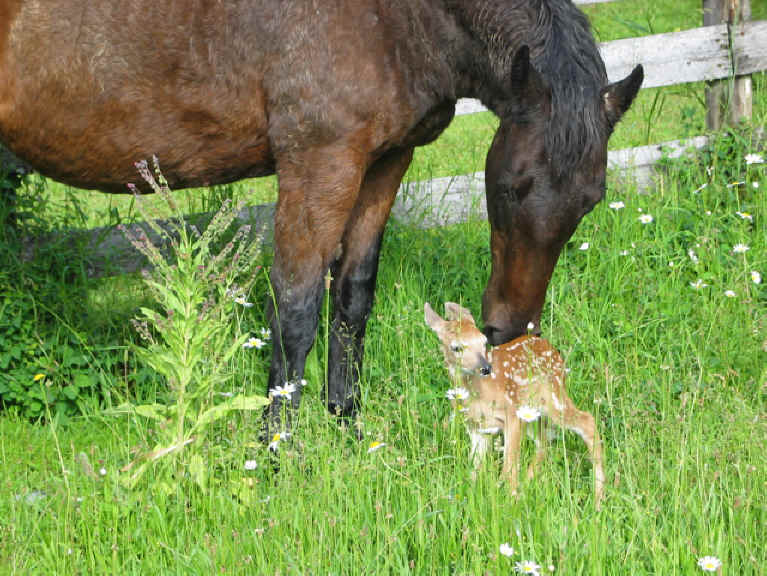 xoB also finds this unrelated, second horse and fawn image. And this one has a great story you will surely want to read.

---

Spexxvet Friday Jul 14 12:07 PM

Is there such a thing as deer-veal?

---

Ibby Friday Jul 14 12:11 PM

Venibaby?

---

Elspode Friday Jul 14 02:56 PM

1) One of those horses is really badly overweight.

2) I love these interspecies maternal instinct type pics.

---

wolf Friday Jul 14 03:09 PM

Quote:

Originally Posted by Elspode

1) One of those horses is really badly overweight.

I have a sneaking suspicion that the word you are looking for is "in foal" or "pregnant."

Mares, unlike female humans, do not kick you in the head when you get these two terms confused.

---

capnhowdy Friday Jul 14 04:23 PM

Great pics and also a great story. Nature can be so cruelly kind. I hate to say this every friday, but I love fridays here in the Cellar. Thanks.

---

ajaccio Friday Jul 14 08:37 PM

This is a horsey week in the cellar, isn't it? I've seen these before and still enjoy the tenderness they show. Glad the mom returned in time to lead her babe safely away...

(thanks for the welcome, barefoot serpent! actually I'm writing from New Mexico, but I have family near Ajaccio...)

---

xoxoxoBruce Friday Jul 14 09:44 PM

Horses are cool in that most of them will hook up with any critter that's not agressive. Cats, dogs, sheep, goats, cows, geese, anything that shows affection will likely be welcomed, and anything not agressive, tolerated.

Of course with horses, like people, some are...uh....high strung.

---

Trilby Saturday Jul 15 09:00 AM

Fawn's are some of nature's lovliest babies. Even the word 'fawn' (or, 'faun') is pretty (unless you name your daughter that. Then it becomes white-trashy)

I love animal babies.

thanks for the great story, too.

---

Highriskgeo Tuesday Jul 18 09:53 AM

everyone say it will me.....AWWWWWW!!

---

Elspode Tuesday Jul 18 08:30 PM

Quote:

Originally Posted by wolf

I have a sneaking suspicion that the word you are looking for is "in foal" or "pregnant."

Mares, unlike female humans, do not kick you in the head when you get these two terms confused.

I'm mainly a city boy...haven't been around knocked up horsies much. Honest mistake. I'll watch my head just the same.

---

eastepp Tuesday Jul 18 08:43 PM

For some reason this reminds me of this story:
http://tabletalk.salon.com/webx?14@@.ee90352/1317

---

Hoof Hearted Tuesday Jul 18 10:57 PM

eastepp, THAT was funny! Dogs find Elk carcass and won't leave (from inside it) so she brings them home, elk carcass and all... I almost peed myself.

---

xoxoxoBruce Friday Jul 21 09:08 PM

Welcome to the Cellar, eastepp.


That link was so bizarre, I had to check and see if it was the Onion.

---

MsSparkie Sunday Jul 30 12:29 PM

Sweet.

---

lulu Sunday Aug 27 11:11 AM

Such sweet pictures.

---

anne2112 Sunday Jun 12 09:11 PM

howdy

I know that you put these on here a long time ago and you have probably forgotten them since. These are actually my horses and the pictures were taken in Wimberley, Texas(not the bottom picture). My mother and I were leaving our house one day and saw the baby fawn with our horses and luckily I had my camera in my purse. It was a very sweet moment and my mare Ellie was so gentle with the fawn who hung around for at least an hour. It is a memory I will never forget. It is very common for the doe to leave her fawn alone while she is wandering around for food, we saw them together after this so we know she did not abandon the baby. My horse Ellie died about a year after these pictures were taken and it is wonderful to see that she is still living on the internet today. We sent these pictures to a few family friends and were surprised years later to find they spread online like wildfire. We are going through many of the websites and confirming that they are ours, just to set the record straight because alot of people are claiming they belong to them and are using them for advertising purposes. Feel free to keep them on your site, I just want to see people enjoy them. They were amazing horses with great souls and personalities. anne


this is me and ellie

---

Undertoad Sunday Jun 12 09:18 PM

Thank you Anne. In memory of Ellie, then, and her gentle nature. It is very fitting that you find the thread and complete it.

---

Clodfobble Sunday Jun 12 11:29 PM

Thanks for giving us the backstory, Anne. Wimberley is a nice town, I went to a Shakespeare festival there once.

---

xoxoxoBruce Friday Jun 17 05:56 AM

And now we know.

---

Sundae Friday Jun 17 02:16 PM

Anne, I add my thanks at the conclusion to the story, even though it is a sad one for you. What a wonderful tribute, going round and letting people know the backstory.
I too am glad that your gentle, maternal horse lives on, on people's screens.

It was a great IoTD (Image of the Day) and many, many people would have seen Ellie and her lovely nature. Sorry for your loss and much love to you and your family.

---

Gravdigr Saturday Jun 18 05:06 PM

---
Your reply here?

The Cellar Image of the Day is just a section of a larger web community: a bunch of interesting folks talking about everything. Add your two cents to IotD by joining the Cellar.