Undertoad Thursday Jun 29 01:28 PM

6/29/2006: Animatronic flesh shoe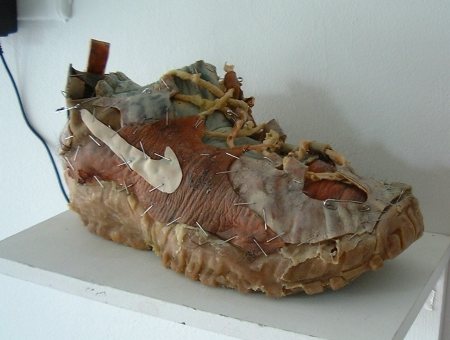 Slight sent this along, and it sort of fits well with yesterday's item, the gumball Hummer. This is also edgy art; it's called Animatronic Flesh Shoe, by artist Adam Brandejs. Not actual flesh, but a good simulation; and the point is, when you're looking at this thing, it moves: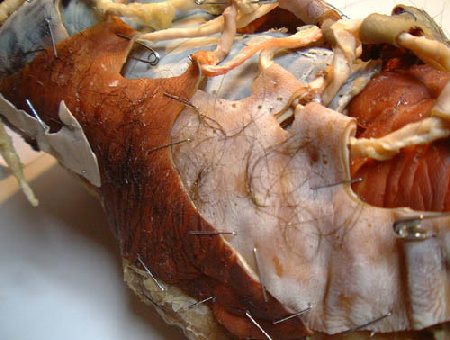 Quote:

Originally Posted by from the link

The shoe is stitched together with multiple pieces of latex rubber cast out of moulds made from my own skin. The shoe's toe and heel raise and lower as it occasionally vibrates/pulsates, and twitches on the floor as if it were still alive. The movement is not constant, and usually causes people to jump back while they are in the middle of leaning in for a closer look.

Artist statement
It's a Nike shoe stapled together with human flesh, twitching...

Other than simply being twisted, this piece comments on issues of sweatshop labour and content ownership. Each piece of skin is therefore different in colour, size, and texture and the Nike Logo is done in white, slapped overtop of all the other colours.

We live in a culture disconnected from what it is doing to itself and others, we choose to ignore rather than deal with the reality we have created for ourselves. This piece ultimately comments on this simple idea.

But like much art, you can enjoy this on many levels if you wish.

---

barefoot serpent Thursday Jun 29 01:30 PM

Just don't do it

---

glatt Thursday Jun 29 01:35 PM

It may be art. But it's ugly.

---

axlrosen Thursday Jun 29 01:35 PM

I love how in art, you get to sound smart by stating all the profound issues that your art comments on, without having to actually specify what that comment is, or how your art makes that comment.

---

Happy Monkey Thursday Jun 29 01:38 PM

If you could say it, you wouldn't need to make the art.

---

xoxoxoBruce Thursday Jun 29 01:42 PM

I guess it's for running away from the skin gun.

---

Emrikol Thursday Jun 29 02:36 PM

Quote:

Originally Posted by xoxoxoBruce

I guess it's for running away from the

skin gun

.

...the artist at work?

---

capnhowdy Thursday Jun 29 11:15 PM

I'm with glatt on this one. Art CAN be ugly.
Size 10. Finally a shoe manufacturer who considers the one legged customer.

---

Elspode Friday Jun 30 01:17 AM

A truly dedicated artist would have made it from his own *actual* skin so that it would smell really bad as well as being incredibly ugly and disgusting. Slacker.

---

Torrere Friday Jun 30 03:07 AM

DISGUSTING! This might be the vilest IotD that I have ever seen.

---

TropicFever Friday Jun 30 07:32 AM

Not the first thing I needed to see on my screen this morning.

I bet it would get really tiresome keeping the dogs away from these shoes.

---

Griff Friday Jun 30 07:57 AM

Yah, I threw up a little...

---

Sundae Friday Jun 30 08:51 AM

I think it's strangely beautiful. And if the artist's comment hadn't included the information re ignoring the reality of our purchases I'd be suggesting that myself as the reaction it provokes in me.

Although the child in me still thinks it would be a great thing to hide in the fridge at work. HA! Try pinching my yoghurts now - didn't realise I was Ed Gein's daughter did you?

---

srom Tuesday Jul 4 09:18 PM

what's not to get about this piece? it's pretty gross, but it wouldn't make any sense if it was pretty.

---
Your reply here?

The Cellar Image of the Day is just a section of a larger web community: a bunch of interesting folks talking about everything. Add your two cents to IotD by joining the Cellar.