Undertoad Tuesday Jun 27 12:55 PM

6/27/2006: Gumball-coated Hummer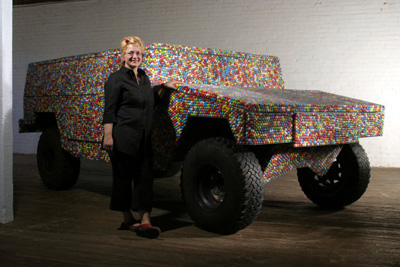 via Neatorama. Brianna asked for a food-related IotD, and while that's a typical IotD category, another category we wander into is edgy art. That makes this an irresistable "two-fer", and it becomes the image of the day.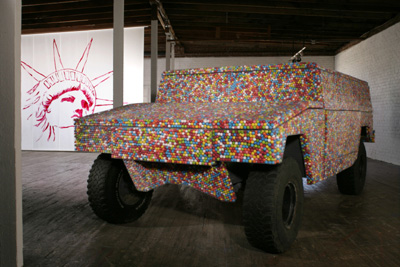 The artist in this case is Heidi Hesse, and these images come from her installation "Sugar Coated" from the collection "Exporting Liberty". Hesse's website gives her artist's statement:

Quote:

"Heidi Hesse was born in Germany, grew up in South Africa and Germany and emigrated to the United States in 1982. Recently, Hesse began to investigate and contemplate the meaning and possibility of U. S. citizenship. She, as many an earnest emigre pursuing the American Dream has done before her, began to read the documents and stories associated with the founding of the United States of America. Through her investigations, Hesse began to identify a significant gap between the rhetoric of liberty embedded in our documents and our practice of 'exporting liberty' throughout the world.

Exporting Liberty is an examination of citizenship and its attendant responsibility. It is both a celebration of freedom and a critique of excess, an homage to democracy, and a warning that the comfort borne of privilege can breed a dangerous apathy... Welcome to America. Would you like to supersize that?"

I suppose that's one way to think of it; another way is Welcome to America, where you can get paid to put gumballs on a Hummer and it turns out to be a critique, not a symbol of excess.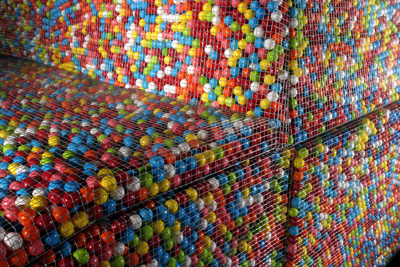 Enh. I'm not really skeptical about this work, I like it. It brings together the colorful sugary joy of childhood with the seriousness of combat. You want to taste it and enjoy it for the gumballs, but by its shape you're reminded of the very adult current events. The dichotomy is terrifying.

---

Shawnee123 Tuesday Jun 27 12:59 PM

Thanks for the gumball, Mickey!

---

Emrikol Tuesday Jun 27 01:47 PM

I can't wait til it rains! Such a mess!

---

Elspode Tuesday Jun 27 01:57 PM

It would have been better if she'd added a .50 caliber gumball gun. You could use it in parades to shoot gumballs into the mouths of admiring children.

---

Elspode Tuesday Jun 27 01:58 PM

Also, as an afterthought...will this be entered in the Gumball Rally this year?

---

glatt Tuesday Jun 27 02:29 PM

When I see art like this, I look at it and wonder what technique was used to do it. I assumed at first that a hot-glue gun was used. I was wrong. I see in the close-up images that screening is holding the balls in place. I'm wondering if she made panels of gumballs and applied entire panels, or if it was done some other way. Maybe attached screening while leaving a gap between it and the body panel, then pouring the gumballs in? Nah. Must be panels.

I don't think the artist wants me to be thinking things like this when I see the work. I guess I mostly don't get some art.

---

LabRat Tuesday Jun 27 02:45 PM

eh.

I'd be more impressed if she chewed each one of the gumballs, blew a bubble, then put the intact bubbles on the hummer. Could represent all the hot air that was used to justify going to war.

Building a cage and filling it up with candy, bah. What happened to sacrificing for your art?

---

xoxoxoBruce Tuesday Jun 27 03:29 PM

Hmm....Heidi Flesse? Heidi Fleiss?
Screwing the public for money?

---

Promenea Tuesday Jun 27 04:12 PM

HumVs are expensive. I wonder if she got the thing as a donation or if there really isn't a humV under all that gum but just the cage.

---

wolf Tuesday Jun 27 05:35 PM

I know I could be wrong, but I'm pretty sure that's not art.

Shameless self-promotion, yeah, but not art.

---

Trilby Tuesday Jun 27 05:59 PM

Quote:

Originally Posted by Elspode

It would have been better if she'd added a .50 caliber gumball gun. You could use it in parades to shoot gumballs into the mouths of admiring children.

I agree. That would be so freakin' cool!

Thanks, UT!

---

mcnugget91 Tuesday Jun 27 06:15 PM

If someone guesses how many gumballs were used, will they win the hummer?

---

xoxoxoBruce Tuesday Jun 27 07:38 PM

Welcome to the Cellar mcnugget91.


I suspect she's already found some Phoenix art connoisseur to buy it.

---

milkfish Wednesday Jun 28 07:38 AM

That would be good chicken-fried.

---

heidihesse Wednesday Jul 12 07:48 PM

"Sugar Coated" gumball HumVee

Hi, i just came across your list and was LOL about some of the comments written about my art work





the most FAQs are -- (and to answer "glatt's questions)
1)
where did i get the HumVee? -- there is NOT a real one under there... this scultpure was created from scratch... we welded a metal frame, which holds the wire mesh body panels, which hold the gum balls. the gum balls were indeed filled into the panels from the inside.
2) how many gum balls? lllllots!
3) to answer "xoxoxoBruce" -- it is available for indoor only display



i'll be posting images of new "camouflage works" in the next few days...
Heidi Hesse
www.heidihesse.com

---

Undertoad Wednesday Jul 12 08:27 PM

Welcome Ms Hesse!

I should have pointed out, IotD highlighted another gum work last year:

http://cellar.org/showthread.php?t=9367

It's an entirely different statement...

---

Clodfobble Thursday Jul 13 06:31 PM

I love it when people register just to give us first-hand information! Another question, if you don't mind: if there's not a real hummer underneath the frame, where did you get the tires?

---

BigV Friday Jul 14 11:01 AM
---

Shawnee123 Friday Jul 14 11:02 AM

Welcome Heidi!

Very cool!

---
Your reply here?

The Cellar Image of the Day is just a section of a larger web community: a bunch of interesting folks talking about everything. Add your two cents to IotD by joining the Cellar.