Undertoad Tuesday Jun 13 01:56 PM

6/13/2006: Lighthouse buried by growing sand dunes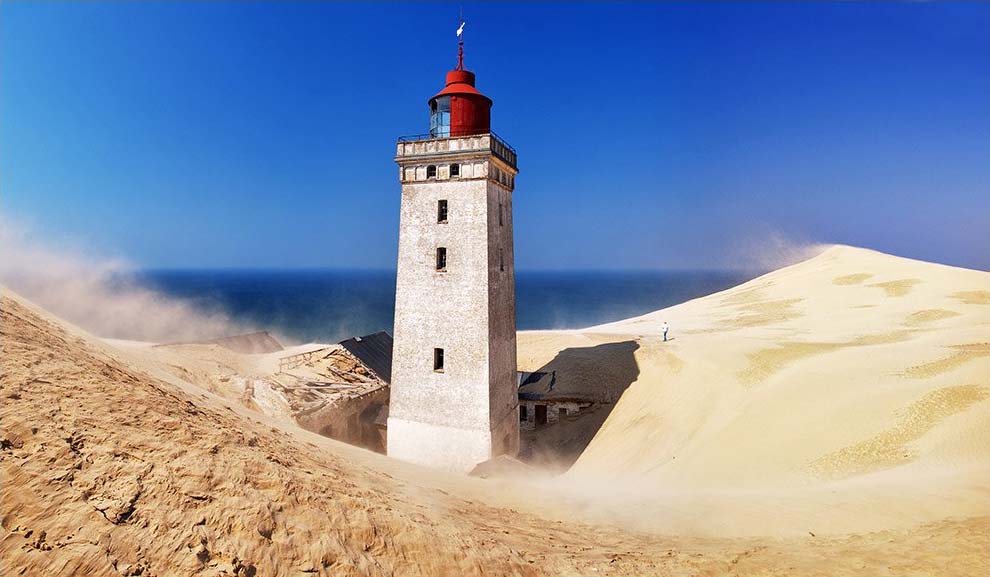 Glatt finds this via a random Livejournal page, and points to resources to figure out what it is.

This is the Rubjerg Knude Lighthouse. In 1899 the Danes set out to build it on the North Sea shores. In December 27, 1900, it opened.

But the sands came, and came, and built up around it;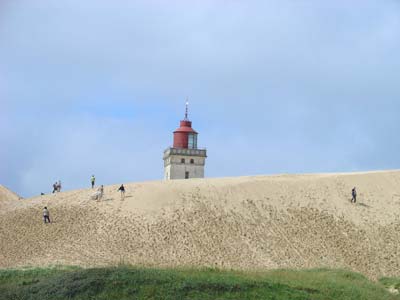 And by 1968 the sands had grown so high that the light couldn't be seen any longer, and so it was put out of use and kept only as a museum.

But the sands kept coming.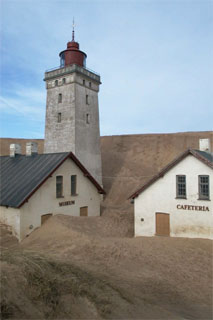 And by 2002, it was no longer a museum at all... it's abandoned to the sands.

---

glatt Tuesday Jun 13 02:25 PM

That first big image reminds me of the ending to Planet of the Apes. Kind of eerie.

---

Emrikol Tuesday Jun 13 02:34 PM

I think I saw that place in Myst

---

capnhowdy Tuesday Jun 13 02:44 PM

What a waste. Did nobody care, or is there anything one could have done to stop it? Seems like the little wind fence thingies would have helped.

Maybe they could use this site to train up and coming archaeologists. Great shots.

---

Happy Monkey Tuesday Jun 13 03:15 PM

A wind fence tall enough to block a 20 foot dune would have to be at least 20 feet high - and solidly built. In which case, the lighthouse is blocked anyway, so what's the point?

---

Torrere Tuesday Jun 13 04:00 PM

I'm surprised that they have so much sand flying around in the North Sea.

---

milkfish Tuesday Jun 13 05:29 PM

It makes me wish for a Roomba the size of an ocean liner to clean everything up.

---

xoxoxoBruce Tuesday Jun 13 07:07 PM

I don't believe they stopped using it because it couldn't be seen anymore, as the light is well above the dunes.
More likely they couldn't maintain it with the buildings buried plus by 1968 they had good radar on the ships.

---

cams Tuesday Jun 13 07:12 PM

Don't sand dunes move rather than grow?

---

xoxoxoBruce Tuesday Jun 13 07:37 PM

You may be right, usually, but they probably built this thing at a point where it interrupted the wind, causing it to dump whatever it was carrying around the lighthouse.
Once it starts to build the problem just gets worse. The wind probably blew plenty of sand away, too, but in 100 years it was a net gain, apparently.

Welcome to the Cellar cams.

---

glatt Tuesday Jun 13 08:52 PM

I used to live right next to two fairly tall, isolated, buildings right next to each other. It could be a perfectly calm day with virtually no wind, but when you walked between those two buildings, there would be a very strong wind gust. On a windy day the wind was very strong between the two buildings. You would have to struggle against it to walk through. It was amazing. From the air, they looked like two diamonds side by side. They acted as giant funnels.

The area is so built up now, the effect is completely diminished. While it lasted, I used to enjoy bringing visitors through there and telling them beforehand what was about to happen as we walked through.

---

Griff Tuesday Jun 13 09:08 PM

hmmm... wind power?

---

wolf Wednesday Jun 14 02:24 AM

Damn, so that's where all the sand from South Jersey is ending up!

---

BigV Wednesday Jun 14 11:06 AM

Quote:

Originally Posted by cams

Don't sand dunes move rather than grow?

Sure. This one is moving from north central Africa to Norway.

---

Wombat Wednesday Jun 14 06:49 PM

This is St Enodoc Church in Cornwall, England. The spire is wonky because the church was completely buried by sand dunes for many years, and the weight of the sand bent the spire. After a very long time (over a hundred years I think) the church gradually started to become uncovered as the sand dunes moved on. The locals opened a hole in the roof and climbed down a ladder to hold services inside. The church is now fully accessible again, and the dunes have become grassed over, although on one side the sand is still above window height.


---

xoxoxoBruce Wednesday Jun 14 07:39 PM

St Enodoc is in the middle of a golf course...how convenient is that?

---

wolf Wednesday Jun 14 11:55 PM

That must have been one hell of a sandtrap for a while.

---

floki Thursday Jun 15 05:11 AM

Also see the classic shot of the submerged village here on cellar.org

---

Trilby Thursday Jun 15 09:05 AM

I think I lived in Cornwall in another life. It all seems so familiar...

---

Spexxvet Thursday Jun 15 09:27 AM

Quote:

Originally Posted by xoxoxoBruce

St Enodoc

is in the middle of a golf course...how convenient is that?

Golf & God?

Putt & Padre?

---

Shawnee123 Thursday Jun 15 09:44 AM

Cool pic, Wombat. I would love to see that church.

---

xoxoxoBruce Thursday Jun 15 05:06 PM

Quote:

Originally Posted by Spexxvet

Golf & God?

Putt & Padre?

Pass the plate when they play through.

---
Your reply here?

The Cellar Image of the Day is just a section of a larger web community: a bunch of interesting folks talking about everything. Add your two cents to IotD by joining the Cellar.