Undertoad Tuesday Apr 11 02:21 PM

4/11/2006: Glowing waves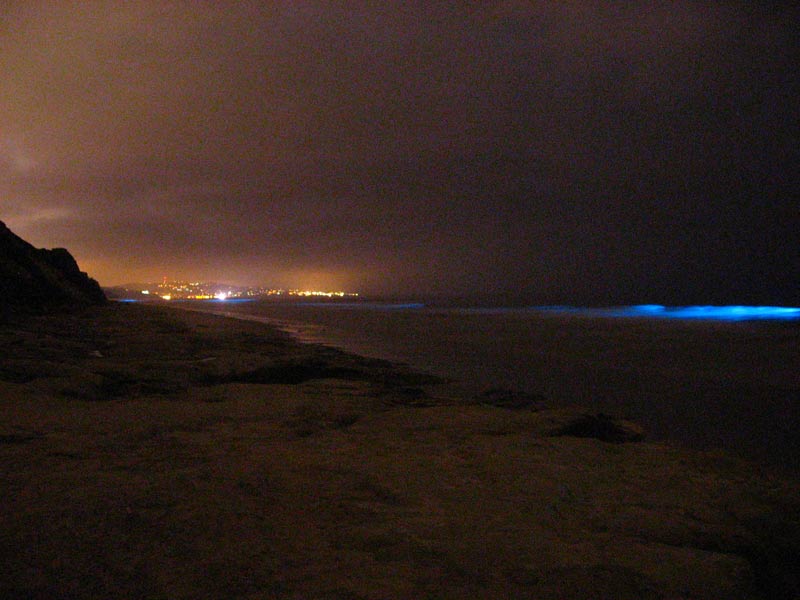 Today's Earth Sci Pic of the Day is a nice one and an interesting one - one that would freak me out to death if I saw it live and wasn't aware of the phenomenon.

In the background is La Jolla cove, California. Apparently a summer of long warm weather and smooth sea encourages the growth of certain algae. Bioluminescent dinoflagellates, they say, make the water red at day and show flashes of green at night. Just another reason to generally avoid the ocean, because it's scary.

---

glatt Tuesday Apr 11 02:25 PM

That's really neat. I'd love to see that in person.

---

Elspode Tuesday Apr 11 02:41 PM

Are we pretty sure that a container load of glow sticks didn't wash overboard from a Hong Kong cargo ship?

---

Slothboy Tuesday Apr 11 02:45 PM

I've been on the beach in Oregon when there was bioluminescence. There wasn't so much that the waves were glowing but if you walked or dragged your feet on the wet sand you would get the bursts of light and trails and etc. It was crazy as hell. I'd never heard of this at the time and if I hadn't seen it I never would have believed it.

---

barefoot serpent Tuesday Apr 11 03:24 PM

Very cool. And it can even 'out-glow' San Diego (in the background).

---

mlandman Tuesday Apr 11 03:39 PM

San Juan, PR

has a couple of coves that put this to shame. Looking for the link, can't find it right now. But long story short it's a VERY popular excursion for some of the cruise ships -- you kayak out to this cove when there is a timeframe at night with little to no moonlight so it is very dark, and it is one of the coolest phenomenon you will ever see.

I've seen pictures on the website (still looking for the link) that are amazing, and I've spoke to people that went there that described it --- sounds absolutely amazing.

See? And you guys thought the only thing I did her in the cellar was post negative commentary re: people wasting taxpayer dollars on silly stuff.

---

chrisinhouston Tuesday Apr 11 07:03 PM

I'm going to guess that this was a digital image because of all the "noise" throughout the image. Pretty amazing though as it is quite sharp and seems to have been composed well.

There may be a scientific reason but I thought of the movie, "The Abyss"!

---

ferret88 Tuesday Apr 11 07:15 PM

Quote:

Originally Posted by Elspode

Are we pretty sure that a container load of glow sticks didn't wash overboard from a Hong Kong cargo ship?

---

NoBarkDawg Tuesday Apr 11 07:38 PM

Call me crazy, but I don't think that's a bunch of little underwater aliens that learned to control water... Though on the far right it does look like a bunch of underwater lights are turned on. Still don't think it's an alien conspiracy though.

---

xoxoxoBruce Tuesday Apr 11 07:59 PM

That must be bright for the camera to capture it.
Well, there's good news and bad news......
The good news is they make pretty waves at night.
The bad news is;


Quote:

Besides being important primary producers, and therefore an important part of the food chain, dinoflagellates are also known for producing nasty toxins, particularly when they occur in large numbers, called "red tides" because the cells are so abundant they make the water change colour.

Besides being bad for a large range of marine life, red tides can also introduce non-fatal or fatal amounts of toxins into animals (particularly shellfish) that may be eaten by humans, who are also affected by the toxins. Many of these toxins are quite potent, and if not fatal, can still cause neurological and all sorts of other nasty effects.

Add this to the rather ominous suspicion that red tides may be more common thanks to human inputs of phosphates and warmer global temperatures, and you can probably see why we have a vested interest in finding out more about them - both medical and economic.


---

Wombat Tuesday Apr 11 09:03 PM

I once went skinny dipping with a "close friend" on a night when there was luminescent plankton in the water. Every movement made the plankton light up the shape of our bodies. Now THAT was an awesome experience!

---

milkfish Tuesday Apr 11 09:55 PM

There's a web site that tells you how you can buy your own bioluminescent dinoflagellates and do experiments with them. I'm almost tempted.

---

Karenv Tuesday Apr 11 11:31 PM

I used to live in Northern California and we would go to the very rocky beaches in Sonoma County, where 20 foot breakers would glow green with the phosphorescence. It was wonderful. And your footsteps would glow as you walked in the wet sand.

I had a patient who had chronic eczema. Went swimming in one of those San Juan PR coves full of bioluminescent organisms and it went away for quite a while. Seems they are full of Vitamin B12.

---

Elspode Tuesday Apr 11 11:44 PM

How many of them did she have to consume?

---

ashke Wednesday Apr 12 12:20 AM

Wow, I've only heard of it but never saw the pictures (or thought to search for it). This is really cool =D

---

sandypossum Wednesday Apr 12 12:33 AM

I saw this in Ha Long Bay in Vietnam in 1995 and it was magic. There were eleven of us on a boat trip, and on the second evening we saw this. You had to make the water move to make it happen, and first we got the anchor rope and swished it around, then we got all the men to piss off the side of the boat. They could write their name, like with sparklers! Being loaded with Vietnamese only added to the experience (in so many ways).

---

Bullitt Wednesday Apr 12 01:26 AM

Wow, of all the times I've been on the beach at night in La Jolla or San Diego, I've never once seen that. Very cool!

---

Kitsune Wednesday Apr 12 10:10 AM

I've seen jellyfish that do something similar along the gulf beaches now and then. Each time a wave would crash, it appeared as if someone had scattered weak flashlights in the water that tumbled with the surf. Flashes, glows, sparkles. I guess the surf stressed them out. It was erie to see it and not know what it was -- we searched for the source for quite awhile before we noticed it was happening all up and down the beach.

The ocean, at night, is a damn creepy place.

---

Karenv Wednesday Apr 12 10:19 AM

Quote:

Originally Posted by Elspode

How many of them did she have to consume?

She just went swimming. Either it was topically effective or the small amount she naturally swallowed while swimming did it. She noticed a day or so later that the rash had gone away.

---
Your reply here?

The Cellar Image of the Day is just a section of a larger web community: a bunch of interesting folks talking about everything. Add your two cents to IotD by joining the Cellar.