Undertoad Monday Apr 10 11:43 AM

4/10/2006: Nigerian pipeline break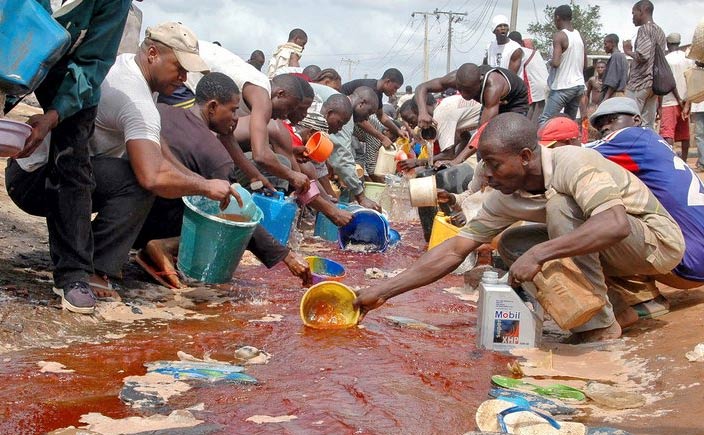 When a pipeline bursts around here, which would be a rare occurrence, people stay as far away as possible and the environmental impact is immediately the biggest concern. Not so much in Nigeria, where a petrol pipeline burst is just an opportunity to scoop up as much free fuel as possible in whatever vessel you can find.

No smoking please.

---

glatt Monday Apr 10 12:14 PM

What an amazing image. The first thing I thought of when I saw that image is a flash fire engulfing all those people. It would be so easy for that to ignite. It's scary.

---

Kitsune Monday Apr 10 12:37 PM

Of what use is sandy gasoline going to be to these people, anyways?

---

barefoot serpent Monday Apr 10 12:42 PM

That'll be another 10-15 cents/gallon at the Conoco next week.

---

Pancake Man Monday Apr 10 12:48 PM

Everyone grab your sand bucket!!

---

Kitsune Monday Apr 10 12:58 PM

Imagine the smell, too! I'd pass out in the fumes.

---

floatingk Monday Apr 10 01:00 PM

I reckon thats diesel due to the color, so smoke away, cuz it wont do much. I believe it needs compression or extreme heat to ingite...

---

Elspode Monday Apr 10 02:20 PM

If I recall correctly, Nigerian pipelines are often punctured on purpose precisely to allow the people to steal fuel. Pipelines are also frequent targets of attack by rebels.

There have also been flaming disasters that killed dozens, if not hundreds, during such incidents. It is apparently not a rare occurance. In fact, here's one such recent story, albeit without the fire. Probably the incident which spawned the pic, here.

I remember seeing similar and worse news reports for years.

---

Elspode Monday Apr 10 02:25 PM

A more horrific incident briefly related:



Quote:

Pipeline explosions
Soon after, in a situation akin to Armageddon, an oil pipeline punctured by vandals exploded north of the Abia state capital Umuahia, killing 125 villagers. Most of them were peasant villagers who attempted to scoop oil for sale in order to better their lives. About the same period, dozens of people were killed in a petroleum pipeline explosion in a village near Lagos. The explosion happened as thieves tried to siphon petrol from a pipeline belonging to state oil company, NNPC. If the flame was horrendous, the mangled and charred bodies of victims were more horrifying.

From here...

---

Trilby Monday Apr 10 04:39 PM

dude. i may be incorrect, but methinks Nigeria is the number two (one?) supplier of oil to the "we don't give a damn 'bout no EPA" countries.

---

funkykule Monday Apr 10 06:00 PM

methinks there are some very fine men in that photo!!

---

Leah Monday Apr 10 07:34 PM

Someone forgot to take their thongs (flip flops) with them through all the excitment of getting free fuel.

---

bigpeeler Monday Apr 10 08:18 PM

I'm thinking that it's diesel fuel also. Gasoline would surely have an adverse affect (melting) some of those plastics that they are using/wearing. Too, the fumes aren't quite as volatile as gas and it's not nearly as hard on one's skin as gas. Diesel can be used for tractors, pumps and heating which I am sure, these poor souls deal with on a daily basis.

Now excuse me. I'm off to buy some BP stock.

---

xoxoxoBruce Monday Apr 10 08:50 PM

Quote:

Public power supply to the area had to be switched off to prevent fuel, which had gushed through transformers, from causing an inferno.

This makes sense.

Quote:


Hoodlums and children, who dressed in pants, engaged in a brisk business scooping the fuel.


This does not.

---

milkfish Monday Apr 10 10:37 PM

Napalm Biafra.

---

Kagen4o4 Tuesday Apr 11 07:43 AM

the guy in the foreground on the right has a very "la di dee la di daa" look about him as if he did it

---

xoxoxoBruce Tuesday Apr 11 08:32 PM

Maybe that's the "'la di dee la di daa' look" that procedes pitching head first into the stream? The article said 2 men and a woman passed out from breathing the fumes.

---

Kagen4o4 Tuesday Apr 11 08:49 PM

maybe he has matches in his pocket

---
Your reply here?

The Cellar Image of the Day is just a section of a larger web community: a bunch of interesting folks talking about everything. Add your two cents to IotD by joining the Cellar.