Undertoad Tuesday Apr 4 12:03 PM

4/4/2006: Housefly with glasses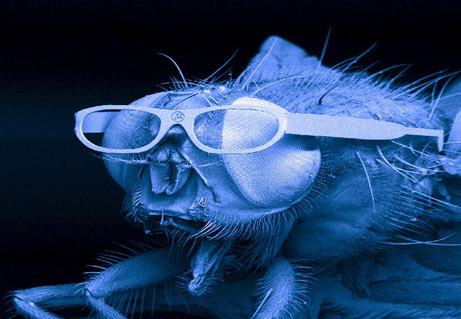 Couldn't stop chuckling when this one came around. National Geographic reports that


Quote:

An entry in a German science-photo competition, this image shows a fly sporting a set of "designer" lenses crafted and set in place with a cutting-edge laser technique. The glasses fit snuggly on the fly's 0.08-inch-wide (2-millimeter-wide) head.
<!--- deckend --->
Manufacturing firm Micreon GmbH created the fly's eyewear using ultrafast laser micro-machining.

Clearly they didn't understand the problem. These glasses have only two lenses... they should have 8000.

---

barefoot serpent Tuesday Apr 4 01:44 PM

Is it just the frames or are there actual lenses in them too? I can't tell from the pic -- but there appears to be no distortion from refraction.

---

ferret88 Tuesday Apr 4 01:48 PM

Is that a Gargoyles(tm) logo on those shades?

So, um, anyone wanna weigh in on the usefulness of this ability to make micro shades?

---

CaptainWingSauce Tuesday Apr 4 02:41 PM

Just like the fly itself, the glasses also poop on everything they land on.

---

Pancake Man Tuesday Apr 4 07:32 PM

Quote:

Is it just the frames or are there actual lenses in them too?

Acutally, they are just Drew Carey glasses.



Welcome to the Cellar, WingSauce!

---

xoxoxoBruce Tuesday Apr 4 08:17 PM

Wonder what they're made of?
CaptainWingSauce, care to explain that?

---

Kagen4o4 Wednesday Apr 5 02:32 AM

flies only land to shit. (or so the legend goes)



Quote:

Originally Posted by UT

These glasses have only two lenses... they should have 8000.

i bet all the flies tease him and call him 8002 eyes.

---

Undertoad Wednesday Apr 5 09:30 AM

Reminds me of an old joke which I think is cookied. Guy goes into a pet store and says "I'd like a fly, please." Shopkeeper: "A fly? We don't sell flies here!" "Oh but you've got one in the window!"

---

capnhowdy Wednesday Apr 5 08:29 PM

This could be the 'fly on the wall' We've all heard about. Highly covert. Those are actually spy glasses.

How do I know? If I told you I'd have to.........

---

Elspode Friday Apr 7 03:03 PM

Yo, baby...dem glasses be lookin' really fly, man! Sheeit!

---

Lizsun Monday Apr 10 06:06 PM

fly with me

I think he's really quite a cute one. Bet he does well on his college entrance exams. Maybe then he'll get a job and support me. "Don't swat me. Don't swat me! I'm not a fly! I'm Jeff Goldblum!"

Liz
http://lettingmebe.blogspot.com

---

Sun_Sparkz Tuesday Apr 11 05:02 AM

rant/

this is just cruel. they would have had to restrain the frightened (if not drugged) fly to put the glasses on him.. and on top of that the glasses are resting ON his eye bits.. you and i know how much it hurts to have even an eyelash in your eye.. imagine having your sunnies resting on your pupils.

Doesnt the earth have more important issues to be wasting our resources on!

urgh!!!

/end rant

---

Kagen4o4 Tuesday Apr 11 07:44 AM

humans are at a stage where there is literally nothing better to do, than to put glasses on a fly.
and with all due respect for nature,
fuck the fly.

---

mlandman Tuesday Apr 11 10:41 AM

couldn't agree more

What a F'n waste of research and money.

I truly truly hope that this company receives no grants from the government, which of course really come from the taxpayers.

Kind of like the dumbass 'marvin the martian' gate design that was made on one of the ASICs on the mars rover. And the real 'wake up songs' transmitted across space to be played by the rover when it switches into daytime mode.

FREAKIN GAY.

---

Cyclefrance Tuesday Apr 11 11:56 AM

Might as well add the old chestnut to the fly jokes section that is building here:

What's the last thing to go through a fly's head when it hits the car windscreen?

Its arse!

(at least with the glasses - it should see that one coming in future)

---

Elspode Tuesday Apr 11 02:44 PM

I'm pretty sure the fly was already dead when they did this. If not, I'm even more certain that the intense electron beam involved in the electronmicroscopy used to make the image would have finished him off.

---

milkfish Tuesday Apr 11 05:56 PM

The hard vacuum and the deposited metal coating are also not things calculated to make a critter thrive.

---

Kagen4o4 Tuesday Apr 11 07:11 PM

a waste of money??? they can test their abilities in making things small without worrying about screwing up. its not the fact that they put glasses on a fly that people would give them money for. its the fact that they CAN do it.

its like saying youre going to stop cheering for a team because they waste time and effort practising for a game when all they do is play against each other and do drills.

---

xoxoxoBruce Tuesday Apr 11 08:18 PM

Sure, it's just a demonstration of their micro-machining capabilities. If they made a tiny gear and magnified it enough for you to see, it would just look like a gear big enough to see.
This puts the scale into perspective in a way people can relate to.

---

capnhowdy Tuesday Apr 11 09:27 PM

I'd like to see a lot more of these micro shots. Hell, I had a fly in my eye yesterday and I couldn't see him this well. Time to break out the old microscope. Fleas are really weird to see in this magnafication. I'm glad insects are small. Imagine a 150 lb. fly. ouch.

---

Kagen4o4 Tuesday Apr 11 10:23 PM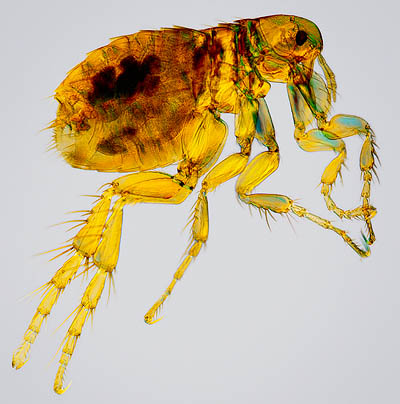 gross

---
Your reply here?

The Cellar Image of the Day is just a section of a larger web community: a bunch of interesting folks talking about everything. Add your two cents to IotD by joining the Cellar.