Undertoad Thursday Mar 16 12:47 PM

3/16/2006: Robot carp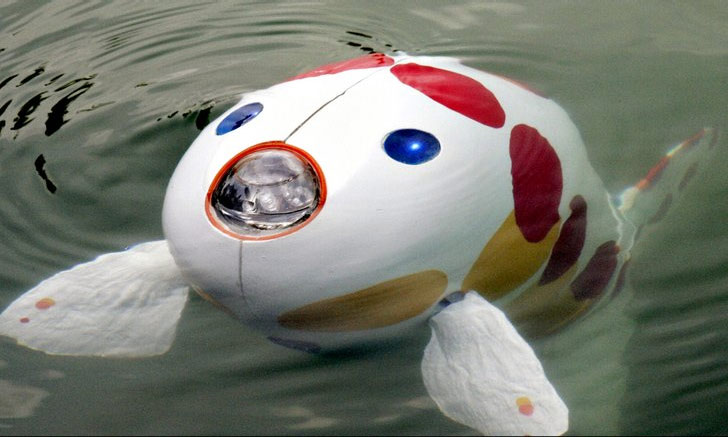 Those Japanese, building their robots! This time it's a robotic CARP, whose job it will be to take pictures of seabeds with its nose-mounted camera.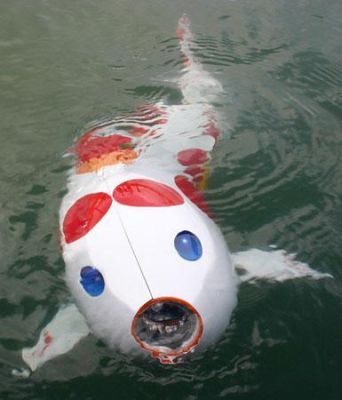 It's comin' right for us!

---

fargon Thursday Mar 16 01:31 PM

I would need at least a gallon of tarter sauce

---

grazzers Thursday Mar 16 01:54 PM

Quote:

I would need at least a gallon of tarter sauce

---

Elspode Thursday Mar 16 02:07 PM

Is this form actually functional, or is it just something for goofy fun while doing science?

---

binky Thursday Mar 16 02:10 PM

Finally the low maintenance fish I've been waiting for! Now I can build the pond I have always wanted

---

Trilby Thursday Mar 16 02:17 PM

Why is everything that comes out of Japan so creepy?

---

Pancake Man Thursday Mar 16 02:28 PM

Quote:

Why is everything that comes out of Japan so creepy?

It's not creepy, it's Super Happy Mega-Fun!

---

barefoot serpent Thursday Mar 16 02:51 PM

Quote:

Originally Posted by Undertoad

to take pictures of seabeds

just more pandering to the seamonkey fetishists.



edit:
---

Highriskgeo Thursday Mar 16 02:59 PM

I think instead of Carp they mean Coy

---

CharlieG Thursday Mar 16 03:30 PM

Quote:

Originally Posted by Highriskgeo

I think instead of Carp they mean Coy

You mean Koi?

---

Cyclefrance Thursday Mar 16 03:31 PM

Oh, boi...!

---

Highriskgeo Thursday Mar 16 03:33 PM

yeah koi coy you got the jist

---

xoxoxoBruce Thursday Mar 16 04:10 PM

It's claimed to observe sea-bed resources (sushi?) and bottom feeders.
I should think it would scare the crap out of the bottom feeders.

---

Kagen4o4 Thursday Mar 16 06:20 PM

it will blend in well with the surrounding balloons and clowns that live at the bottom of the sea.

---

slang Thursday Mar 16 06:36 PM

No live link to the camera?

---

AureliusVin Thursday Mar 16 08:22 PM

Freakin' hilarious, and whether or not to take it seriously is probably your own opinion.

My own would be that it is probably fully functional AND "Super Happy Mega-Fun"!

---

susan Thursday Mar 16 08:57 PM

I think koi are a type of carp.

---

xoxoxoBruce Thursday Mar 16 09:14 PM

Welcome to the Cellar, Susan.


I think your right about koi.

---

YellowBolt Thursday Mar 16 10:38 PM

Not just type; koi literally is carp.

---

jojo Friday Mar 17 12:07 AM

you just know some bubba is thinkin "da-yamn, ah'm unna try an noodle me that fellar"

---

xoxoxoBruce Friday Mar 17 04:55 AM

Types of carp

Genus Abramis
Carp bream (Abramis brama)
Genus Aristichthys:
Bighead carp (Aristichthys nobilis)
Genus Barbodes:
Carnatic carp (Barbodes carnaticus)
Genus Carassius:
Crucian carp (Carassius carassius )
Prussian carp (Carassius gibelio)
Goldfish (Carassius auratus)
Genus Cirrhinus:
Chinese mud carp (Cirrhinus chinensis)
Deccan white carp (Cirrhinus fulungee)
Hora white carp (Cirrhinus macrops)
Small scale mud carp (Cirrhinus microlepis)
Mud carp (Cirrhinus molitorella)
Genus Ctenopharyngodon:
Grass carp (Ctenopharyngodon idellus)
Genus Culter:
Predatory carp (Culter erythropterus)
Genus Cyprinus:
Common carp, Koi (Cyprinus carpio)
Genus Epalzeorhynchos:
Red-tailed black shark (Epalzeorhynchos bicolor)
Red-finned black shark or Rainbow shark (Epalzeorhynchos frenatus)
Genus Henicorhynchus:
Siamese mud carp (Henicorhynchus siamensis)
Genus Hypophthalmichthys:
Silver carp (Hypophthalmichthys molitrix)
Genus Labeo:
African carp (Labeo coubie)
Fringed-lipped peninsula carp (Labeo fimbriatus)
Pigmouth carp (Labeo kontius)
Genus Mylopharyngodon:
Black carp (Mylopharyngodon piceus)


---

Trilby Friday Mar 17 06:01 AM

Quote:

Originally Posted by YellowBolt

koi literally is carp.

Or, to put it another way, koi literally is crap. *rimshot*:p

---

tippy Friday Mar 17 06:45 AM

anyone seen that Cheech Maranis film (sp?) still smoking? (possibly) where he is talking to the fish...imagine how freaked you'd be if you were sitting there having a fly toke, or even just a sandwich, by the river bank and that thing popped up in front of you.

i want one though...not sure why...i just do...

---

xoxoxoBruce Saturday Mar 18 06:58 PM

The guy that built this Robo-carp built another IOtD.http://www.cellar.org/showthread.php?t=9322

This site http://www.newscientist.com/blog/tec...shy-robot.html has the story and film links on Robo-carp.

---

Happy Monkey Saturday Mar 18 07:55 PM

YThat carp better watch out!

---

capnhowdy Saturday Mar 18 09:02 PM

"Where can I get some damn bait?"
I bet they'd be good smoked. I tried smoking a salmon one time... burnt up three Bic lighters and never DID get a decent toke. sheesh...

---

Kagen4o4 Saturday Mar 18 10:51 PM

the japanesse will find some way to use it for "up-skirt" websites

---

milkfish Sunday Mar 19 06:48 AM

When will some American entrepreneur modify this design to come up with a robotic muskie?


Hang on!

---

chrisinhouston Friday Mar 24 11:22 AM

More on Japanese Robot ideas are here:
http://www.expo2005.or.jp/en/robot/r...roject_01.html

I think the Guide Robot is a bit homely looking though!

---

chrisinhouston Friday Mar 24 11:40 AM

This site from Honda is really neat with lots of videos to view http://world.honda.com/HDTV/ASIMO/#SlideFrame_1

Especially amusing was "Greeting Passers By" and "The Press Conference" is a pretty good overviewof what Asimo can do. I also found the "Asimo Joins Science Class" good, goes to show why the Japanese are way ahead of our kids in the USA in science.

The streaming seems slow so you may want to pause until it mostly is loaded and then play.

---
Your reply here?

The Cellar Image of the Day is just a section of a larger web community: a bunch of interesting folks talking about everything. Add your two cents to IotD by joining the Cellar.