Undertoad Saturday Mar 11 11:51 AM

3/11/2006: Enceladus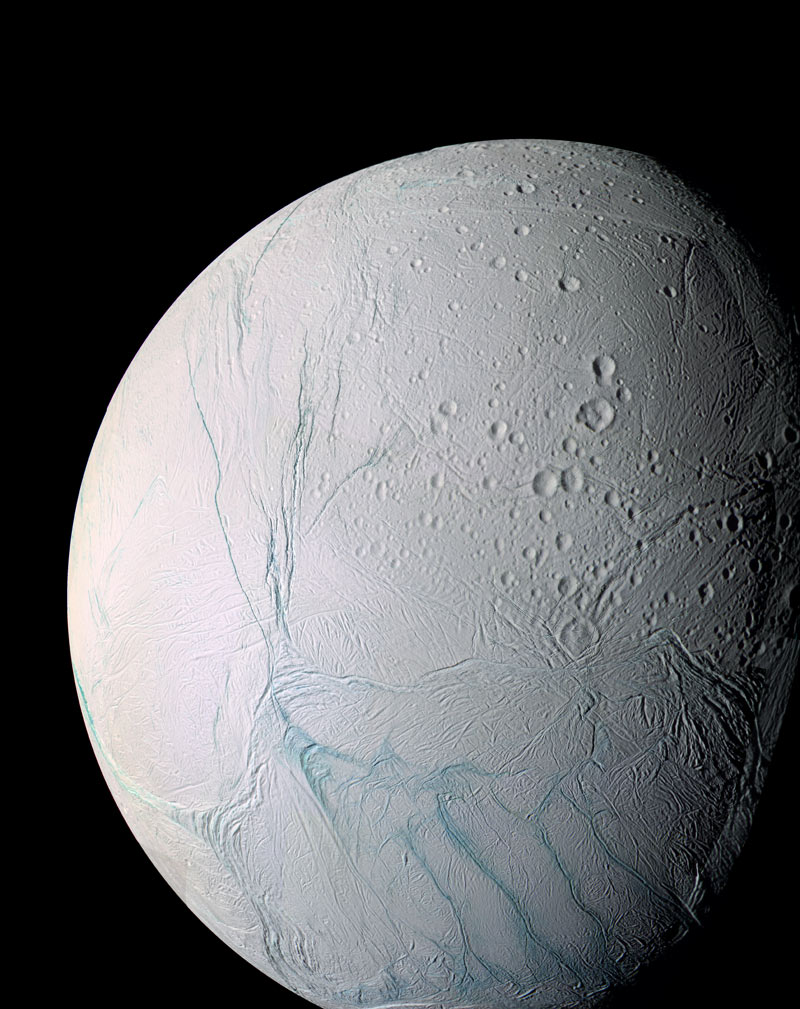 Nice Saturday, nice day for a really huge IotD.
Widen your browser windows and read on.

This is Enceladus, one of Saturn's moons. It was featured yesterday on the Astronomy Picture of the Day. Why: because it's suddenly become one of the most exciting places in the solar system.

Already you look at it and you say, whoa, something must be going on here. Why is only half of it marked with craters? That's important - that means the part not marked is changing, faster than the time it takes for stuff to hit it and mark it up.

And what's up with all those blue cracks and stuff?

So they sent a craft, Cassini, to get more info. When Cassini measured the surface temperatures, they learned that most of it is, yeah, -200C, as expected; it's way far from the sun, so it's all extremely cold, like colder than Canada in winter even with "wind chill" taken into consideration. But here's the thing, those cracks are warmer than the surrounding area:




They think this is caused by "towering jets and plumes of material erupting from the moon's surface". Not all the time, but in occasional rare events, water is blasted out of those cracks at 0 degrees Celsuis. Water! Here's what they think is going on: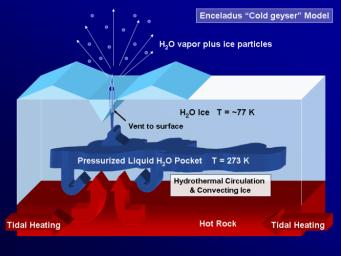 We have similar geysers here on Earth, such as Old Faithful: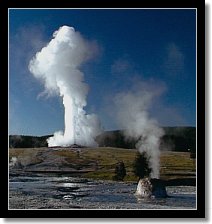 But it turns out that we've only noticed active volcanism in two places: Earth, and Jupiter's moon Io, which spews lava and sulfur all over the place. They think volcanism is also present in a moon of Neptune.

So this would be a pretty amazing and rare thing, but aside from being a really cool phenomenon, it also means water may be more available and in different places than we previously considered. And as such, there may be more possible locations for life "as we know it" to come about. Not necessarily on Enceladus, but elsewhere in this and other solar systems.

---

Pi Saturday Mar 11 12:01 PM

Wow, that's one of the best an most interesting and most beautiful IOTD if ever seen.
I would like the first one to take a few steps on Enceladus...
Reminds me of 2 books i've read about colonisation on Mars...

---

tulzscha Saturday Mar 11 12:03 PM

Hey, we just need to run a cargo shuttle service between there and Antarctica, and then we won't have to worry about melting icecaps!

EARTH FIRST! (We'll stripmine the rest of the planets later.)

---

AureliusVin Saturday Mar 11 12:05 PM

I read the CNN article about this the other day. It raises the question to think there may be Enceladus monkeys swimming underground in huge, sauna-like caverns.

---

xoxoxoBruce Saturday Mar 11 12:50 PM

Those monkeys are in trouble. This will become a water filling station on the spacefreight routes, until it's been sucked dry.
The petticoat Junction of deep space until it gets used up and abandoned.

---

chrisinhouston Sunday Mar 12 09:38 AM

I love the APOD website. It's a crime that they are letting the Hubble go with out trying to save it or put up a replacent. I found these images of Saturn very nice too!

---

richlevy Sunday Mar 12 05:20 PM

If you put a jawbreaker in your mouth and take it out 5 minutes later, that's what it looks like.

---

kgg Sunday Mar 12 06:24 PM

I love that picture! I got to look through one of those huge telescopes one time and saw the rings! Way cool.

---

barefoot serpent Tuesday Mar 14 02:26 PM

Quote:

Originally Posted by Undertoad

And what's up with all those blue cracks and stuff?

They are obviously canali used by the Enceladeans to irrigate their crops.

---

xoxoxoBruce Tuesday Mar 14 08:17 PM

Or the heartbreak of psoriasis.

---

chrisinhouston Monday Mar 20 10:35 AM

With all the pockmarks, it looks like Enceladus could benefit from a prescription for Acutane!

---
Your reply here?

The Cellar Image of the Day is just a section of a larger web community: a bunch of interesting folks talking about everything. Add your two cents to IotD by joining the Cellar.