Undertoad Friday Mar 10 10:16 AM

3/10/2006: Rime frost on a horse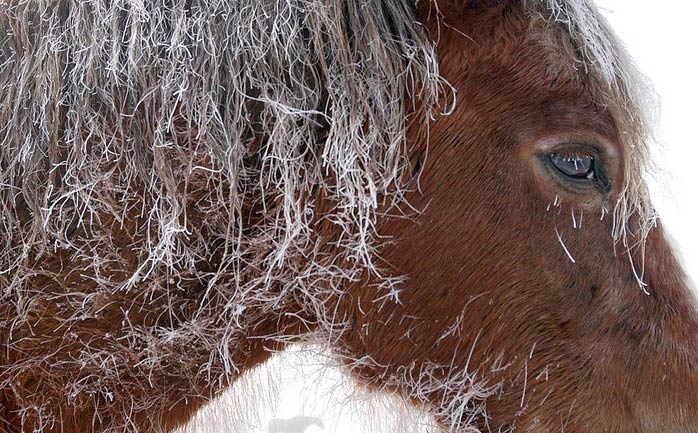 xoB and the WaPo Day in Pics present us with this fine photo, for which the official caption reads: Frozen droplets of fog form a rime frost on the mane of a horse in a field at the Avalon Therapeutic Equestrian Center outside Watertown, Wis.

The things you learn from IotD. Before doing it I had been unaware of the term "rime frost", but on 2/11/2004 we called it hoarfrost. An online dictionary says "hoar" and "hoarfrost" are synonyms for "rime"

Anyway, this hoar horse is a fine shot, and it calms me.

---

barefoot serpent Friday Mar 10 10:23 AM

hoar on a horse just doesn't seam write.

but what's that little equine shadow at the bottom?

---

gregle Friday Mar 10 10:36 AM

Um, could it be the horse standing behind it, d'ya think?

---

hampor Friday Mar 10 12:50 PM

Rime and Hoar

According to wikipedia:

The distinction between hoar frost and rime ice is that in formation of hoar frost, the water vapour condenses through deposition directly to solid ice, while the rime ice is formed following initial condensation into liquid droplets. Thus, hoar frost is formed when the dew point is warmer than surface but colder than the air temperature, and colder than freezing point.

I couldn't rightly tell you which one this is.

---

Pancake Man Friday Mar 10 01:08 PM

Looks like someone sprayed Silly String on a horse.

---

Trilby Friday Mar 10 01:36 PM

I don't want to know the diff between hoar frost and rime ice! Some things should ever remain mysterious!! Damn science...

---

Happy Monkey Friday Mar 10 01:44 PM

It's obviously hoar. 'Cause it's on a horse, and not an ancient mariner.

---

capnhowdy Friday Mar 10 04:27 PM

Is that a reflection of the photographer in his eye?

Great image.

---

xoxoxoBruce Friday Mar 10 07:40 PM

Quote:

Originally Posted by Happy Monkey

It's obviously hoar. 'Cause it's on a horse, and not an ancient mariner.





Quote:

Originally Posted by capnhowdy

Is that a reflection of the photographer in his eye?

I think it's frost on the eyelashes.

Hoar frost.

Rime ice.

Hoar, surface hoar and false fungus(feather) frost

And just for the hell of it, snow crystals.

---

chrisinhouston Sunday Mar 12 05:24 PM

Rereading this IOTD post makes me feel better already, it's only March 12th pushing 85 degrees here in Houston today and super humid. All this talk of frost make me feel cooler!

---

Undertoad Saturday Apr 1 10:25 AM

I love it when I get emails from the actual folks involved in an IotD. This morning I get the following message:



Quote:

"The Rime frost horse" image of the day, is a very special horse. We were so pleased to see him on your site. "Fritz" is a therapeutic horse at Avalon Therapeutic Eqestrian Center, a 501(c)3 riding center for the disabled in WI. and he is a champion at his work. Thank you for posting his picture!

No, thank YOU Barb for having a therapy program with a special horse. Makes me even happier to know that this wasn't just any horse with rime frost, but one that does some good work out there. He's a beautiful animal, all the much more beautiful now. Good work Fritz!

---

ashke Saturday Apr 1 10:48 AM

Sweet. Cool horse.

---

xoxoxoBruce Saturday Apr 1 01:02 PM

Avalon Therapeutic Eqestrian Center is very cool but their website is very hard to use.

---
Your reply here?

The Cellar Image of the Day is just a section of a larger web community: a bunch of interesting folks talking about everything. Add your two cents to IotD by joining the Cellar.