Undertoad Monday Feb 20 03:27 PM

2/20/2006: Wake for an Indian warrior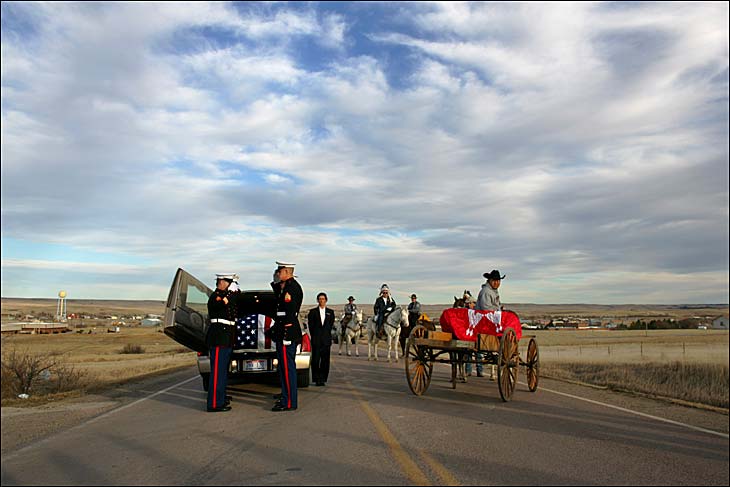 The hearse is exchanged for a wooden wagon.

xoB sends along this touching and interesting slideshow from the Rocky Mountain News, in which a 22-year-old Marine and American Indian is saluted after his combat death. I defy anyone, pro- or anti-war, lefty or righty, patriot or hater, to read the full story and not have a tear in your eye by the end of the last segment. As a preview, here's something from a middle segment:

Upon their return from Iraq, tribe members receive the highest honor for bravery: an eagle feather. If they are injured in combat, the feather may be stained red with blood.

Before the first night's ceremony began, a 65-year-old Vietnam veteran named John Around Him looked at the staff, and then at Brett Lundstrom's flag-draped casket.

"He earns the American flag from his government," he said. "He earns the eagle feather from his people."

Near 11 on Saturday night, the gymnasium fell silent. Along with his first and last eagle feather, Cpl. Lundstrom was about to receive something even more enduring.

"This evening I want to take a few minutes of your time to name my grandson," said Birgil Kills Straight, Cpl. Lundstrom's great-uncle.

"Before he enters the spirit world, it's important for him to have an Indian name, because that's how the ancestors will know him," he said.

Earlier that night, Kills Straight had gone to an Inipi, a sweat lodge, to pray for the name, and to ask the spirits to guide the fallen warrior.

After the ceremony, long after midnight, the Marines would take Lundstrom's body into the tepee, where Lakota beliefs hold that the spirits of Lundstrom's ancestors would communicate with his.

First, Kills Straight said, they needed to know who he was.

"His name is Wanbli Isnala," Kills Straight said, and then translated: "Lone Eagle."

With that, he took the eagle feather, walked to the open casket, and placed it on the Marine's chest.

"He, alone, above everything else, is an eagle," Kills Straight said. "He will fly to the highest reaches of the universe. He may bring back news to us in our dreams."

---

capnhowdy Monday Feb 20 03:49 PM

Very good.

Touching.

Other than that, well, I'm speechless. May God rest my brother's soul.

---

Griff Monday Feb 20 03:51 PM

Thank you Bruce.

Thank you Marine.

---

xoxoxoBruce Monday Feb 20 04:15 PM

One of those throat lumping things that I feel everyone should see.

---

AureliusVin Monday Feb 20 04:41 PM

Simply an amazing event.

Thank you

---

chrisinhouston Monday Feb 20 05:41 PM

Lucky for them his body was transported back by the marines, many indian tribes bury the heart of the deceased warrior in the homeland if that is all they can bring back from the battle. Rather a messy enterprise.

---

wolf Tuesday Feb 21 01:21 AM

Sad, but beautiful. The combination of traditional and modern is interesting, to say the least.

---

barefoot serpent Tuesday Feb 21 10:22 AM

It's a good day to die -- Crazy Horse

---

chrisinhouston Tuesday Feb 21 10:38 AM

Quote:

Originally Posted by barefoot serpent

It's a good day to die -- Crazy Horse

Shows how much I know, I thought it was the old chief in Little Big Man who said that...

Actually it is a pretty neat statement, kind of like the 1835 battle flag of the Texans after Santa Ana tried to disarm them at Gonzales.

---

Elspode Tuesday Feb 21 01:37 PM

We should all be so lucky to receive such an honored and beautiful sendoff.

---

wolf Tuesday Feb 21 02:13 PM

That Texas Battle flag probably has classical roots ... Molon Labe!

---

xoxoxoBruce Tuesday Feb 21 04:07 PM

Or it could have been short for "keep your taco picking hands off my shit or I'll refry your beans".

---

capnhowdy Tuesday Feb 21 05:57 PM

Quote:

Originally Posted by barefoot serpent

It's a good day to die -- Crazy Horse

IIRC...
Also from the 80's movie 'Flatliners'.

Spooky

---

xoxoxoBruce Wednesday Feb 22 06:19 PM

Here is an expanded description of the funeral and his life.



This link is the story of Maj. Steve Beck as he takes on the most difficult duty of his career, casualty notification, along with his comrades at Buckley Air Force Base.

---

tw Saturday Apr 8 01:40 AM

Marines may get this honor . But apparently soldiers do not. From the Washington Post of 7 Apr 2006:


Quote:

For Some Families, Notification of Army Deaths Repeats Pain
Later, the Santorellos heard a piece of crushing but inaccurate news: They would not be allowed to look inside their son's coffin. First Lt. Neil Santorello, of Verona, Pa., had been killed by an improvised bomb. His body, the family was told, was unviewable.

The Santorellos eventually learned that families have the right to see a loved one's body.

"I asked them to open the casket a few inches so I could reach in and touch his hand," recalled Mr. Santorello, who is still struggling with his son's death, in large part because he was not allowed to see him. ...

Scores of families whose loved ones have died fighting in Iraq and Afghanistan have gone head-to-head with a casualty system that, in their experience, has failed to compassionately and competently guide them through the harrowing process that begins after a soldier's death.

When the system works smoothly, and it often does, families say they feel a profound sense of comfort. But others have seen their hurt deepen.

They have complained about coffins placed in cargo bays alongside crates, personal belongings that disappear, questions about how their loved ones died that go unanswered for months or even years, and casualty assistants who are too poorly trained to walk them through the labyrinth of their anguish. ...

Soldiers, in their coffins, usually arrive from Dover Air Force Base in the belly of a commercial flight. But honor guards have not always been present as the coffins come off the plane.

The Eisenhauers had hoped to take comfort in the military rituals. Instead, the airline placed Private Eisenhauer's coffin in a cargo warehouse with crates and boxes stacked high around it. There was no ceremony, no flag over the coffin.

Only the airport firefighters did their bit to honor him, hoisting flags on their ladder trucks. ...

Although all services have different casualty policies. The Marines, steeped in tradition, have been mostly praised for the way they handle the jobs.



---

xoxoxoBruce Saturday Apr 8 02:45 AM

That really sucks.


It's not like they are bringing home a hundred a day. They surely have the manpower just hanging around the Pentagon to handle this duty properly.

---

Cheyenne Saturday Apr 8 02:47 AM

May your Journey Lone Eagle not be in vain and the Great Spirit forever hold you gently in the palms of his hands.

Thank You,

Cheyenne Whitefeather

---

skysidhe Wednesday Apr 12 10:13 AM

My grandmother is on the Cherokee nation roll but I didn't read it. I don't want to cry. I'm a marshmallow and sensitive.


I don't want to go to work with a tear in my eye.

---

xoxoxoBruce Wednesday Apr 12 08:14 PM

skysidhe, read it on the weekend. You'll cry, I did, but they'll be warm tears....trust me.

---

richlevy Wednesday Apr 12 10:49 PM

Quote:

After Neil Santorello heard the news that his son, a tank commander, had been killed in Iraq, from the officer in his living room, he walked out his front door and removed the American flag from its pole. Then, in tears, he tore down the yellow ribbons from his tree.

Rather than see it as the act of a man unmoored by the death of his 24-year-old son, the officer, an Army major, confronted Mr. Santorello, saying, "Don't be disrespectful," Mr. Santorello recalled. Then, the officer, whose job it is to inform families of their loss, quickly disappeared without offering any comfort.

Son of a bitch.

---

tw Thursday Apr 13 12:17 AM

Remember that the administration did not want pictures of those coffins arriving in Dover AFB. Why? Well, the article describes how coffins instead arrive in FedEx planes as cargo. In one case, only the airport fire department did that soldier just honors.

---
Your reply here?

The Cellar Image of the Day is just a section of a larger web community: a bunch of interesting folks talking about everything. Add your two cents to IotD by joining the Cellar.